Our favorite Coronet View Accommodations
If you're looking for a beautiful and relaxing place to spend your next holiday, then there's no need to look any further than Queenstown, New Zealand. With unforgettable views, exciting excursions, and amazing dining experiences, Queenstown offers a vacation that will be sure to top all others.
A great holiday calls for a fantastic place to stay, so keep reading to see our list of Bachcare's luxurious holiday homes with a view of Coronet Peak in Queenstown, NZ.
---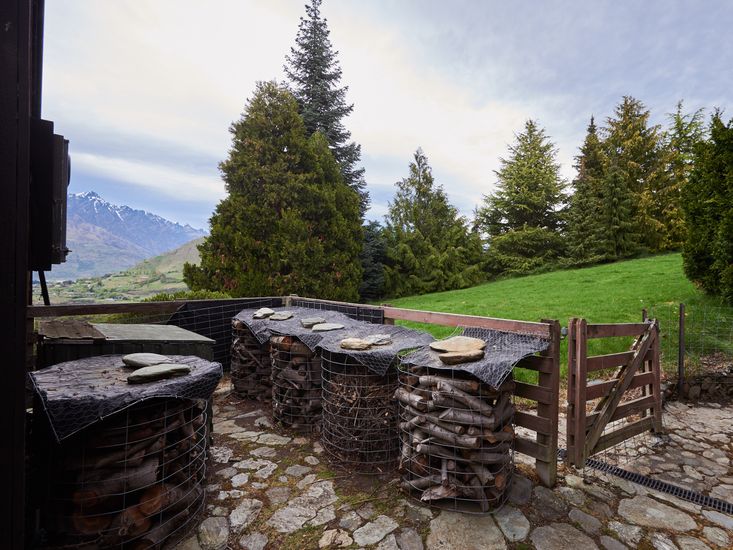 8 People | 3 Bedrooms | 2 Bathrooms | From $270 per night
This home is only a 10-minute drive from Queenstown and provides a picturesque setting that resembles a picture book. Perfect for those who want to explore the Southern Lakes, this three-bedroom, two-bathroom home is available for your next holiday.
The home can fit eight and has more than enough space for many occupants with two stories, an open floor plan living room, and a beautiful wraparound deck. There is a gorgeous fireplace to gather around in the winter months and enough land to soak in the sun during the summer.
You'll never run out of sights to see from your bedroom windows when there are perfect views of Coronet Peak, the Crown Range, or The Remarkables just across from the Shotover River.
Each of the three bedrooms has different bed spaces, and there are two rooms on the first floor. One has two single beds pushed together to make a king-size bed and has the most amazing views. The second bedroom located on the first floor has a queen bedroom, and the last room located on the second floor fits most guests with a queen bed and three single beds.
There are two bathrooms, both located downstairs with a shower, basin, and toilet. You can request linens at an additional charge so you can pack a little lighter. Other awesome amenities include a BBQ, Wi-Fi, and mobile cell phone reception.
Prices for this location vary based on how early in advance you book and the time you choose to travel, so book fast.
---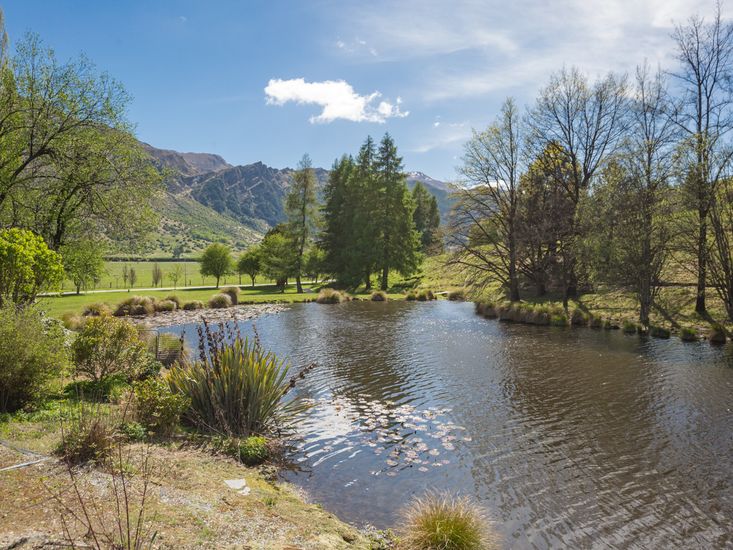 8 People | 4 Bedrooms | 3 Bathrooms | From $355 per night
This home is perfectly set on a lakefront with a gorgeous mountain setting in the background. With four bedrooms and three bathrooms, this is just a 10-minute drive from Queenstown, 15 minutes from Coronet carpark, and 40 minutes to the Remarkables carpark. Even better, this home is close to the Otago cycle trails, so you can start your outdoor adventures even sooner.
The Lakes Retreat home is just that — a retreat! The area offers a private lake, a gas fireplace, a tranquil garden, and bikes for your added enjoyment. The open floor plan living room has large French doors that open to refreshing cool air and provides much sunlight.
The place offers great cell phone reception, Wi-Fi, and even office space for those who don't wish to unplug completely. The two bedrooms on the first floor have super king beds, but the second room's bed can be split into two king single beds if needed. On the second floor, the two bedrooms each have two king singles that can be made into super kings, as well.
There are also two bathrooms on the first floor and another on the second. Other amenities include a television, washer, dryer, and underground heat pumps to keep you warm year-round. This home has everything you need for a relaxing, serene holiday or memorable outdoor adventures within proximity of Queenstown and near-natural landmarks.
---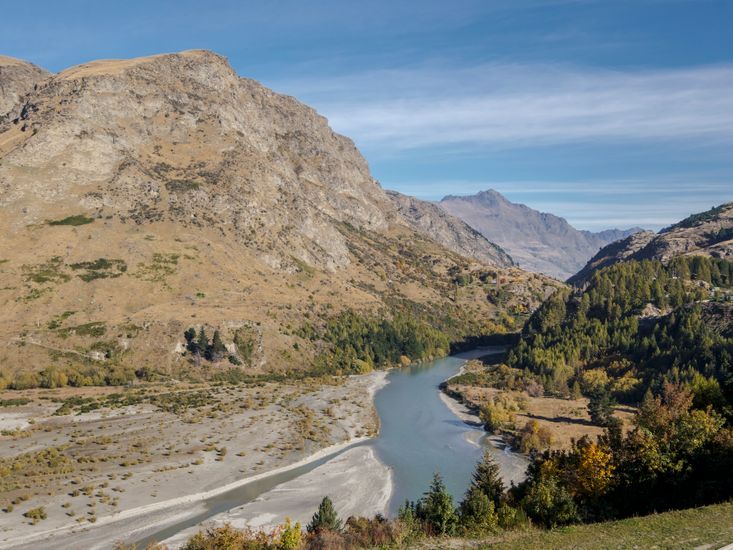 5 People | 2 Bedrooms | 2 Bathrooms | From $232 per night
This next home is an apartment located in Arthur's Point at the La Residence Du Parc complex. This centralised space is perfect for those who want to be right in the middle of the adventure. With Coronet Peak just a 10-minute drive away and the Shotover River close by, your holiday adventure begins here at the Coronet Base Apartment.
This home fits five guests and has two bedrooms and two bathrooms. There is a fireplace to gather around in the winter and an outside dining area to have dinner while enjoying the alpine views. This location offers many walking trails that will take you through the beautiful natural sights. Those who want more of an adventure can take a jet boat on the Shotover River or try your ski skills at Coronet Peak.
As for sleeping arrangements, there is a queen-size bed in the first bedroom, a king in the second, and a pull-out bed in the lounge area. Each of the two bathrooms has a basin, a shower, and a toilet. Linen changes are included in the nightly rate. Other amenities that this apartment has to offer are a television, washer and dryer, Wi-Fi, and cell reception.
This apartment is exceptional for families who want to be close to the city but far enough away to be removed from the hustle and bustle and immersed in the beauty of the surrounding nature. Prices for this apartment fluctuate depending on how far in advance you schedule and the time of year.
---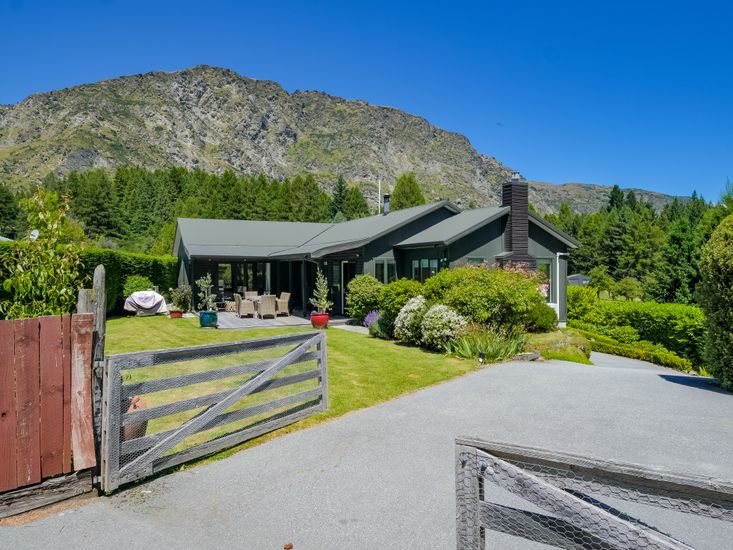 6 People | 3 Bedrooms | 3 Bathrooms | From $270 per night
The last tranquil holiday home is perched right on a hillside and provides unforgettable views of Arthur's Point Mountain. The spacious open floor plan is perfect for six people and has three bedrooms and bathrooms. With a full kitchen and space for dining, this space is made for cozy gatherings, so you'll never want to leave!
You and your guests can hang out near the fireplace or take the party out to the garden and soak up the sun outdoors. Located in such a serene location, you'll be surrounded by mountainous views and blue skies for the entire duration of your stay.
Two of the three bedrooms have king-size beds, and the last bedroom has two king single beds that can be pushed together. To make the home even better, you can bring your pets, too! There's no need to find a sitter or leave them at home because now they can enjoy the holiday too. '
Coronet Peak is only 15 minutes away, so that you can ski to your heart's content. When you want to take a break from the slopes, you'll want to check out Devil's Staircase, Kawarau Falls Reserve, or Lake Wakatipu. Other amenities include Wi-Fi, a washer and dryer, and wood supplies.
This home could be your family's next stay if you book now.
---
Spend Your Holiday in Comfort!
There are many places you can stay on your visit to Queenstown, but not everyone will offer the amenities, beauty, or location convenience as these four homes.
Be sure to check out each and view all Queenstown accommodation options!