Favorite holiday houses with outdoor baths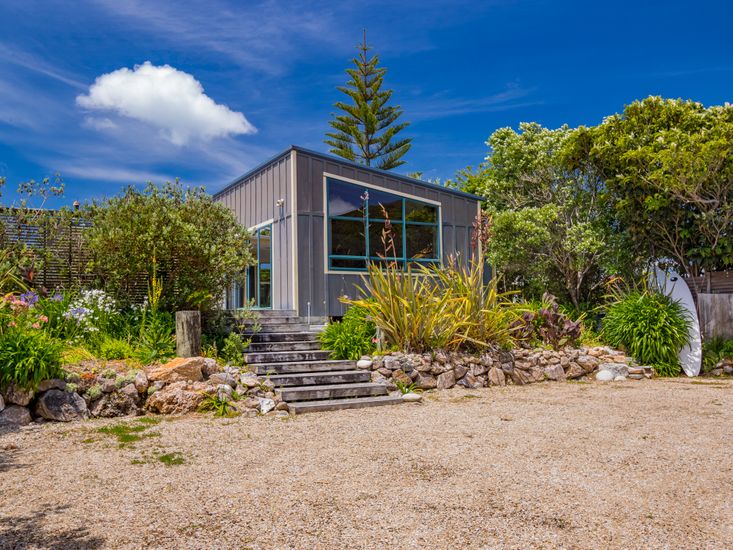 New Zealand is the land of rugged outdoor adventure, incredible natural scenery and some of the friendliest locals in the world.
And, as the weather gets colder and you're planning on doing a lot of outdoor activities, having an outdoor bath to get warm and toasty in the sunshine can be a huge plus.
Luckily, here at Bachcare we've got a wide range of 5-star holiday homes complete with modern finishes and outdoor baths perfect to enjoy the day and starry night skies of Aoteroa.
---
1. Matarangi Beach Retreat – Ocean Close, Matarangi, Coromandel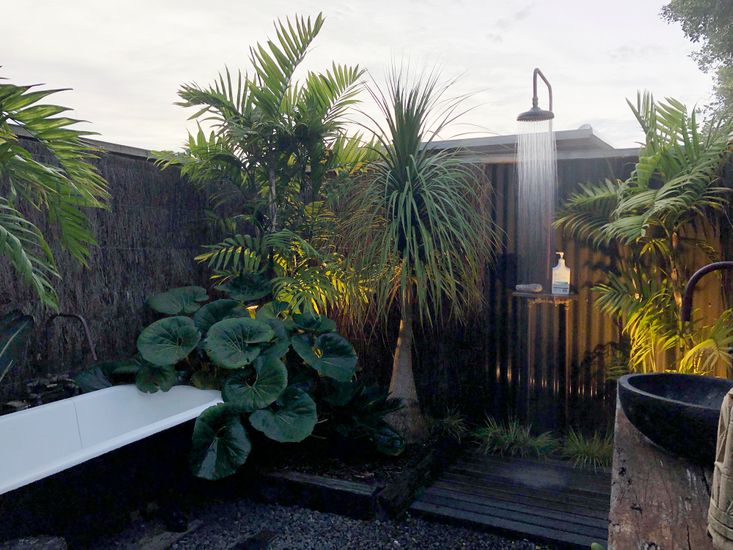 This relaxing and rejuvenating beachside retreat is the perfect holiday getaway for kiwis looking for peace and quiet. Just a 2-minute walk from the beautiful Matarangi Beach, this spacious, two-story holiday home is perfect for the whole family (it can to fit 10 people comfortably). Each floor is fitted with an expertly-decorated living room and contains 4 fully-furnished bedrooms.
In addition to luxury appliances and renovations, the real star here is the lush outdoor bath and shower. You'll feel like you're in a tropical oasis as warm water rushes over your head and onto large, leafy plants. Towels and soap are of course provided for the ultimate luxury. For added winter living, there's an outdoor pizzeria fire for cooking, as well as an indoor fire place for when the night gets chilly.
Whether you want to unwind out on the beach or simply kick back at home, the Matarangi Beach Retreat is the ultimate destination for stunning sea views and group fun.
---
2. Mohua – Pakawau Holiday Home – Collingwood Puponga Main Road, Pakawau, Golden Bay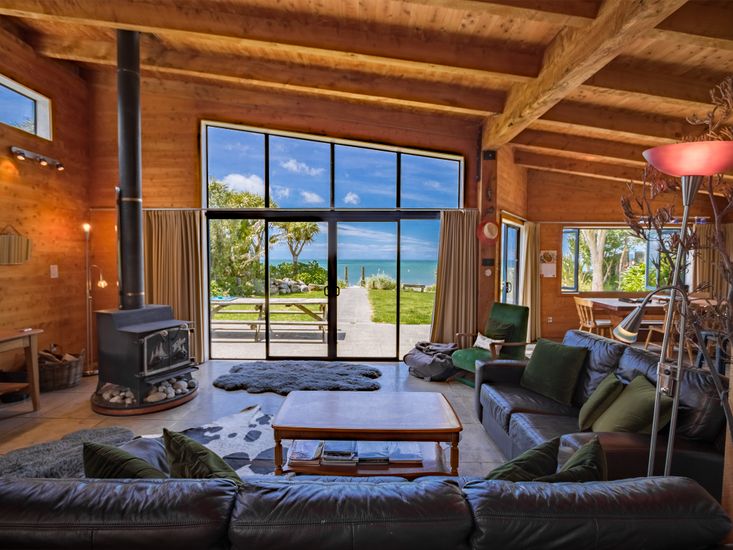 Rustic, vibrantly-colored and filled with golden rays of light, this Mohua Pakawau Holiday Home in Golden Bay is a New Zealand nature lover's dream. Reminiscent of a rugged cowboy lodge out west, this space is open, bright and perfect for families looking to explore the great outdoors. Start by hitting the beach, accessed by a private walkway and enjoy stunning, blue sky views and white sand between your toes. You'll love the relaxing and spacious living room, perfect for board games and conversation around the fire place.
The outdoor patio here has been optimized for beach-side living, with a wide picnic table and a BBQ pit for grilling. Sit outside and catch-up with your group or watch the boats go by and surfers catch classic New Zealand waves. A unique feature is the outdoor bathtub, perfect for soaking under the stars or cooling off after a long day. If you're up for some adventure, hit up Abel Tasman National Park, just an hour drive along the coastline.
This 3-bedroom family-friendly home is built for fun and adventure and can also accommodate pets. Sit back and relax because Pakawau has got you covered.
---
3. Akaroa Holiday House – Lushingtons Bay Road, Akaroa, Banks Peninsula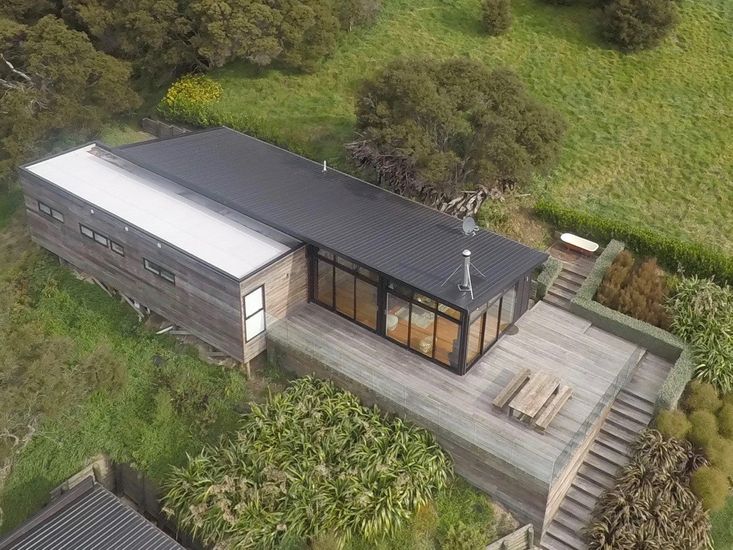 Renowned for its luxury views and beautiful furnishings, this Akaroa Holiday House is your ultimate getaway for subtle relaxation and outdoor fun. Located just 5-minutes from the main township, the house is perfect for families with little kids, couples or just groups of friends ready to soak up the sun and amazing natural scenery. With four bedrooms and two bathrooms, this spacious home can fit up to 9 people comfortably. Each bedroom is flooded with natural light and offers amazing water views. The living room is bright and open, with floor-to-ceiling windows, a modern kitchen complete with a Nespresso coffee machine and a burning wood fire place for the colder nights.
But, when the weather is warm, this incredible home truly comes to life. Experience amazing al fresco dining on the refurbished patio, with a wide picnic-style table and umbrella for shade. Surrounded by greenery, you can take a dip in the magical outdoor bath, or lay comfortably on the sun loungers on the deck. This home is the ultimate escape from reality, a quiet adventure into nature tucked away on the beautiful Banks Peninsula.
---
Bachcare is New Zealand's premiere holiday home rental service. If you're looking for holiday homes with outdoor baths, Bachcare has got you and your guests covered.
Booking is instant, secure and seamless. Try one of our holiday homes with outdoor baths today!