Our favorite Holiday Homes near the Cardrona Ski Field
The nip in the air may be a sign that summer will soon be a memory, but it also means that fun and adventure "winter-style" is just around the corner! Whether you're on a family ski holiday in Queenstown, trippin' with your snowboard and mates in Wanaka, or a local ski buff who can't get enough mountain powder, Cardrona Ski Resort is a favorite destination for everyone! First-time skiers & experienced board riders are all welcome!
What makes Cardrona so popular? It offers something for everyone! Cardrona's terrain parks offer beginner slopes, wide-open intermediate groomers, and even some short but challenging runs for serious adventure seekers. Cardrona Ski Resort is so well-liked that it is the most visited ski resort in New Zealand! (If your looking for ski accommodation in the good ol US of A, Chalets USA the USA ski holiday specialists www.chalets-usa.com).
Cardrona Ski Resort offerings:
Family-friendly with licensed child care facilities
Ski school programs designed for all ages.
Excellent beginner terrain with good lift service
Fantastic terrain parks and half pipes!
A gondola and two high speed quad chair lifts!
Stunning views of the snow-covered mountain peaks of the South Lake Valley
Accommodation to fit every lifestyle and budget
Let's dive into the details:
Ski School Programs and Child Care Facilities:
Cardrona offers ski and snowboard lessons for all ability levels. Classes sort kids from 3 months to 14 years and the on-mountain Kids' Club features group lessons that are a super-fun way for little tykes to learn to ski or snowboard! Cardrona's amazing instructors will help children gain slope skills and fall in love with winter mountain sports.
If your kids are too young to pound powder, Cardrona Ski Resort has got them covered with Pengi's Nursery, which can accommodate even the tiniest tots. They'll be well cared for in a toasty-warm, on-mountain nursery, and they'll even be treated to morning and afternoon tea!
Terrain Parks for Beginners and Pros — and Pipes!
Whether looking to take your first laps through a beginner park, or you're a pro out for some challenging terrain, Cardrona boasts the most extensive park & pipe facilities in the Southern Hemisphere! There's something at Cardrona for freestyle riders of every type and ability.
Cardrona also hosts an array of competitive events throughout the winter to showcase emerging local talent. Come ride alongside the world's best skiers & snowboarders!
Accommodations to Suit Your Style:
As you can see, Cardrona is a world-class ski destination right in southern New Zealand! If you're ready to grab your board and hit the slopes, you may be wondering where to stay. No worries! Bachcare has you covered with lots of great accommodation options.
---
Top 3 Cardrona Ski Resort Accommodations: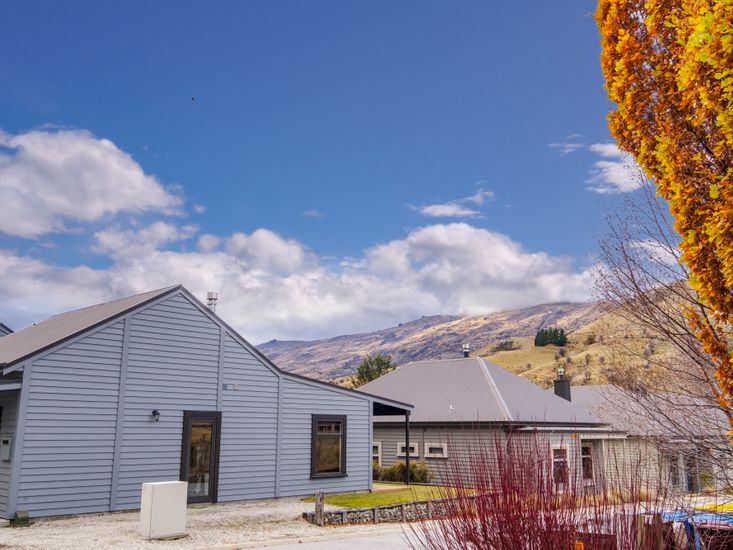 Sleeps 3 Guests
Designed with a modern flare, Mountain Peak Studio is a Cardrona Ski Accommodation that will make you feel at home. The studio boasts an open floor plan with all the essentials you need for a winter getaway. Electric heat throughout will keep you toasty and comfortable after a chilly day on the slopes, and a TV and DVD player will help you relax while you enjoy your favorite movies.
And did we mention romance? This attractive 1-bedroom unit is the perfect little hideaway for couples looking to put a little romance back in their lives. Take advantage of the swimming pool and spa pool which are just steps away!
For more winter fun check out Treble Cone Ski Area, only 45 minutes away by car or enjoy the cross-country trails at Snow Farm. This holiday apartment will keep you close to both award-winning eateries and shops — and the slopes!
Mountain Peak Studio Amenities:
Dishwasher
Washer/Dryer
Fridge/Freezer
Hair Dryer
Electric Heat
Iron & Ironing board
Microwave
Mobile Cell Phone Reception
Toaster
TV/DVD Player
Swimming/Spa Pool (shared)
BBQ (shared)
Parking
---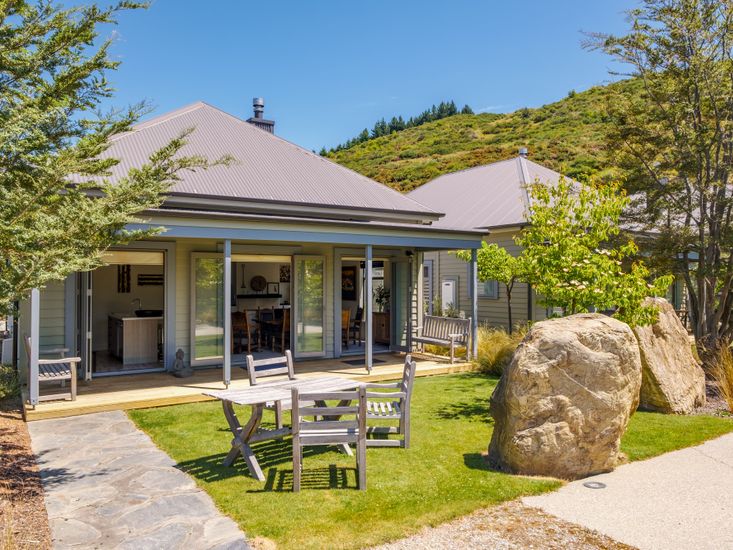 Sleeps 6 Guests
Welcome to Rockwood! This Cardrona Ski Accommodation is centrally located in Cardrona and is bursting with the luxuries, for your getaway!
Designed for comfort, relaxation, and rejuvenation; this 3-bedroom resort features clean white interiors complimented with large windows and doors to let the beauty of the natural surroundings shine!
At Rockwood, you'll find yourself slipping into the resort lifestyle with ease. Spend your days on the slopes at Cardrona and your evenings relaxing in front of the fire with a glass of wine or hitting the nearby restaurants and shops. Just a two-minute drive away is the Rabbit Hole — the perfect spot for a quick bite!
Rockwood supplies everything you need to enjoy your stay — from a French Press for that perfect cup of coffee to a Smart TV so you can view your favorite entertainment; you'll find everything you need to relax and unwind!
Rockwood Amenities:
Stunning Views
Fireplace
Dishwasher
Oven
Washer/Dryer
Fridge/Freezer
Electric Heat
Iron & Ironing board
Mobile Cell Phone Reception
Toaster
Smart TV
WIFI
Swimming/Spa Pool (shared)
BBQ
Parking
---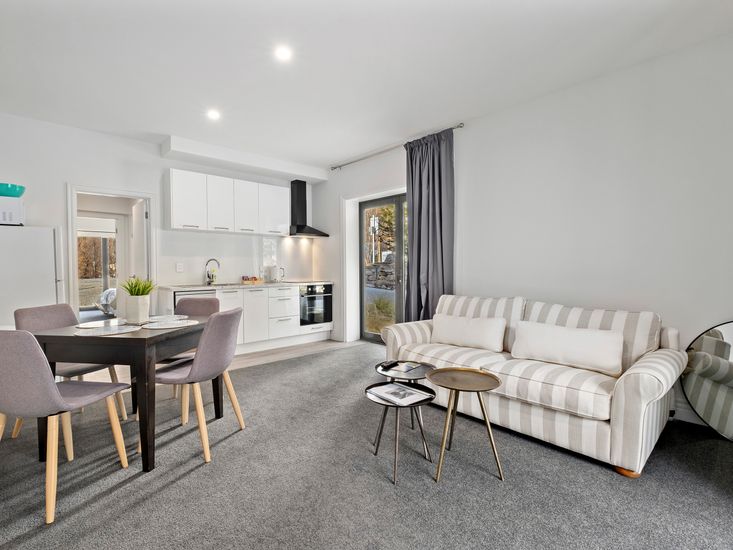 Sleeps 4 Guests
The Sombre Duck is more than a colorful name! This Cardrona Valley apartment is located in a rugged natural setting at the base of Mount Cardrona and is equipped with all the holiday essentials.
Stylish and cozy, this Cardrona Ski Accommodation welcomes guests with an open living, dining, and kitchen area that looks out onto a shared green space. Enjoy a hot cup of tea on the sheltered sundeck and soak up the majestic winter mountain scenery!
The Sombre Duck includes a fully-equipped kitchen and a washer/dryer ensemble, but this apartment's true value is its location — only 5 minutes from the Cardrona Ski Resort! Perfect for action-packed days on the slopes!
The Sombre Duck Amenities:
Family Friendly
Freeview
Dishwasher
Washer/Dryer
Fridge/Freezer
Oven
Electric Heat
Iron & Ironing board
Microwave
Mobile Cell Phone Reception
Toaster
TV
Swimming/Spa Pool (shared)
Parking
As you can see, any of these top three Cardrona holiday homes would be perfect for your winter ski holiday, but there are lots more to choose from.
Check out Bachcare.co.nz to find one that's just right for your holiday!