The history of the famous "That Wanaka Tree"
The Wanaka Tree. The name evokes the mystery and splendor of New Zealand's Wanaka region. But what is it? Where is it? Why is it famous? Let's unravel the story of this determined little tree!
It is perhaps New Zealand's most photographed tree — and for good reason. Its delicately curved trunk seemingly grows directly out of the pristine waters of Lake Wanaka. Indeed, the tree appears to be floating on the surface of the water. It's not a miracle, just an illusion perpetrated by nature. But whether or not you feel inspired at the site of the tree, no one can argue that it has become a Southern New Zealand icon.
Sprouting defiantly from the lake and set against the backdrop of the breathtaking Southern Alps, the Wanaka Tree is also known as the lone tree of Lake Wanaka, and when you see it you'll understand why.
Over eighty years ago, a fence was built along the shore of Lake Wanaka, and it included a post fashioned from the stout branch of a nearby willow tree. Like a Phoenix rising from the ashes, the fencepost took root in the sandy lake soil and sprouted new branches — determined to live.
Local Wanaka artist, writer, and historian Gwenda Rowlands remembers the original fence line as far back as 1939 — eighty-two years ago — when she first slipped through the calm waters of Lake Wanaka in a wooden dinghy built by her father for her and her brother.
The fencepost sprouted, and over the years Gwenda watched the tree grow from a forgotten post to the striking symbol of determination it has become today.
She recalls her first sighting of the tree: "It was 1939, and I remember it growing there, and that is not yesterday. So it's been growing slowly all that time."
Rowlands, now 85, has fond memories of that era, and like herself, the little willow tree weathered the decades with southern New Zealand hardiness.
Despite the tree's early origins, It wasn't until 2014 that it began its journey to fame. It was seven years ago that Dennis Radermacher, a photographer from Christchurch, took a photo of the tree on a misty June day. That photograph went on to win Dennis the 2014 New Zealand Geographic photograph of the year.
Today, the photographer laments about the famous pic. It seems he visited the Wanaka tree in hopes of catching it at sunrise, but alas, instead of the beautiful pinks and yellows of early morning, he found the tree shrouded in mist. It wasn't what he had in mind, but he snapped away with his camera anyway. The rest, as they say, is history!
From that auspicious debut, the tree became somewhat of a social media celebrity. Bolstered by interest from Radermacher's photo, it wasn't long before amateur Wanaka photographers began posting images of the tree on social media with the hashtag #thatwanakatree. As social media does, pics of the tree spread and piqued the curiosity of travelers and sightseers. Soon more people began visiting the tree and posting more pictures and so on!
When Lake Wanaka Tourism showcased the tree as part of its Scenic Photo Points photo trail the tree's path to fame was complete. Today, amateur and professional photographers alike gather on the peaceful shores of Lake Wanaka to photograph "The Lone Tree", as Dennis Radermacher titled his original pic. That Wanaka Tree now has its own Facebook page and has been featured in major international publications such as The Guardian and The Sydney Morning Herald.
So what does Gwenda Rowlands think of the now-famous tree she's watched for so many years? With a little smile, she says, "It shows anything that is alive has a determination to live."
---
Wanaka is more than just its famous tree!
Honestly, Wanaka is one of New Zealand's South Island's most beautiful places. Nestled in the midst of Otago, Wanaka is a destination that draws visitors from around the world. It offers gorgeous vistas of the Southern Alps, blue lakes, and cool green forests.
You'll also enjoy exceptional food, wine, and activities — walking, hiking, biking, and skiing are all popular pastimes. To do your adventure right, you'll need a comfy place to stay that suits your personality and the flavor of your trip. We can help with that! Bachcare.co.nz offers an array of unique properties to fit every lifestyle and budget.
Take a look!
---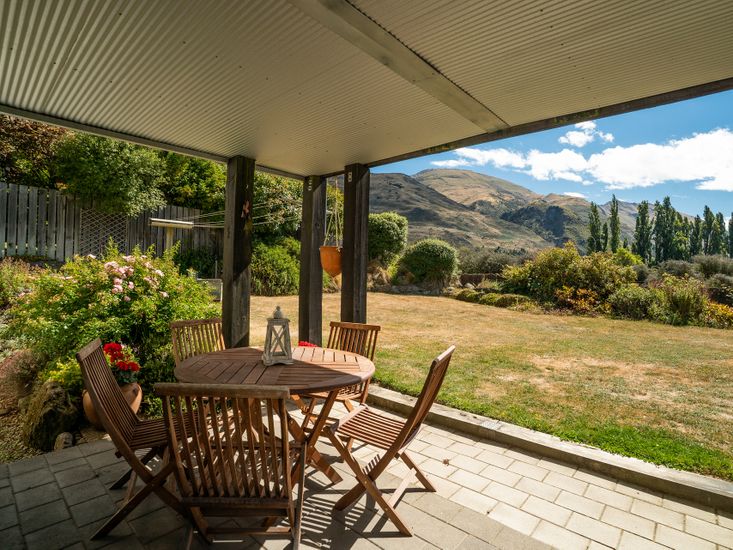 2 Bedrooms • 2 Baths • Sleeps 5
For travelers seeking BIG views on a small budget, look no further than Roys Peak Garden Suite. A holiday unit with spectacular views, Roys Peak Garden Suite will provide the perfect base of operations for your trip.
Roys Peak Garden Suite offers plenty of sunlight and clean modern charisma. Guests enjoy WiFi, amenities, and a great setup for families or couples traveling together! A sleek, modern kitchen along with a studio living and dining space that includes both queen and single beds will provide plenty of room. An additional bedroom with its own kitchenette and living space offers opportunities for both comradery and privacy.
Surrounded by uninterrupted alpine landscapes, Roys Peak Garden Suite is an ideal location for lakeside strolls and bike rides!
---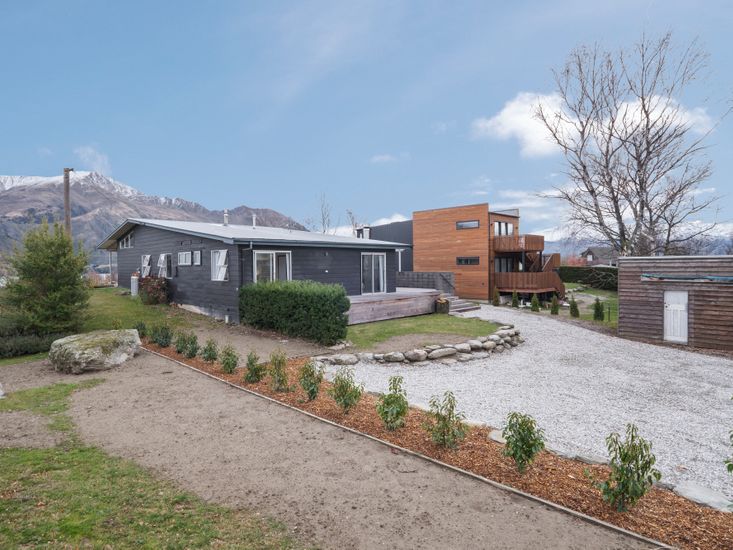 4 Bedrooms • 2 Baths • Sleeps 7
For vacationers whose budget affords a bit more luxury, The Manuka Lookout with Spa offers impressive Southern Alps views and plenty more! Recently renovated, this holiday home has been tastefully decorated and designed for relaxed southern holiday living.
Manuka's comfortable indoor spaces flow seamlessly out to the beautiful environment surrounding it, and the home's modern retro decor makes it the perfect spot to come home to after an adventure-filled day exploring all Wanaka offers.
Boasting all the vacation necessities — including WiFi — and extras such as Apple TV and an outdoor fireplace, this holiday home will bring everyone together to enjoy evenings in the open kitchen and dining area.
Travelers can stay in and take some time out for themselves, or head into downtown Wanaka — just five minutes away by car. For more adventure, try nearby skiing, hiking, or bungy jumping!
---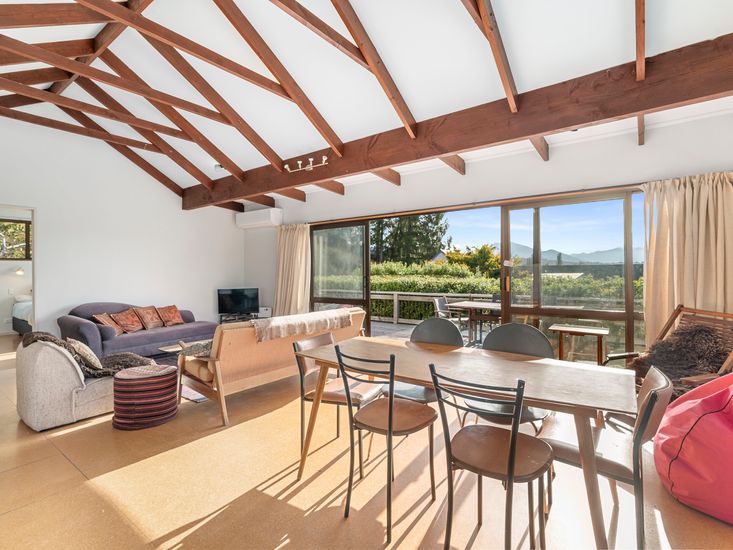 2 Bedrooms • 2 Baths • Sleeps 6
Not much can be said about Goodall Crib other than "WOW!" Nestled on the western end of Roy's Bay — Wanaka's main beach, this beautiful bach is just 200m from the lake! Brimming with natural light, this open, airy home features vaulted ceilings and simply stunning views that you have to see to believe!
Kick back in the spacious open-concept living area and admire the simply amazing mountain views, or open the sliding glass doors and let fresh air flow in! A well-equipped kitchen awaits guests inclined to prepare their own culinary creations, and three bedrooms offer an array of sleeping configurations. A full laundry rounds out the "home-away-from-home" necessities.
Goodall Crib is ideally located to offer travelers seeking a tranquil getaway — secluded from the bustle of the lakefront, but still within walking distance of all the major conveniences. It's just a short 2-minute walk to the lake and a 25-minute stroll to Wanaka's kaleidoscope of shops, eateries, and attractions!
---
Start Planning Now!
With all that Wanaka offers — including the famous "that Wanaka Tree", it's an easy choice for your next holiday destination! Get your vacation started by working out an exciting itinerary, and don't worry about finding quality accommodations. Bachcare.co.nz has so many options to choose from, you'll find one that's just right for you!