Holiday Homes With A BBQ
The natural beauty and allure of New Zealand's landscapes make it the ideal location for travelers of any kind. Outdoorsy people, foodies, art lovers, or anyone who enjoys the beach can discover an oasis hidden here.
Nothing beats sitting on the upper deck of a beautiful holiday home while enjoying breathtaking views. Although, adding an outside grill to cook up tasty meals might make your vacation even better. 
---
Best Holiday Homes With Grills
Outdoor grills offer the option to stay in and save money. While enjoying the food that New Zealand offers is excellent, making your own specialties also has its perks.
Below are our top holiday homes filled with picture-perfect settings, good food, exciting activities, and most importantly, the opportunity to put your grill master skills to work.
---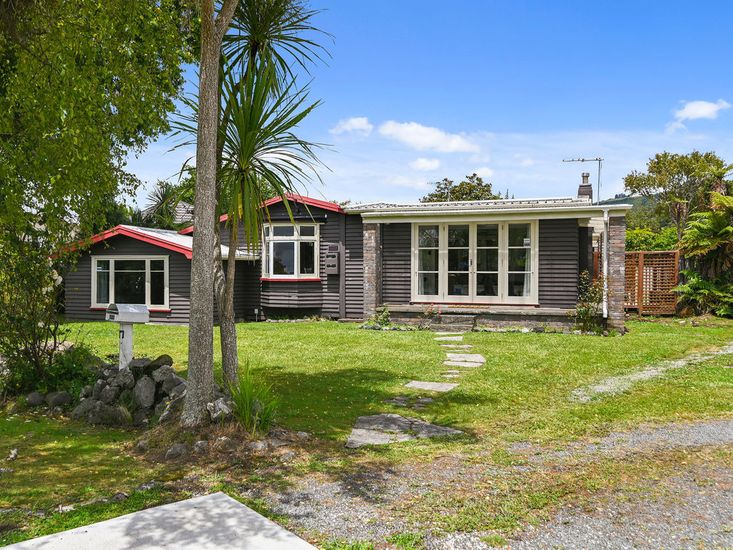 If you're looking for that perfect summer getaway, Birch Cottage has the amenities, village culture, and outdoor activities to make it unforgettable. The cottage has a gorgeous view of the lake and can house up to 8 people, with:
One bathroom
Three bedrooms
A space for your pets (for a fee)
Birch Cottage sits in Ngongotaha, New Zealand, just a walk away from the picturesque and historic Lake Rotorua. The town contains beautiful scenery, a welcoming atmosphere, and rich culture. Head to the village to get a delicious bite to eat at the trendy cafes or do some window shopping inside local stores.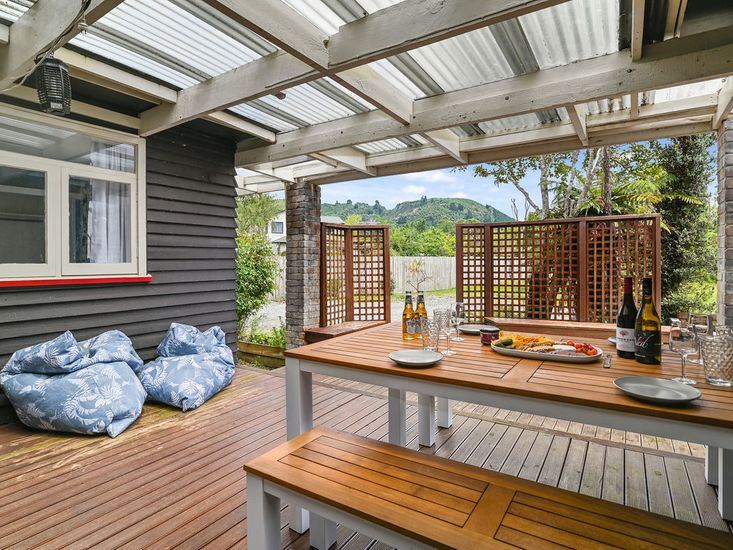 This holiday home is excellent for those with an adventurous side. You can enjoy many outdoor activities such as cycling the beautiful trails, kayaking, or swimming in the lake. After a long day of exploring, settle in for a home-cooked meal straight from the cottage's BBQ outdoor grill.
The home gives you the best of both worlds, with WiFi and a fireplace for a cozy night in and full access to a lake for a day of aquatic experiences.
---
Beachgoers, art enthusiasts, and wine lovers will adore this holiday getaway, located on the sandy coast of Omaha, Matakana.
Housing up to six people with three bedrooms and a bathroom, this classic, cozy home offers both indoor and outdoor areas for kicking back and enjoying time with friends or family. The spacious outside deck gives you the chance to fire up the grill and enjoy savory food under the New Zealand sky.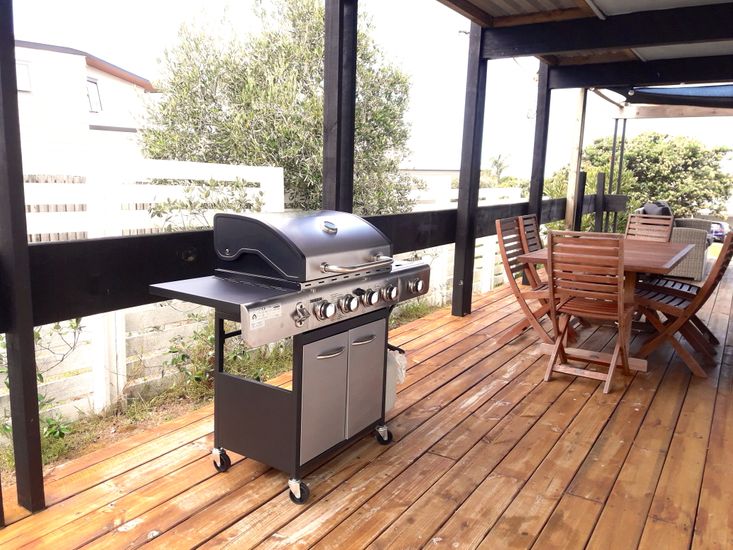 After a relaxing day at the beach, journey into town for great food and incredible art experiences, such as the Sculptureum that houses three sculpture gardens, six art galleries, and space to enjoy good food.
The holiday home sits only eight minutes from Makatuna, where you can sip glasses of wine from beautiful vineyards or devour tasty food from its restaurants with the family.
The Omaha Classic offers travelers a cozy and comfortable stay close to sandy beaches, culture, art, and delicious restaurants.
---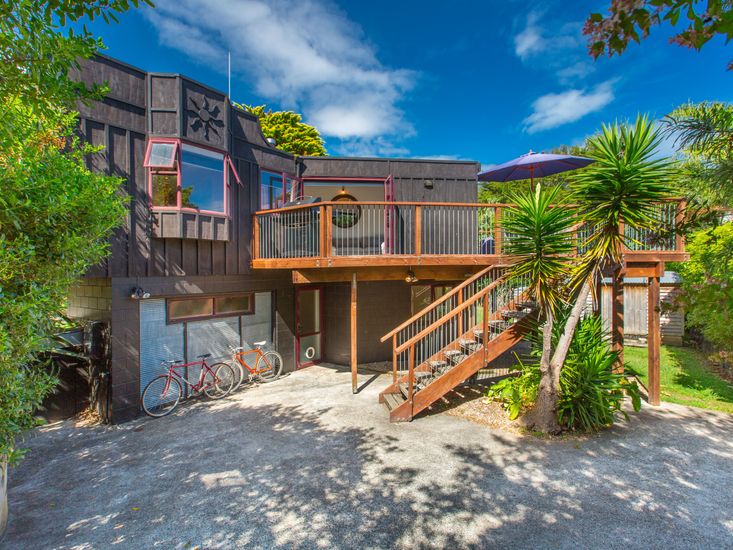 The Peaceful Polohui holiday home is the very definition of a tropical paradise and resides in the sunny, coastal town of Raglan—a surfer's dream. The house has four bedrooms, one bathroom, and a grill ready to be fired up and enjoyed.
This dream home displays vibrant indoor colors to make your stay as exotic as the beaches. With WiFi and a TV, even rainy days won't be able to spoil your holiday. The upper deck is spacious, allowing guests to have gorgeous views and plenty of room to enjoy the fresh air.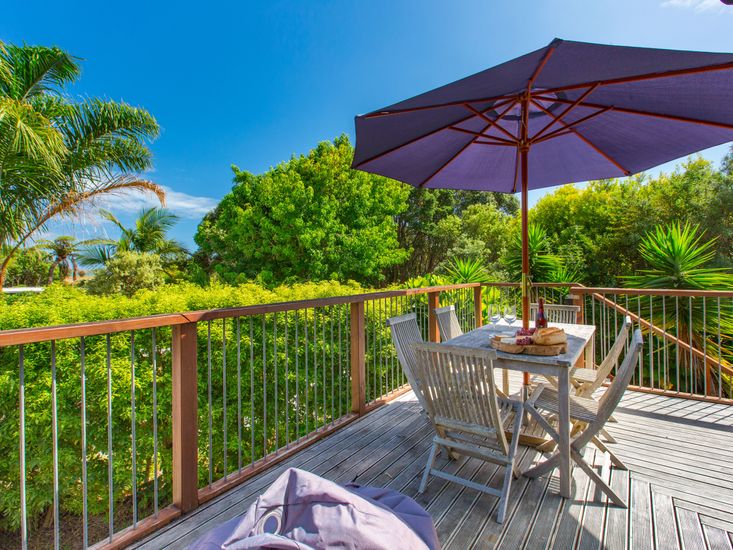 Outdoor enthusiasts will love the many activities the town offers. Surf the world-famous left-hand break at Manu Bay or take your family on a hike up Bridal Veil Falls. Raglan has an even better food scene, where travelers can munch on plant-based meals, sweet-smelling coffee, or mouthwatering seafood.
The house offers a fully fenced-in area and a garage so you can enjoy privacy. It is only a walking distance from Raglan and the beautiful beaches waiting to be enjoyed and is an excellent choice for visitors looking for a luscious escape.
---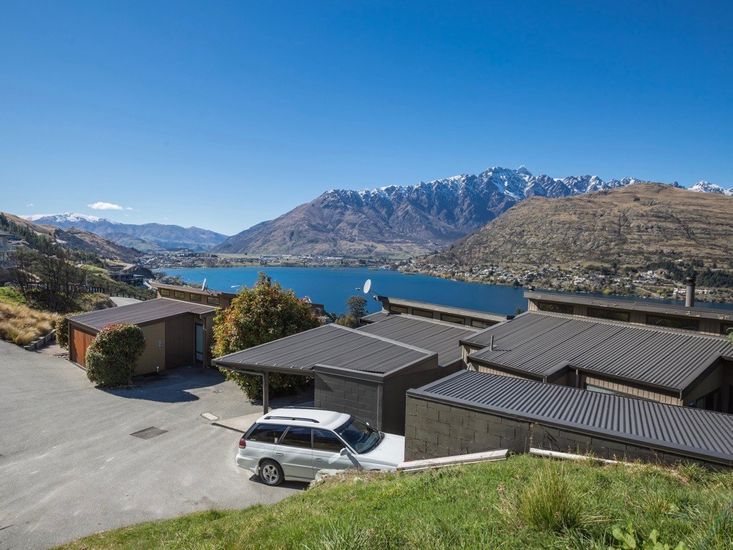 This luxurious holiday home has stunning mountain and lake views that will steal your breath away. The Grand View sits in the town of Queenstown and is the ultimate destination for adventurers.
The Grand View features two levels with three bedrooms, two bathrooms, WiFi, and a spacious outside deck where you can cook up fantastic food on the grill while enjoying New Zealand air and magnificent mountain views. If you're visiting in the winter, the home offers a fireplace for getting cozy and warm.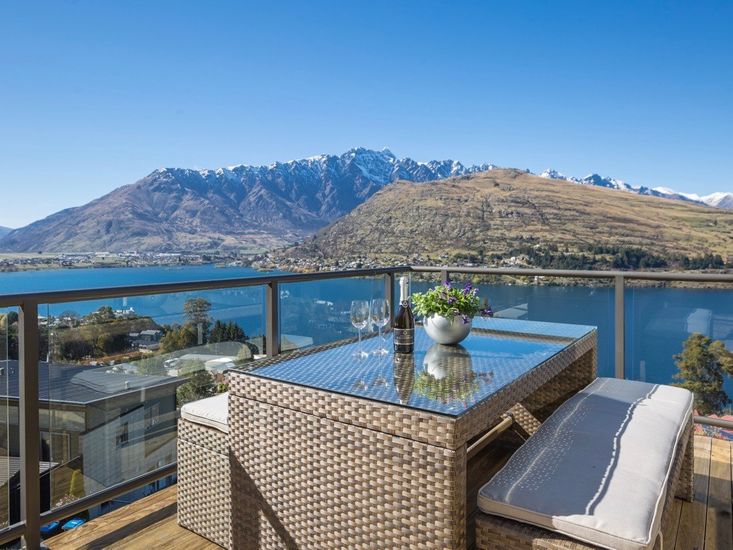 For those seeking a more relaxed getaway, the home is located right down the road from the heart of Queenstown, where you can:
Feast on donuts or bagels 
Enjoy fine wine
Explore local shops
The holiday home offers the closest opportunity for skiing, riding snowmobiles, or picnics in the Alpines for the thrill-seekers.
Suppose your dream is to travel here for the summer. In that case, Queenstown holds many summer activities such as splashing around in the lakes, going horseback riding, hiking up scenic routes, or venturing down rivers by jet boating!
This holiday home offers all adventures in one and is an excellent option for family friends who prefer adventure, excitement, and relaxation!
---
Bring Your Cooking Skills to New Zealand
While New Zealand is a must for trying new foods and tasting fresh wine, these holiday homes with BBQs give you the chance to bring your grilling skills when you want to unwind and relax.
NZ is a land that has something for everyone. Its jaw-dropping natural beauty and down-to-earth communities are waiting to be explored.
So whether you desire to channel your inner adventurer, relax on the beach, or create delicious meals with a view, these holiday homes can give you and your family a luxurious experience.