Luxury Holiday Homes in Queenstown
With luxury accommodations in Queenstown, your next holiday can be as relaxing or as adventurous as you want it to be. This beautiful resort town in the South Island is packed with opportunities to make amazing memories and to enjoy your holiday on your own terms.
Enjoy a Getaway in Queenstown
Situated on Lake Wakatipu, Queenstown is a New Zealand resort town that is unlike any other. The area is widely known for its adventure sports as well as for its undeniably gorgeous landscapes. Many visitors enjoy the thrill of bungee jumping at the Kawarau Gorge's suspension bridge, riding a jet boat across Lake Wakatipu and cruising along the Dart and Shotover rivers. In the winter months, the fun times outdoors continue with downhill skiing at Coronet Peak and at the Remarkables.
In addition to exploring Queenstown's many fine restaurants and touring its shops, you can enjoy top-rated attractions like the Skyline Queenstown gondola, the Kiwi Birdlife Park and Skippers Road. Plus, Central Otago is known for its spectacular wineries. Whether you book a wine tour or you tour the venues on yourself, you will love sampling local vintages while you take in the sights of Queenstown.
With a Queenstown luxury accommodation booked through Bachcare, you will be well on your way to experiencing a holiday unlike any other.
---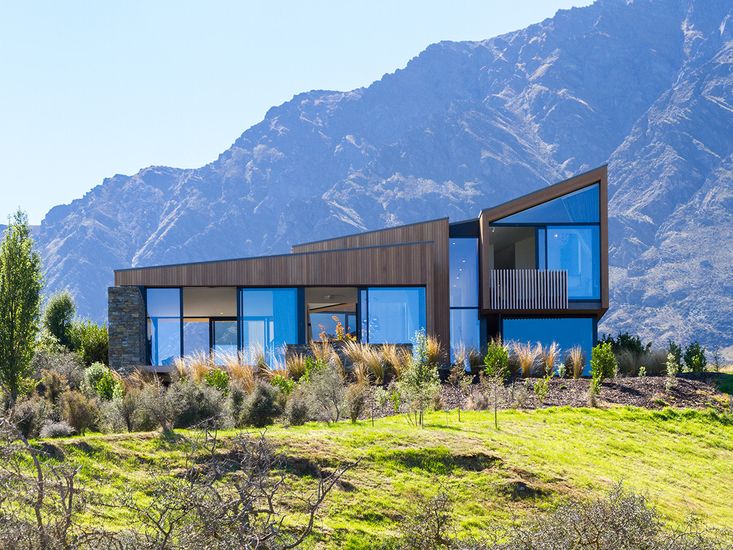 The Point Vista holiday home on McKellar Drive is an architecturally stunning property that stands in perfect harmony against a backdrop of snow-capped mountains. It boasts five bedrooms as well as both indoor and outdoor living spaces on a multi-level design. Lovely views can be enjoyed from all bedrooms. Collectively, the bedrooms have a bunk bed, three double beds, a queen bed and a king bed. The entire home has clean, modern décor as well as all of the amenities you want your mountain retreat to have. This includes multiple decks and patios, a gas-burning fireplace, a barbecue grill, a patio dining table, wireless internet connectivity and more.
This grand home is situated just off of Kingston Road in Jack's Point. While it is removed from the hustle and bustle of Queenstown for a relaxing getaway, it is only a short drive to attractions like Kawarau Falls, Double Cone and Devil's Staircase.
---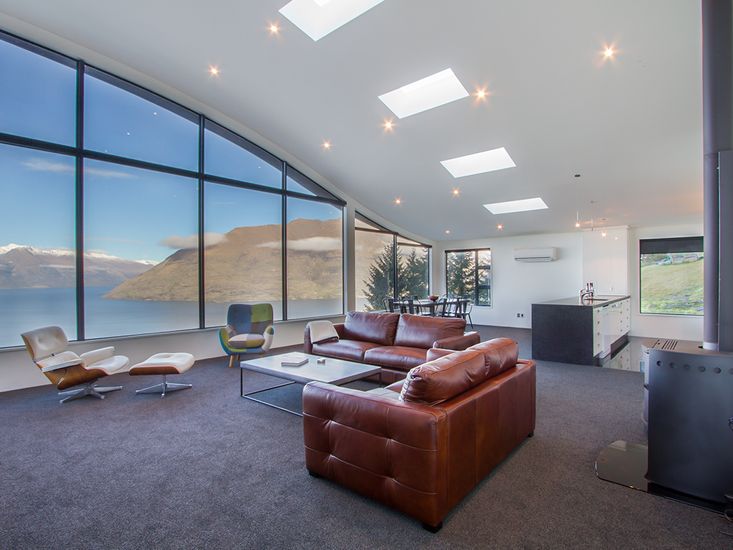 The Vanda Heights holiday home is a premier property that will undoubtedly continue to impress you throughout your stay. It is an architectural masterpiece with wood accents and stunning curves throughout the exterior. Inside, the home makes beautiful use of natural light through skylights and picture windows. With its prime location on the top slope of the community, it backs up against a pristine natural area and offers both mountain and lake views from many rooms in the home. You can even soak in the views while you relax in the outdoor hot tub. Throughout the three bedrooms, you'll find two queen beds, a double bed and a sofa bed. A picnic table, a private garage, wireless internet access and a grill are also on-site.
Vanda Heights is located west of Queenstown's vibrant downtown area close to Ben Lomond. You can easily reach Queenstown's shops, restaurants and other attractions via a short drive. Other nearby attractions are Mount Crichton and Lake Wakatipu.
---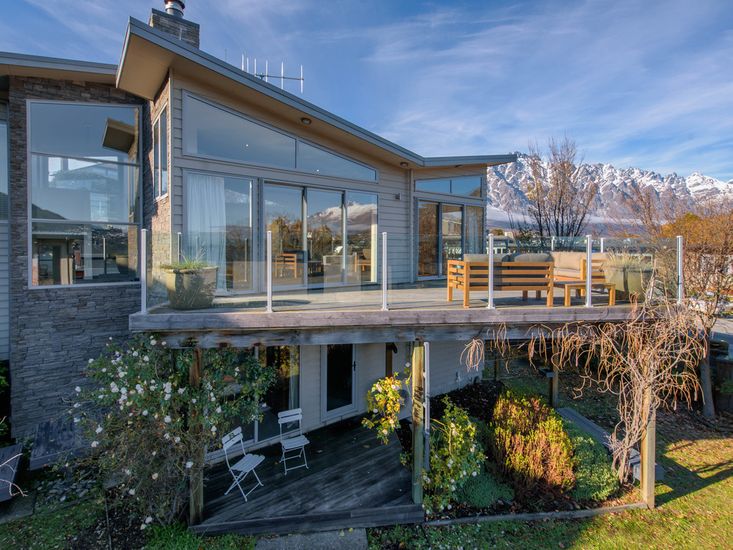 The Yewlett Cres holiday house is perched high on a hill close to the heart of Queenstown and only minutes from the airport. This multi-level, pet-friendly house has four bedrooms and shows off splendid views via floor-to-ceiling windows in the main living and dining areas. The largest bedroom has similar views. Several of the bedrooms and the living area open out to a large deck. The deck boasts outdoor living space with a barbecue grill. Inside, the cozy living room offers a comfy sofa and a gas fireplace. On the first floor, three bedrooms collectively have a queen bed, a bunk bed and a double bunk bed. The remaining bedroom on the second floor has a super-king bed.
With this home's prime location in Queenstown, you can take a short, pleasant walk down to the lake or to any number of attractions, shops and restaurants in the city. The Queenstown Trail is also a walkable distance away. When you are ready to get in the car to explore more distant attractions, you can reach the Remarkables in only 30 minutes.
---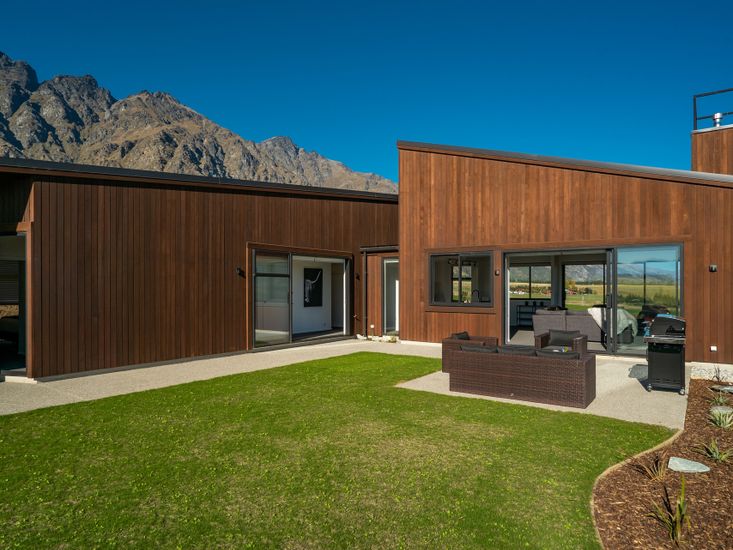 Another beautiful option is the Jack's Point holiday home. This two-level house has four bedrooms, indoor and outdoor living areas and an amazing location. The lovely views from the living room and the outdoor living space show a rolling, green landscape with tall peaks in the distance. Inside, the living room has a gas fireplace and a flat-screen TV. The outdoor patio includes a barbecue grill and a hot tub. Throughout the home's four bedrooms, three queen beds and a king bed can accommodate a party of eight. A second living area and a garage are also on-site.
From the home's location in Jack's Point, you will be a short drive to Queenstown and the Remarkables. You can also access the community's many amenities via a scenic walk. These amenities include a restaurant, a clubhouse, a driving range and a golf course.
---
Your amazing holiday in Queenstown will be even more magical when you have the perfect accommodation. Through Bachcare, you can conveniently find some of the most impressive holiday homes to rent in Queenstown and throughout Otago.
With luxury homes at a variety of price points and in prime locations throughout the area, you can easily create the perfect holiday.
---
Luxury Apartments in Queenstown
Our favorite Queenstown apartments
Glorious natural views of the water and wooded areas await at the luxury apartments we discuss below. No matter which option you choose, these curated accommodation options always please and delight.
Let's take a look at some of our favorite luxury Queenstown apartments.
---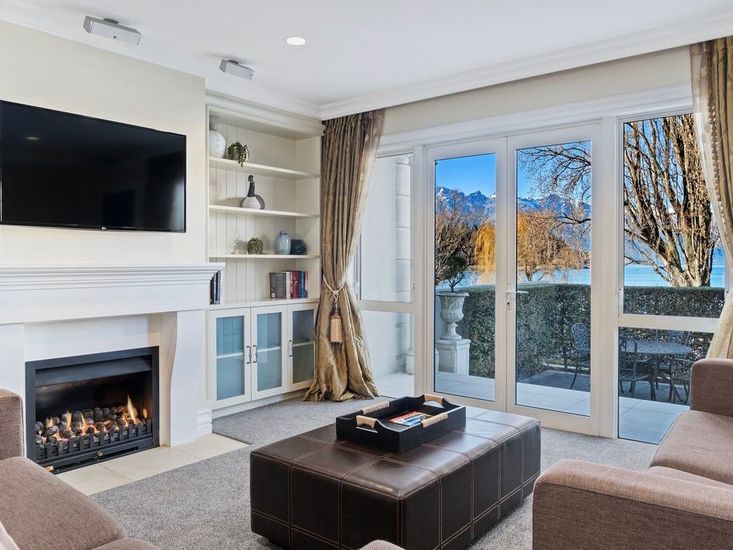 Enjoy a holiday apartment right by the water. This home includes three bedrooms and two bathrooms, and it accommodates up to six people. It includes Wifi, too.
The word "apartment" doesn't describe this holiday home well, as it has two levels. On the downstairs level is an open-concept living area. This includes a gorgeous gas fireplace, which makes this a romantic spot. The kitchen and bathrooms feature underfloor heating, which is perfect if you're staying here in the winter months.
If you're going to be here in the summer, you'll love all the outdoor summer activities and the patio that comes with your holiday apartment. It's completely fenced in, so you can enjoy outstanding privacy and security.
Some of the many amenities that come with this apartment include a private balcony off the master bedroom, shared driveway, and more. Lake Residence is situated on the lovely Esplanade Residence in Queenstown Lakes.
---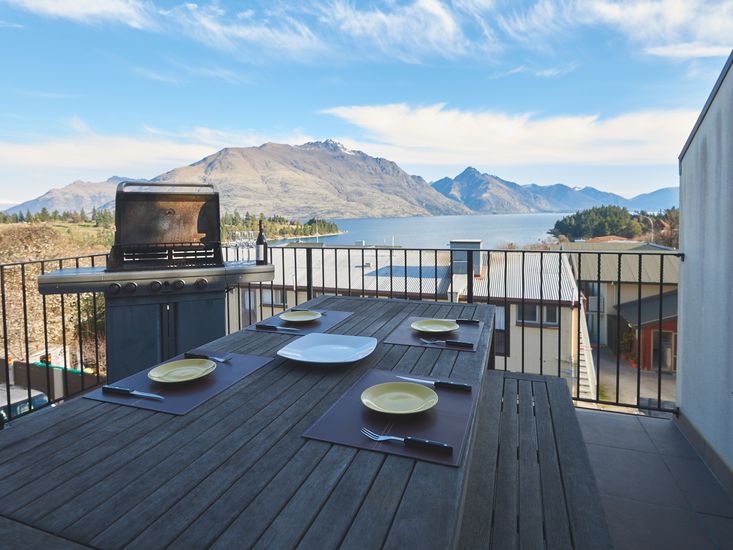 If you want a holiday apartment with a generous four bedrooms and three bathrooms, the Ridge View Apartment may be perfect for you. All linen is included with the apartment, and excellent WiFi is provided.
This is a fourth-floor apartment, and it provides a lovely view of the natural world surrounding the building. This isn't just any apartment. In fact, it features three levels. The top layer has an open-concept design to create an especially spacious feel.
One of the best points of Ridge View Apartment is its convenient location. It's a relaxing walk to the city center. If you love exploring the natural world via bicycle or walking, you are certainly in luck. Many Ridge View Apartment visitors enjoy spending time walking on the water's edge paths just a hop, skip, and jump away.
The master bedroom is found on the top level, and it's got a lovely deck with impressive views. Just imagine waking up in the morning and enjoying a coffee admiring your environs before setting out on yet another exciting day.
---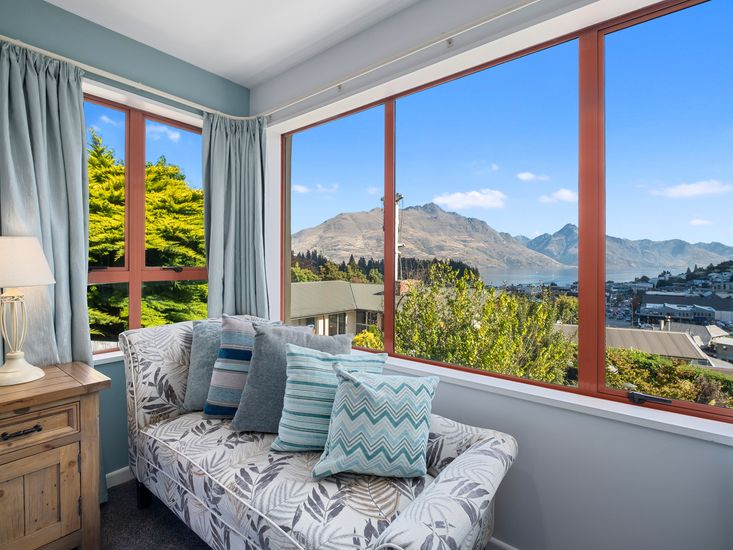 Another accommodation option in Queenstown is Lion's Heart Apartment on Turner Street. Located in beautiful Queenstown Lakes, Lion's Heart provides gorgeous views you'll remember for a lifetime.
This luxury apartment has three bedrooms and is situated conveniently close to local amenities such as high-end restaurants and retail shops. Spend plenty of time walking beside beautiful Lake Wakatipu. If you're traveling with your family or a large group of up to eight, Lion's Heart Apartment will do just fine.
Love wine? Don't miss out on visiting wineries nearby. Lion's Heart Apartment has a whole host of features, including a fireplace for cosy evenings. That's especially great in the winter.
There is also a washing machine, air conditioning, Wifi, a BBQ, a garage, kitchen, and much more. No matter what you want to do while you're in Queenstown, Lion's Heart Apartment is a great home base.
Past visitors have praised this holiday apartment for its homey quality, so we're sure you'll enjoy.
---
Enjoy Your Stay
It's time for a treat. Maybe you've never thought of staying in luxurious accommodations, but why not? After all, you want your stay to be as restful as possible. Book your Queenstown accommodation with Bachcare today:Shortcode