Our favorite luxury holiday homes on Waiheke Island
Waiheke is the picture-perfect holiday destination for those who crave sun and surf. From beachfront lounging to water adventures and more, the island offers everything that you could ask. We have a wide range of beautiful holiday homes available throughout Waiheke at Bachcare, in this post we'll showcase our 4 favorites
Waiheke sits in the Gulf of Hauraki just off of the North Island's peninsula, this makes it the ideal destination for those who want to get away from it. This sun-kissed island is the most populated of the gulf's islands, so it provides you with all of the creature comforts that you need while also giving you the relaxing tropical experience that you crave.
With Waiheke's beautiful views and a wonderful mix of tropical vegetation, rolling hills and scenic beachscapes, the island is the ideal place to enjoy time outdoors. For a more laid-back experience, book a sailing excursion, or take a sandy stroll at any number of lovely beaches. Do you have adventure in mind? With zipline experiences, Segway tours and bike excursions available, your time on the island can be as exciting and active as you want it to be.
Waiheke is home to dozens of wineries and vineyards, including many award-winning venues. Whether you enjoy a glass of wine from time to time or you are a true aficionado, spending time touring wineries and sampling local vintages is a wonderful way to spend a day while on holiday.
These wonderful experiences combine with fine dining, art galleries and more to give you a truly magical holiday. Luxury accommodations will complete your relaxing holiday, and now is the ideal time to book your stay at your preferred bach.
---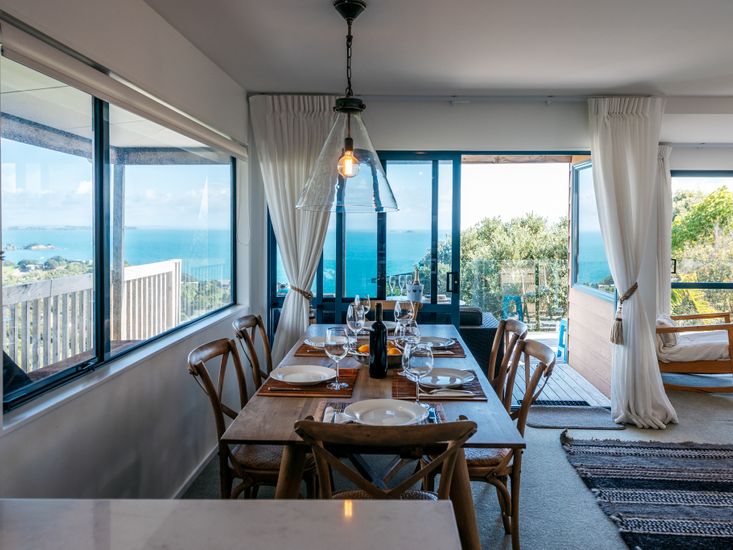 The Sol Vista holiday home is positioned a short drive from the island's northwestern coast, and offers breathtaking water views from its open deck. This is a four-bedroom home that sleeps nine, giving you the perfect balance between cozy comforts and luxurious pampering. The charming living room has floor-to-ceiling sliding doors, enabling you to have an outdoor living experience while enjoying comfortable sofas and your favorite shows on the flat-screen TV. The open living plan supports convenient access to the large dining table and modern kitchen. Like the living room, the dining room has tall sliding doors.
In the four bedrooms, you will find three queen beds, a king bed and a single bed. One bathroom is located on the second level, and the other two bathrooms are conveniently located on the first floor close to the majority of the bedrooms. Additional amenities that the house offers are a barbecue grill, a fenced yard, SkyTV access and wireless internet connectivity.
You will not need to travel far from the Sol Vista holiday home to reach lovely destinations. In fact, a 7-minute walk gets you to Palm Beach. Walk a few additional minutes to reach Sandy Bay and Enclosure Bay. The bus stop is also a short distance from the home and provides you with easy access to many local wineries.
---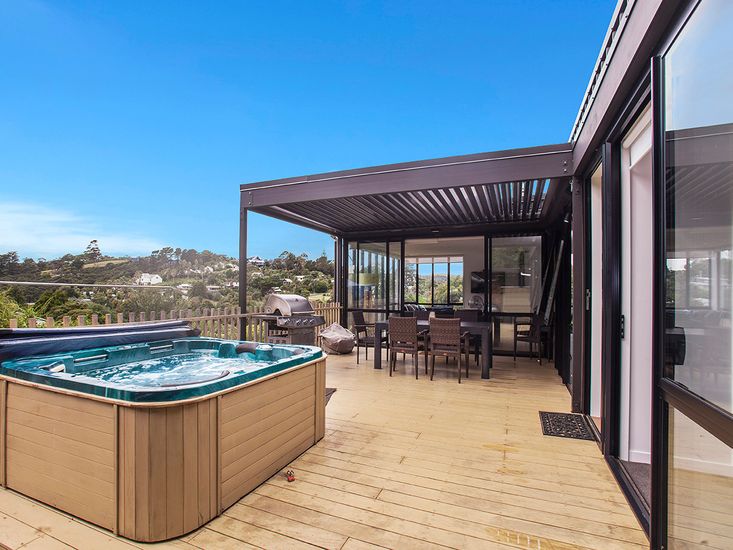 The Palm Beach Treehouse on Hill Road is situated in a north-central location on the island not far from beautiful Mawhitipana Bay. From this location, you can enjoy glimpses of lush vegetation and blue skies from many rooms in the home as well as from the sundeck. This is a pet-friendly, three-bedroom home that sleeps six people.
Inside the home, you can appreciate comfortable lounging on two sofas in an open-concept living space. The living room connects to a dining room with a large table and a modern kitchen. With floor-to-ceiling windows in this open area, the home is designed to bring ample sunlight and beautiful views into the space. The bedrooms feature two king beds and a queen bed. During your stay, you can enjoy access to a private vehicle, a fireplace, a hot tub and wireless internet connectivity.
When you stay at the Palm Beach Treehouse, you will be close to all that the island offers. In fact, you can use the private vehicle to reach beaches, vineyards and more with a short and scenic drive.
---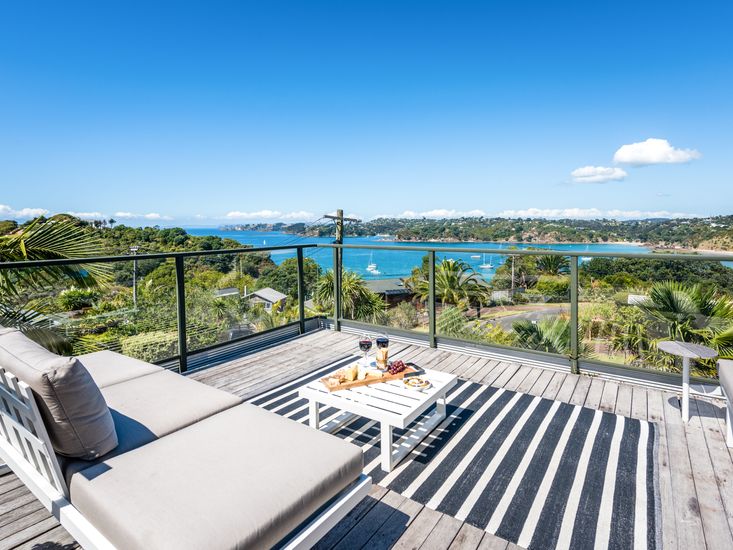 The Oneroa Views holiday home on Karu Street is impressively perched on the side of a hill close to the bay. It has water views from the lounge chairs on the sundeck as well as from the dining room. On chilly days, stay warm in the living room with a wood-burning fireplace. When the weather is nice, open the large doors for an open-air living experience. You can also enjoy using the hot tub, barbecue grill and outdoor dining table during your stay.
Notably, one of the bedrooms is located across the lawn for those who crave privacy while traveling in a group. The three bedrooms collectively feature a king bed, a queen bed, a bunk bed, a double bed, a single bed and a pull-out bed to accommodate up to six adults and two children.
From the Oneroa views holiday home, you can easily walk to the beach for fun in the sun. You will not need to travel far to enjoy a bike ride, a kayak adventure or a round of golf. Wineries and other options are perfect day trip destinations.
---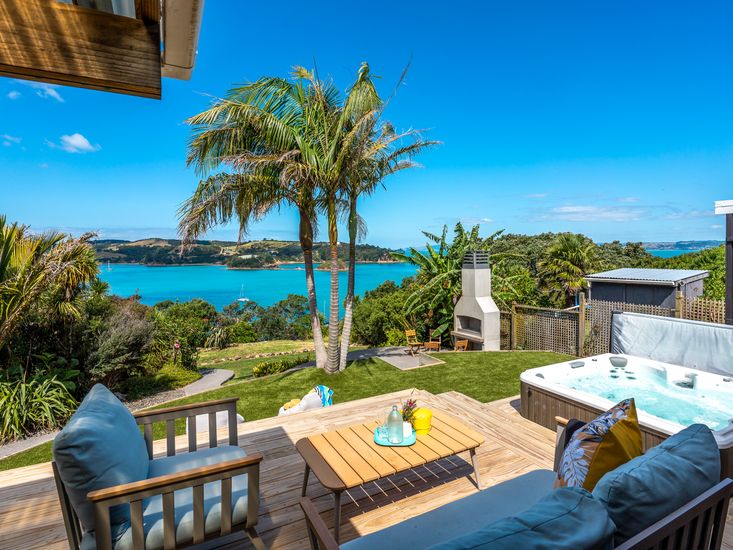 The Sol Spa Oasis – Surfdale holiday home is located on a southern end in the island's western region. It is a two-bedroom home that is ideal for smaller groups who want to get away from it all. The home is well-designed to give you an amazing outdoor living experience. From the top of the wood deck, you can enjoy lovely bay views lined by tropical vegetation. Step off the deck to reach a few bean bag chairs, the hot tub and the firepit.
The cozy home has an airy feel thanks to its open, flowing design. The large, L-shaped couch combines with two barstools and a four-person table to ensure that the whole party has space to relax. The two bedrooms have a queen bed and a double bunk. Additional amenities include a barbecue grill, a patio table and wireless internet access.
From the home, you can walk to attractions like Kennedy Point and Takirau Bay. You can also enjoy easy access to the shops and restaurants in Oneroa as well as to the passenger ferry.
---
Are you ready to cast your cares aside and enjoy a memorable beach holiday on Waiheke? Find your island accommodations on Waiheke today by exploring the possibilities through Bachcare.