Luxury Holiday Homes in Akaroa
Filled to the brim with natural beauty yet conveniently close to the metropolis of Christchurch, Akaroa township and its harbor are must-visit spots in New Zealand. Akaroa is on South Island's unique Banks Peninsula. It's the only place in New Zealand that was established as a French settlement.
The natural scenery and outdoor experiences that await in Akaroa also provide a once-in-a-lifetime experience. There you'll find an enchanting combination of bays, hills, walking trails, and more.
Volcanic forces created The Banks Peninsula, and you'll see signs of this history in the region's landscape. The French settler heritage of Akaroa gives the town and surrounding area a special appeal, with fine restaurants and quaint buildings in abundance.
---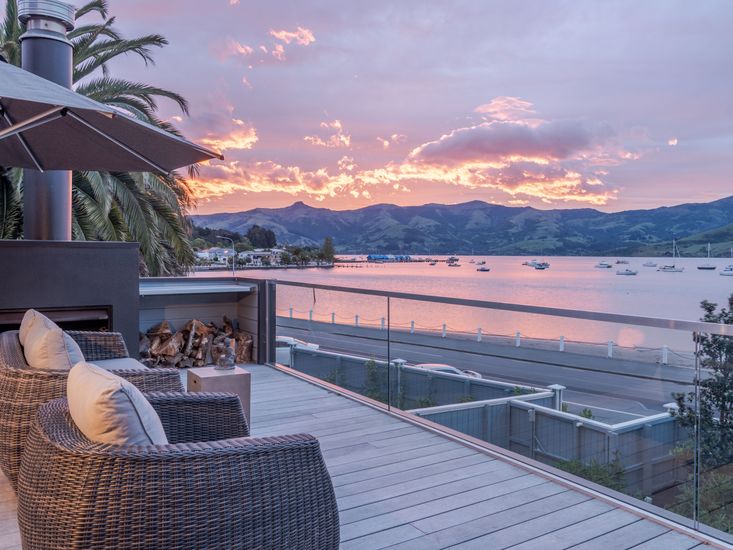 The Paradise Palms holiday apartment on Beach Road is unbeatable when it comes to romantic luxury. Enjoy high-end amenities inside the apartment and outside on the impressive private deck with an outdoor fireplace and BBQ.
Spending time in this property's gorgeous outdoor area is easy. There is upscale outdoor wicker furniture provided on the deck. Spend time sitting near the fire as you enjoy the delicious food you've made on the BBQ and a well-deserved glass of wine.
The windows provide splendid views of the Akaroa town and harbor vistas that you'll remember for a lifetime. This exclusive holiday home option boasts a large bathroom adorned with a spa bath as well as a shower. This room also features a double vanity that will come in handy for you and your partner. 
There are a wide array of indoor amenities, including an indoor lounge with a wood-burning fireplace and full kitchen.
The bedroom features an enormous king-size bed and has floor-to-ceiling glass sliding doors. This is a second entrance to the deck. So it's easy if you want to wander outside to admire the sunrise after you wake up, or perhaps the sunset before you're about to settle in.
You'll also appreciate the fencing outdoors, helping ensure your privacy. When you're ready to explore the area, take the short walk to the Paradise Palms town center. Want to go to the beach? No problem. There's one right across the road from this beautiful apartment.
---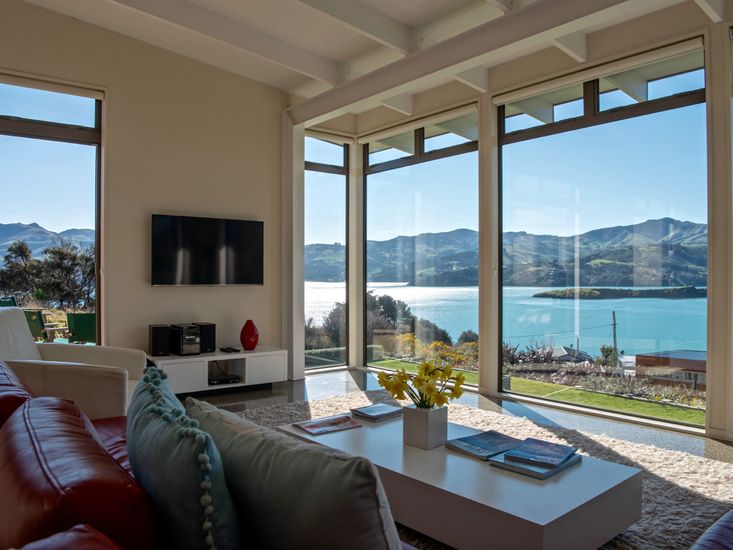 If you're looking for a modern take on a classic holiday, then Kotare Point Paradise is the perfect option for visiting Akaroa. This particular property overlooks the stunning Takamatua Bay, giving you beautiful views as you enjoy a barbecue, lounging on the sundeck, or having a morning cup of coffee from the Nespresso Machine.
This gorgeous property has three levels, giving plenty of space for large parties of up to six people to settle, breathe, and really relax.
If you visit in summer, feel free to avail yourself of the air conditioning or take a trip to the bay below. The views are just as gorgeous in winter, and the heat pump keeps the property warm on even the coldest nights.
Akaroa itself is only a ten-minute drive away, giving you plenty of options for shopping, cruises, and so much more. This property is perfect for the whole family; even the littlest members can enjoy the outdoor dining with the high chair and port-a-cot.
---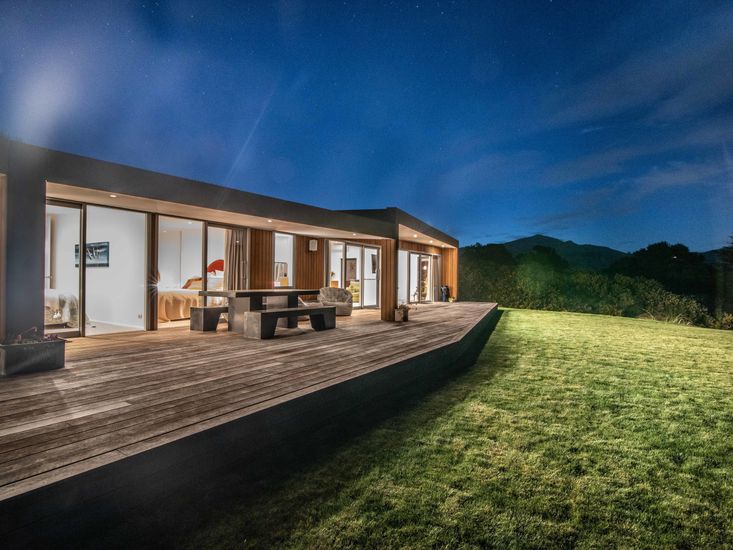 If you want to be right on the water, then the Taka Retreat is the perfect choice for you. You're steps away from the bay, but you still get the stunning views of the landscape and countryside.
The property itself offers unique sights, with a stunning mix of steel, cedar, and stone, blending together to create one cohesive and luxurious environment. It works to flow indoor and outdoor spaces together. No matter where you are, you'll have access to gorgeous views.
The air conditioning and sheltered sundeck, complete with outdoor speakers, create a cool and welcoming environment for families, friends, and romantic getaways. Of course, you can enjoy the gas fire indoors to add a magical quality to any winter evening.
Explore the waters with the property's double kayak, or you can bring your own boat to explore the bay. Plus, the town is only an eight-minute drive away, so you'll have access to everything Akaroa has to offer.
---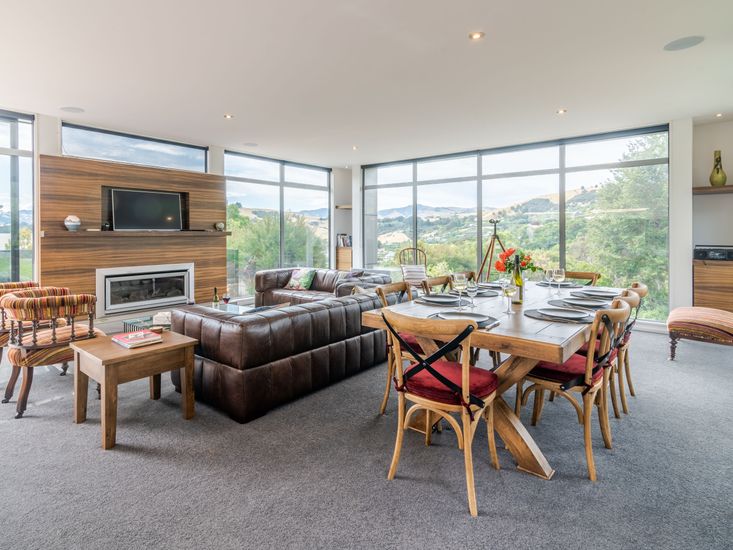 If you want to have the best of both the French countryside and the beauty of New Zealand's Akaroa, then La Maison de Verre is the place for you. It blends French decor perfectly with modern luxury, spread across three storeys, with four bedrooms and outdoor dining.
You'll be able to enjoy the stunning Newtons Waterfall, playful dolphins in the bay, and lush terraced gardens while being only three minutes from town itself. Akaroa offers an engaging museum, local cafes, and restaurants while having a secluded getaway perfect for parties of up to eight.
---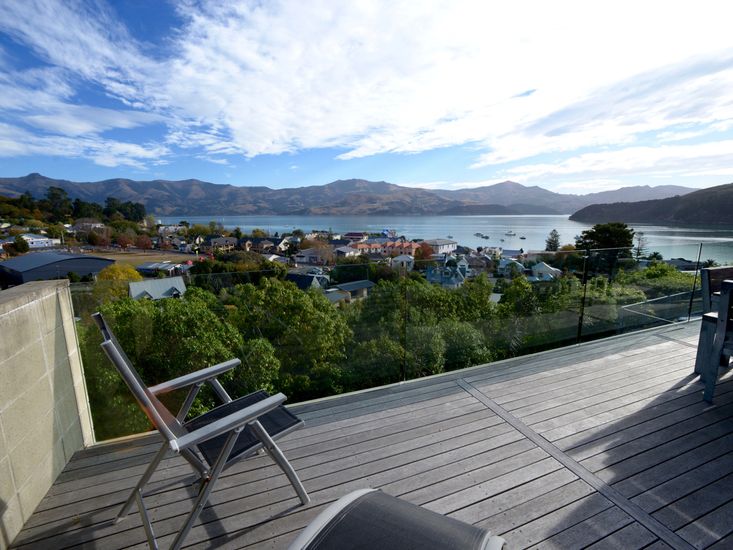 Of course, if you want to be in the heart of Akaroa itself, then Walnut Retreat is your best bet. Five minutes walking from downtown, this home has the amenities of Akaroa itself without sacrificing stunning views of the water thanks to its rooftop deck and open-plan living spaces.
Though this property is in the city itself, it doesn't skimp on size. Walnut Retreat offers three storeys, plenty of space both indoor and out.
You'll have the convenience of a double garage, so you can stow your vehicle and enjoy the area by foot, hassle-free! You (and any teenagers!) won't lack for modern conveniences either as this property includes a selection of chargers, a Samsung tablet to control the Bose Entertainment System, which includes TV, a stunning sound system, radio, and Sky TV.
---
Choose the Perfect Option
Akaroa is the ideal New Zealand destination if you want something a bit out of the ordinary that is still close to the bustling city of Christchurch. Find and book the perfect Akaroa luxury holiday home with Bachcare today.