Two Napier Holiday Homes With A Private Spa Pool
Our portfolio for the beautiful Hawke's Bay region includes a collection of spectacular homes situated in idyllic settings ideal for rejuvenating spa holidays.
Perhaps this is an excellent opportunity to remind our future guests of the benefits of spoiling themselves with a spa getaway. A spa can assuage stress, relieve muscle tension, improve sleep, and increase mobility.
In our hand-selected Bachcare holiday homes, our guests experience nature and serenity while indulging in the health and stress-reducing benefits of our spa amenities.
---
For your next holiday getaway, Serenity by the Sea is a well-appointed accommodation nestled among a lagoon, the arm of the Tukituki River, and Hawke's Bay. This home offers our guests four spacious bedrooms, extensive outdoor areas, and a bubbling hot tub spa to soothe and pamper in a secluded setting.
Perfect for any season, the home's interior is drenched in light, warms tired bones after long walks along the pathways and shorelines with its wood fireplace or conventional heating system. Each family member will have access to enjoy a well-proportioned bedroom and outdoor living spaces with views to please.
Outfitted with a spacious bathroom and guest toilet, this home accommodates guests with comfortable queen and king-size beds as well as quality bedding for a good night's rest.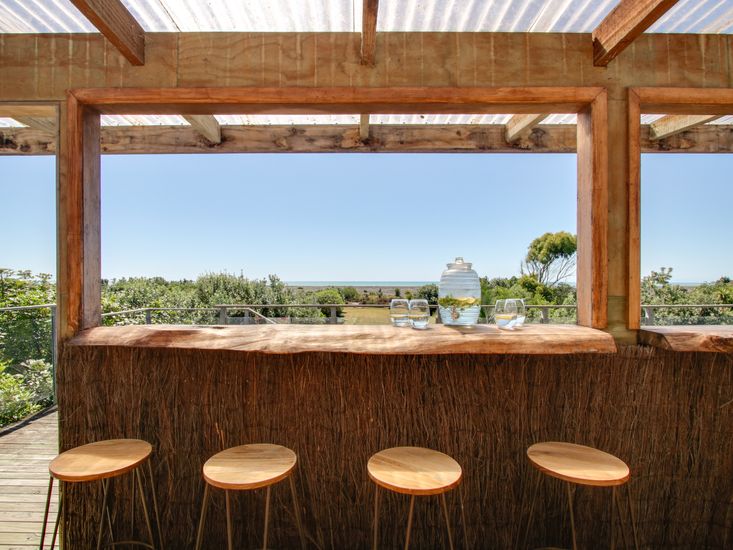 The outdoor area consists of two comfortable and sheltered decks with beautiful scenery and a ground-level patio perfect for enjoying a freshly brewed cup of coffee.
Or, the gem of the show: a private gurgling spa tub.
There are also two comfortable indoor lounges, a gourmet-style kitchen, a dining room, a Kiwi BBQ, and a bar to entertain. Wifi, Smart TV with Netflix programming intended for evenings when snuggling is on the agenda, come included.
If our guests make it beyond the fenceline, stunning views of the lagoon, the river, and the bay surround them. Within a short walking distance, guests can explore the estuary walkway, the park surrounding the lagoon visited by birds, the sailing club, the aquarium, restaurants, and shops.
Napier is famous for its Art Deco heritage, local wineries, and beautiful walking paths. Our guests are always sad to say goodbye.
This ideal location has something special for every member of the family to experience and enjoy. The list of local amenities is long.
A spa holiday is what you and your family deserve. Allow Bachcare holiday homes the privilege to pamper you with one of our wonderful getaway options.
Oh, and did we mention the pristine beach rushing to meet you at your doorstep?
---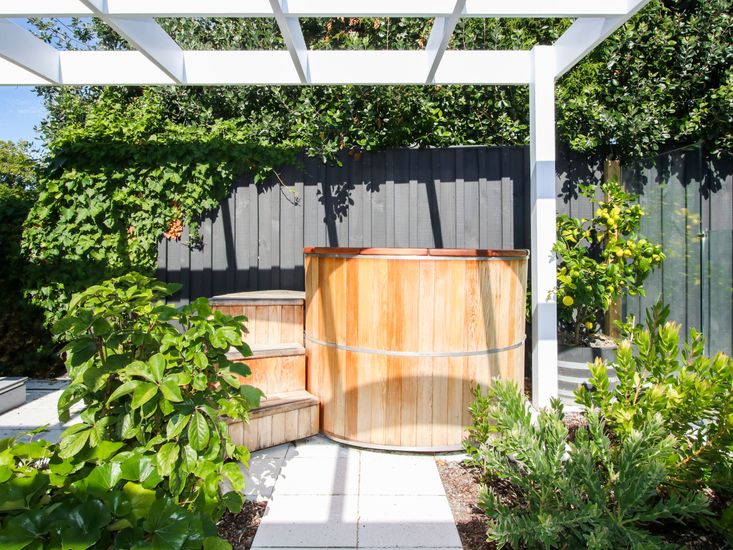 Secluded amidst the heartbeat of Havelock North, this beautiful spa oasis is perfect for honeymooners and families alike. A breathtaking plunge pool takes centerstage until our guests discover the cedar tub snug among the tropical greenery for added privacy.
Havelock North is reminiscent of a country town and famous for its inspired art and honey. Panoramic vistas exist in abundance.
This mecca, among many, is what our Bachcare guests come to expect. A stylish home with all the modern conveniences in a conducive setting for relaxing and enjoying the beauty life has to offer.
This three-bed and two-bath retreat caters to the idea of a spa haven. A glass of red or white wine is a perfect pairing with the cedar spa, perhaps a great accompaniment to a charcuterie tray with all the finest meats and cheeses. This property definitely speaks of a high-quality European affair with indulging tones and understated comfort.
Upstairs, our guests will experience even more comfort. The master ensuite continues the spa theme with a sensual rainshower, double vanity, a stunning bay window, wardrobe space, and a luxurious king-size bed. There is also an indoor soaker tub in the guest bath for rainy days.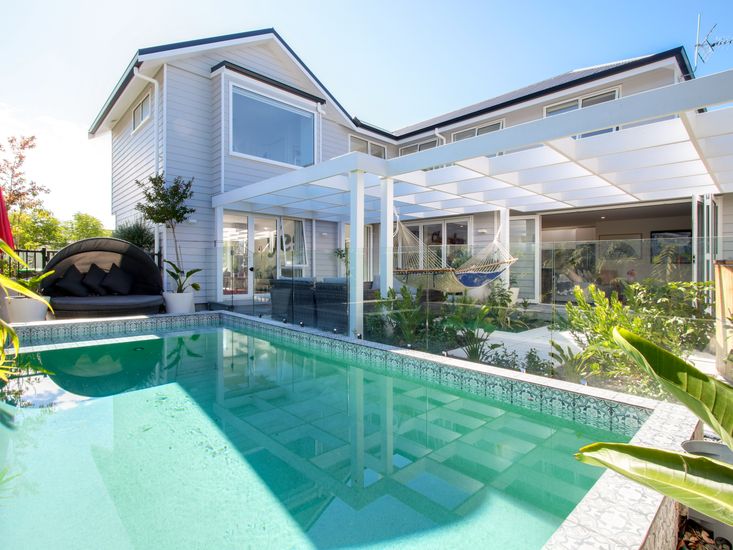 Children will enjoy splashing in the pool, adults can relax on the suspended hammock, and the bi-fold doors invite outdoor living without separation. Havelock Oasis is a superior accommodation in our collection.
Although suburban in an urban cul-de-sac setting, Havelock Oasis is a sanctuary for those wishing to escape work pressures and demanding lives. When our guests are not rejuvenating in the spa tub, gazing at the stars through the vines clinging to the pergola, they appreciate the solitude of their surroundings.
The modern kitchen is the focal point of the open living design that brings a family together. State-of-the-art appliances and top-notch furnishings complement this mecca-styled home and speak to the quality of the properties within the Bachcare holiday home selection.
Explore all our spa holiday options with us. Let's make your dream holiday your reality.
---
Book Your Next Holiday With Bachcare