Eloping in Queenstown – Our secret hideaway holiday homes
If you're thinking about eloping in Queenstown, congratulations! An elopement is a great way to start your marriage on the right foot–just the two of you focused on each other, with no distractions.
As you start your life together, begin as you mean to continue. Embark on your life together with a sense of adventure, a focus on beauty, with an accent of luxury.
---
Destination Queenstown
Queenstown is the best city in New Zealand to elope in. It has the perfect blend of big-city entertainment with world-famous mountain and lake vistas.
If you want to go all out on your elopement and have flowers, a photographer, a caterer, and need a minister or justice of the peace, various Queenstown wedding planners and services will make the planning easy. You can even arrange for a helicopter to whisk you to the top of Roy's Peak so you can say your vows on top of the world.
For a more down-to-earth experience, say your vows at your luxury Bachcare retreat. If it's just the two of you, you can spend your time relaxing in your luxurious home away from home, enjoying the views and hidden tranquility of the Tāhuna.
In Queenstown, you can enjoy fine dining, nightlife, and taste craft brews or boutique wines. Sporty couples will enjoy walking in summer and skiing in winter. The views are some of the most spectacular in New Zealand. Queenstown is the perfect place for a private elopement and a fabulous honeymoon.
Dream Queenstown Elopement Holiday Homes
Eloping to a Bachcare property takes care of all your wedding accommodation needs. These fabulous properties provide serene venues for your ceremony and a relaxing home for your honeymoon. Many couples seek to elope to keep things simple and stress-free. With these holiday homes, you'll be able to design the elopement you've dreamed of.
---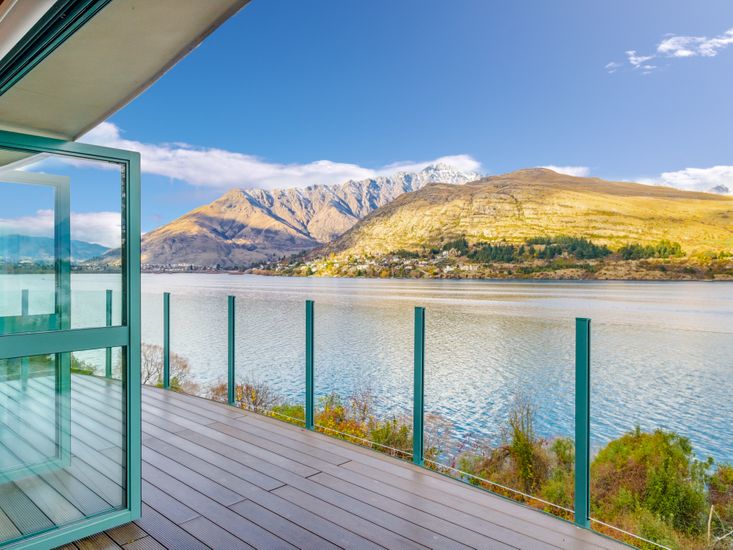 This private lakefront home has it all–fabulous views, a spa pool, and a luxury master suite. Say your vows on the picture-perfect jetty with mountain and lake vistas behind you. Enjoy your honeymoon, relaxing in the spa pool. The master suite has a super king bed and ensuite bathroom. The bathroom is huge and has a jacuzzi tub, separate shower, and his and her sinks. The master suite also has a private balcony, perfect for sipping on a morning coffee.
If your family can't resist celebrating with you, this five-bedroom home has room for everyone. Sink into the comfortable living room or challenge your partner to a game of table tennis. The outdoor spaces offer wonderful fresh air dining and spellbinding stargazing.
When you're ready to stretch your legs off property, take the included bikes and explore Frankton Trail, located right next to the home. In the summer, kayaks are included for romantic paddles on the lake.
Lakefront Delight is ideally located between Queenstown town center and the new town center at Frankton. Hang out in trendy Queenstown and visit a lively bar, or go shopping in Frankton.
---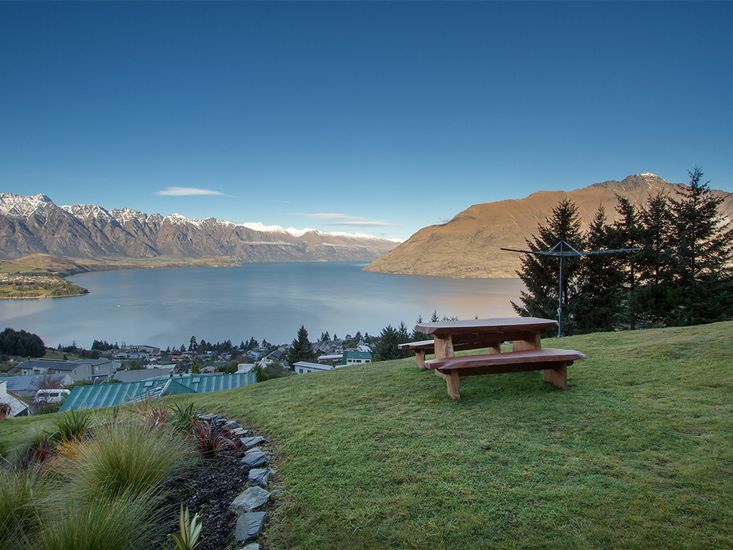 If you've dreamed of saying your vows with The Remarkables as your backdrop, check out Vanda Heights. The luxury 3 level home offers a once-in-a-lifetime getaway for your once-in-a-lifetime elopement. You'll feel like you are on the set of a movie as you take in some of the best views in the world.
The outdoor lawn offers the perfect spot to say your vows with The Remarkables and Lake Wakatipu as your backdrop.
In the winter, enjoy the romantic fireplace. In any season, relax in the outdoor spa pool. The spa pool invites you to gaze at the mountains or wish upon a shooting star. Views of the lake and mountains fill the open living plan. Whether you're making coffee to enjoy on the deck or lounging in the comfortable living room, you'll enjoy the breathtaking scenery.
Vanda Heights offers the height of luxury in this modern home. This meticulously appointed home will make all your dreams come true. This private location feels like a secluded getaway, yet it's only a five-minute drive to the center of Queenstown.
---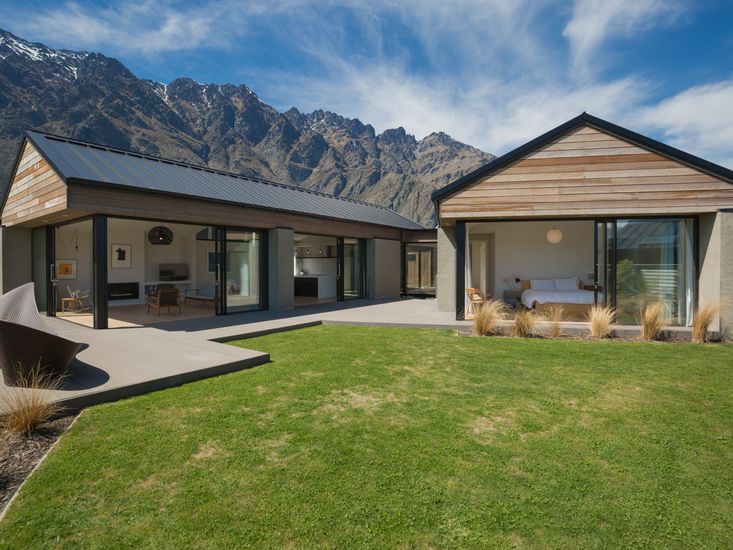 This scrumptious holiday home offers the best in luxury designer accommodation. You'll love the towering views of The Remarkables and the ultra-private master suite that opens onto the deck.
This four-bedroom, two-bathroom Jacks Point Holiday House offers open-plan living. The interior is filled with light from the perfectly positioned windows. Glass sliders offer easy access to the great outdoors.
There's a gas fireplace and heat pump to keep you warm and cosy in the winter. Outside, you'll find a barbecue so you can fire up the grill and show off your home cooking skills.
The master suite is absolutely divine. It has a king bed and luxurious ensuite. Glass sliders fill the room with light and offer floor-to-ceiling views of the mountains. Step from your bedroom onto the deck for a morning coffee.
Luxury Escape is ideally situated at the base of The Remarkables. Hit the slopes for a fun day of skiing, or hit the links outside your day for and beat your par. Luxury Escape is just 15 km to Queenstown center, where you can take part in all the excitement that Queenstown has to offer.
---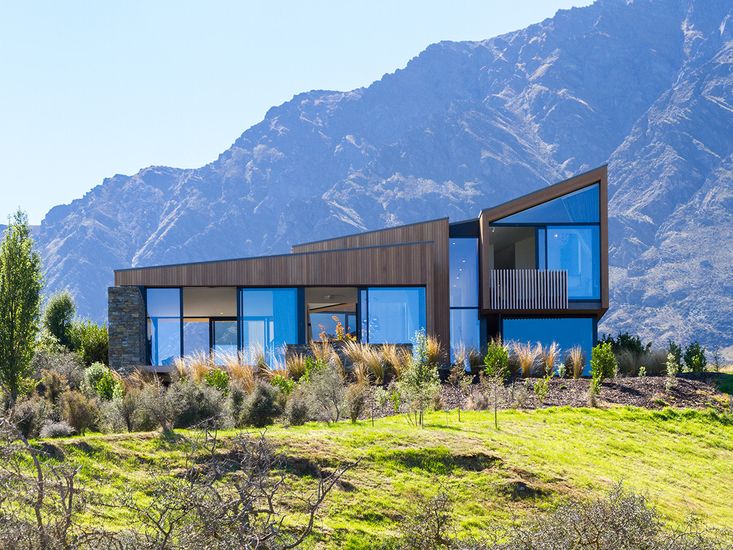 This multi-level home provides the ultimate Southern Lakes escape. Its brilliant, modern design will make you feel like you live in the pages of an architectural design magazine.
The master bedroom is on the upper level and has floor-to-ceiling glass to give you the best view. The master bedroom also has private access to the outdoor deck. There are three other bedrooms on this level, as well as a sweet reading nook. If you are in the mood for a midnight snack, there's a convenient kitchenette on the upper level.
The lower level has an additional bedroom. If you can't wait to share photos of your special day with your family, there's a fabulous office space with a computer and a printer. The private patio is a beautiful place to sit out with a glass of wine or dine alfresco. Light up the outdoor fireplace and spend the evening watching the stars.
---
Make Your Queenstown Elopement Dreams Come True
A lifelong commitment to love and joy should begin in a once-in-a-lifetime luxury holiday home that will bring you joy and memories to last a lifetime. Book your Bachcare holiday home and focus on the wonderful delight of your elopement.