Favorite Taupo Accommodations With Hot Pools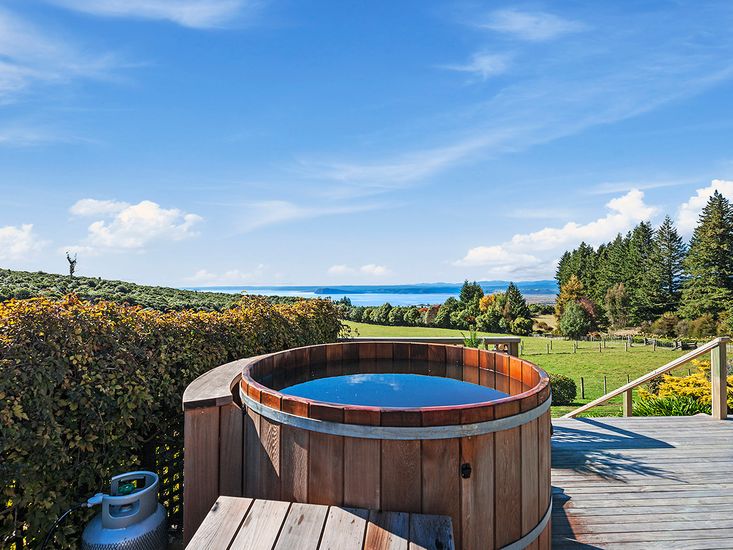 New Zealand is a wonderful place to relax and get away from everyday life. Whether you want to relax and let your troubles melt away or if you're looking for an adventure in fishing or boating, a Taupo accommodation with hot pool is what you need.
Lucky for you, there are plenty of quality options to choose from!
Why New Zealand?
As one of the safest countries globally, New Zealand is an ideal spot to go on holiday with your family. North Island particularly has many beautiful areas to explore. It boasts breathtaking views across the island to take in while soaking in a hot tub.
When you plan a relaxing getaway, you want to be sure that it will fit your family's needs. On top of that, you probably want to make sure it's extra special for a memorable holiday and features a large, calming hot tub.
To help you find everything you need, we have compiled a list of our Top 5 Taupo Accommodation with Hot Pool Retreats to unwind as a family.
---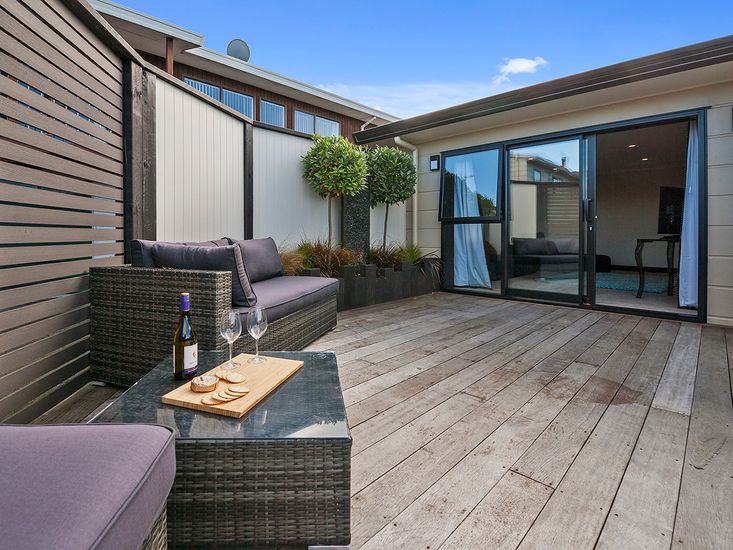 7 People | 3 Bedrooms | 1 Bathroom | From $197 per night
Featuring expansive views of the Taupo township, Nukuhau's Nest is an ideal modern retreat. With 3 bedrooms and 1 bathroom, this spacious home has plenty of room to sleep seven people comfortably.
Outfitted with fully modern renovations, you'll have everything you may need for maximum comfort. The home has a heat pump to keep you warm on chilly nights. And an updated coffee maker to start your day right. This resort-style home also features a large and private sundeck, where there is a spacious hot tub spa pool for you to enjoy. Grab a glass of wine and let your troubles melt away into the hot water.
If you're looking to explore the area, this home is just a short walk away from Riverside Park, which hosts a plethora of local events. Huka Falls and the edge of Lake Taupo are also only a few minute's drives away.
Take advantage of this modern getaway's hot tub and amenities for ultimate relaxation!
---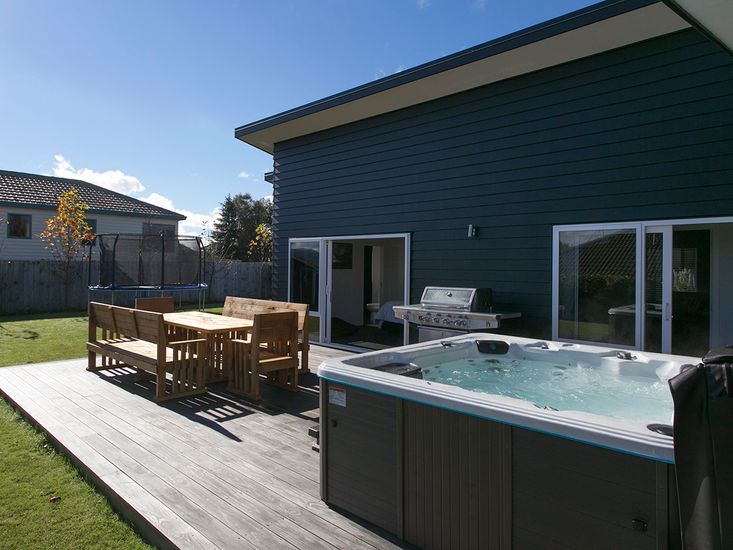 8 People | 4 Bedrooms | 2 Bathrooms | From $265 per night
Just a few minutes from the lake's edge, this roomy Wharewaka holiday home is perfect for anyone looking for a comfortable retreat with a hot tub. Accommodating up to 8 people, it is ideal for two families or a large group of friends.
The spacious getaway features a bright, open plan living space that leads directly into the outdoor area. With a patio and garden area, you can unwind in style. This Taupo accommodation with hot pool offers plenty of outdoor seating. With a fully equipped BBQ, you'll be able to relax and dine outside to enjoy the warm evenings.
There's no lack of entertainment in this home, even on rainy days. The getaway comes equipped with Wi-Fi and Sky TV to enjoy your favorite show at home. There is also an indoor table tennis set for extra fun!
Stay at Sweet Spa Escape for the perfect homey getaway!
---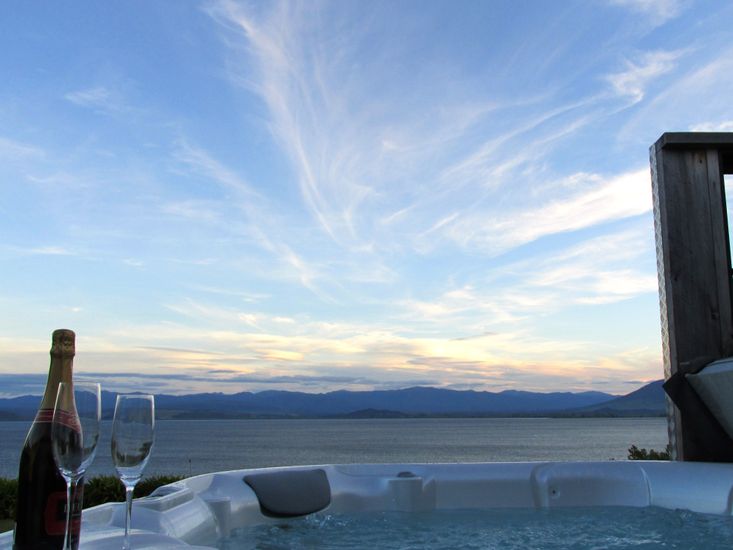 6 People | 3 Bedrooms | 1 Bathroom | From $263 per night
If you are looking for a luxurious Taupo accommodation with hot pool, Waipapa Cottage is a dream come true. Situated on Lake Taupo's southwestern shore, this cottage features unmatched views over the breathtaking Kaimanawa Ranges. Accommodating up to 6 people, there's room for the whole family.
This cottage getaway boasts comprehensive modern renovations throughout the home. From the chef-designed kitchen to the contemporary bathrooms, you will be equipped with all the modern comforts. And with an open plan living space and plenty of picture windows, you will feel liberated in this breezy holiday escape.
Two of the three bedrooms lead directly to the deck for easy access to the saltwater spa pool. Unwind with a glass of wine while you take in the uninterrupted lake views.
If you're looking for an adventure, there are several natural areas nearby to explore. Take a boat out on the Tongariro river to try some fishing. Or if you're visiting in the colder months, Whakapapa skiing is only a short drive away.
Whether you're looking to explore the river or soak in the hot saltwater spa, Waipapa Cottage is the perfect place to unwind and feel refreshed!
---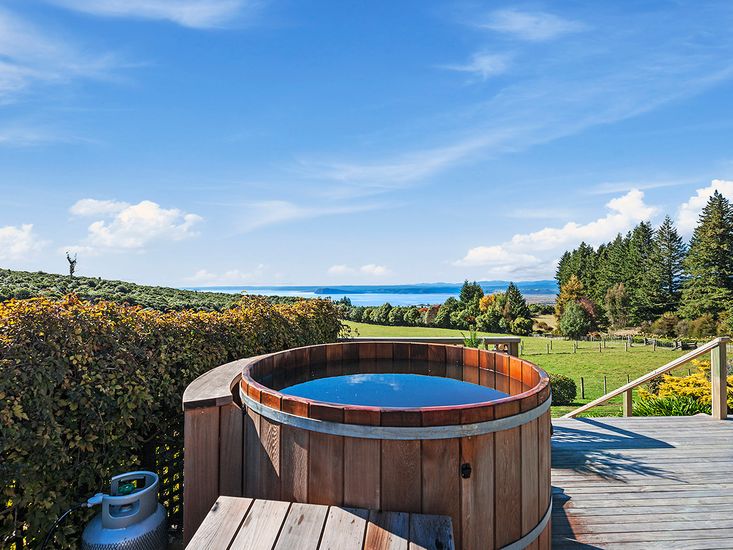 4 People | 2 Bedrooms | 2 Bathrooms | From $510 per night
Nestled in the quiet hillside overlooking Lake Taupo, Pukawa Country Lodge is the perfect hot tub getaway to melt your stress away. With breathtaking views of the water and native greenery, this contemporary holiday home has it all.
Perfect for a family of 4, the Pukawa Country Lodge comes equipped with a plethora of modern comforts. The tall windows and sliding glass doors ensure that this getaway is drenched in natural sunlight. You can open the home in the warmer months to feel a nice cool breeze from the lake. And when it's a little chilly outside, you can cozy up by the indoor wood-burning fireplace.
One of the best features of this holiday home is the charming hot tub on the spacious back deck. The spa overlooks the rolling hills below the house and has an unobstructed view of Lake Taupo. The home also features an outdoor BBQ, so you can dine al fresco with your family while taking in the unbeatable views.
Unwind and soak in the sunshine with the gorgeous natural views and hot tub at Pukawa Country Lodge!
---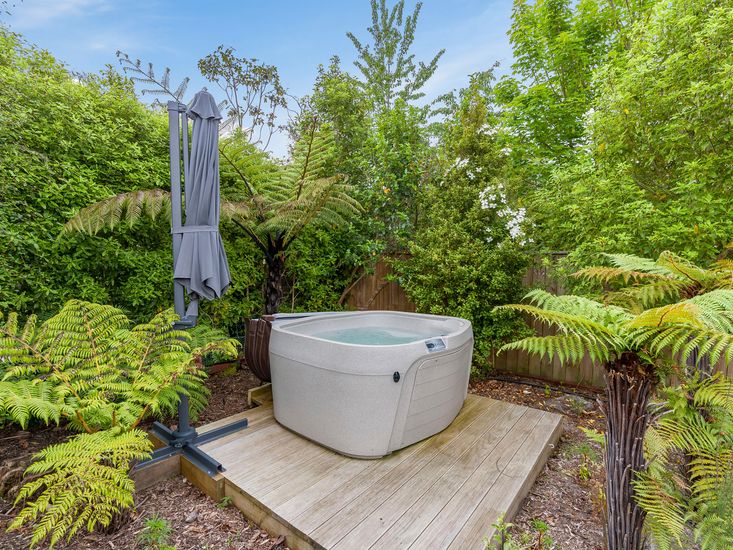 9 People | 4 Bedrooms | 2 Bathrooms | From $210 per night
Only a 3-minute walk from Lake Taupo's edge, Tranquility at Toru is perfect for anyone looking for a luxury hot tub getaway. This expansive home is perfect for two families or a large group of friends. Featuring skylights, large picture windows, and tall sliding glass doors, this holiday home is often bathed in sunlight.
Featuring a spacious and fully fenced in yard and covered deck, there is plenty of outdoor space to enjoy as well. And with a private hot tub, this home is an ideal getaway any time of the year. Tranquility at Toru comes equipped with a BBQ so you can dine alfresco and unwind with a glass of wine.
The getaway includes kayaks for you to enjoy the lake. If you venture out a short walk or drive away, you'll find Turangi's shops and eateries and the renowned Tokaanu Hot Pools. Locals recognize this thermal bathing area for having healing waters, perfect for rejuvenating!
If you're looking for a quiet getaway to unwind near the water, Tranquility at Toru is an ideal choice!
---
Full of water sports, picturesque views, shops, restaurants, and natural wonders to explore, New Zealand is ideal for unwinding and resetting your mind, body, and spirit.
Relax in one of Bachcare's Taupo accommodations with hot pools to feel fully rejuvenated. View all of our Taupo holiday homes today to find one perfect for your family!