Famous for its ski fields and great walks, Ruapehu is a popular place for North Islanders to escape. We'll give you the run-down on the best things to do and places to visit while you're here.
---
Ruapehu Ski Fields
Mt. Ruapehu is the go-to ski destination for the North Island. Whakapapa and Turoa are the two main ski-areas, both suitable for all experience levels.
Turoa
Turoa is a south-west facing ski-field that operates the country's highest chairlift, the 'Highnoon Express.' It has a good little magic carpet area for the beginners, situated next to a cafe that sells decent food and coffee (we recommend trying one of their freshly made juices). This ski field also has 12 intermediate runs for the more experienced, and 25 black runs for the advanced skiers.
Whakapapa
Whakapapa is New Zealand's biggest ski-field. It's extremely popular and has a leading beginners area. There's a lot of variety in skiing terrain due to the volcanic nature of Mt. Ruapehu, so you will be spoiled for choice whether you choose an intermediate run or brave an advanced run. Another thing you'll find here is that the runs are a little more spaced out than the runs at Turoa.
This ski-field is club-based and is good for those who would rather avoid the crowds. Even though it's run and maintained by club members, it's still open to the public. They offer a number of lessons, ski hire and all of the bells and whistles you would expect with a commercial ski field. It's located on the Eastern side of Mt Ruapehu, which gives it great shelter from those powerful Westerlies.
Find out more about Tukino ski field here.
---
Ohakune, also known as 'The Mountain Town',  has got to be the town of choice if you're heading up Mt. Ruapehu. It's filled with great cafes and restaurants, and it's just a 25 minute drive to Turoa and a 45 minute drive to Whakapapa. There's also a number of activities around here too that don't involve snow sports – making it a great destination all year round!
Ohakune Old Coach Road.
This walk and cycle trail will take you along what once was an operating railroad. The track goes over tall wooden bridges and is surrounded by rimu trees and native falcons. Because nothing is too steep or strenuous, it is a great family walk or bike to do. It takes about 4 ½  hours to go the one-way direction from Horopito to Ohakune if you're going by foot, and about 2 hours by bike. If you're walking we recommend sorting out a pickup at the other end to take you back.
Scenic Flights
Ruapehu has some stunning landscapes, and there's no better way to see it than by air. Mountain air volcanic scenic flights offer 3 main volcanic flight routes. You'll be whisked away in a three or five passenger seat plane and transported across some of New Zealand's most beautiful volcanic sights. These include Mt. Ruapehu, Mt. Ngauruhoe (Also known as Mt. Doom for you Lord of the Rings fans) and the Tongariro National Park. In the distance you'll see Taupo, Napier and Mt. Taranaki! If you're staying around Mt Ruapehu, the closest pick up point is from the Chateau.
Tongariro Alpine Crossing
The Tongariro crossing is part of the Tongariro Northern Circuit, one of the nine great walks of New Zealand. You'll start off on a boardwalk track through the Mangatepopo Valley, and then begin a rather steep ascent to the Mangatepopo Saddle. At the top of this you'll be between Mt. Ngauruhoe and Mt. Ruapehu, with panoramic views in front of you. Those views only get better as the walk goes on – once you reach the top of Red Crater you'll be able to see 360 degree views across volcanic landscape. The hike down goes past the idyllic emerald lakes, and as you zig-zag your way back down you'll smell the sulphur that hints at an active volcano. The walk ends through lush forest. This is a one-way, all day hike, and you can book a shuttle that will drop you off and pick you up at the other end.
Forgotten World Adventures
For something a little bit out of the ordinary, be sure to stop by forgotten world adventures. Here you can go on a self-guided tour by operating your own rail-cart! Along the way you'll pass rural towns that have been forgotten by time and learn some rich and less-conventional history about New Zealand. You'll go over 98 bridges and 24 tunnels on the 142 km railway track. Other transport options for this tour is via. a rail-bike (which you can pedal with a buddy) or you can take it off-road with a jet boat tour.
Great Places to Eat in Ohakune
EAT Takeaway Diner: 

If you're low on fuel after a hike or a day of skiing, and can think of nothing better than biting into a large, melted philly cheese steak, then 

EAT

 is for you. They have some of the best coffee in the Ruapehu area and a range of treats sure to satisfy even the fussiest taste buds.

Johnny Nation's Chocolate Eclair Shop: Got a sweet tooth? There's a shop dedicated solely to chocolate eclairs with a side of excellent pies and sausage rolls. This is a diet-breaker for sure. They don't have a website but you should definitely stop by; 78 Clyde St, Ohakune.

Utopia Delicatessen Cafe: 

This place is super popular and can get quite busy, but they do amazing burgers and coffee. It's been around for a long while and both locals and tourists love it. This is another website-less cafe but you can find them down the road at 47 Clyde St.
Find holiday homes in the Mt. Ruapehu area here.
Over to you…
Do you have any favourite spots or things to do around the Ruapehu area? We would love to know your secrets and opinions, so make sure to leave us a comment!
---
Featured Properties in Ruapehu
Triple Peaks Lodge is an upmarket 5 bedroom 2 bathroom National Park holiday house. This modern holiday house enjoys expansive decking, spacious living areas, and stunning views overlooking Tongariro National Park!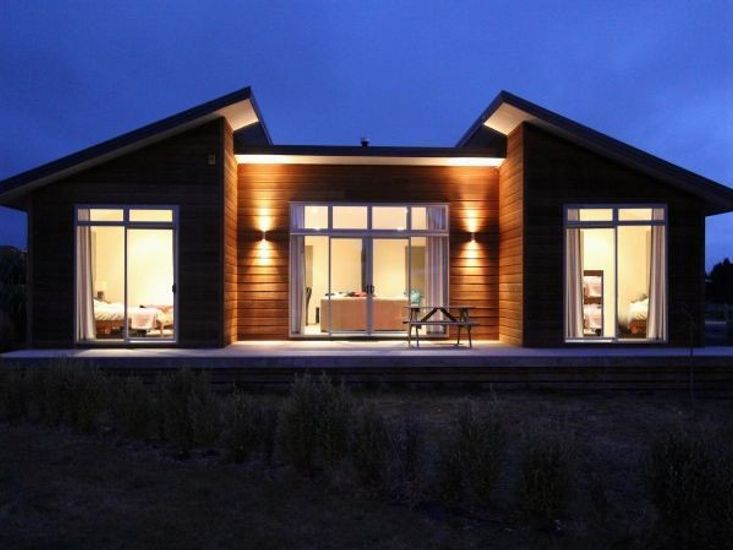 Carrot Cake Chalet is a 2 bedroom Ohakune ski chalet – a warm, comfortable and well-appointed modern chalet located in the premier Snowmass development among other high quality properties, and within easy walking distance of the cafes, bars, restaurants, and the other facilities and attractions of downtown Ohakune. This property is perfect for your next ski retreat.