Cathedral Cove – Complete Guide
If you're looking for a one-of-a-kind beach to visit in New Zealand, Cathedral Cove is a great option. Many Kiwis consider it to be one of the best beaches in New Zealand, and we'll explore everything it has to offer in the travel guide below.
---
What is Cathedral Cove?
Located on New Zealand's Coromandel Peninsula, Cathedral Cove is a rock/cave formation made famous for its beauty and has been featured in popular film and television. The rock itself has been formed over time, carved from the nearby rough seas.
How to Get to Cathedral Cove
Cathedral Cove is only a few kilometers from the town of Hahei, which is on New Zealand's North Island. If you're travelling from Auckland, your journey will take about 2.5 hours by car.
Any Kiwi that has been to Cathedral Cove will tell you that the walk along the track to get to the actual cove is an attraction in and of itself. While the cove at the end is stunningly beautiful, the walk along the track is truly unique. Once you find somewhere to park, the walk itself is about 2.5 kilometers long going one way.
Parking
While there is a carpark at the start of the track, it's been temporarily closed by the council. As of now, it's only closed during the busier summer months with the hope of opening during the slower season, but this isn't a guarantee. Due to increased traffic in Hahei village over summer, the Cathedral Cove Lookout car park (start of the track) is closed from 1st October to 30th April. For this reason, it's best to plan on an alternate way to get to the beginning of the track to Cathedral Cove. 
Taking the shuttle from the nearby town of Hahei is by far the most common option and runs from 10 am until 6 pm, although you'll want to confirm this just to be safe. All you need to do is meet in a Hahei carpark and board the shuttle, which will take you directly to the start of the Cathedral Cove track. This option is also relatively inexpensive, only costing $5 per adult and $10 for a family of two children and two adults.
More info on the shuttle can be found by clicking here. Please note that due to Covid-19 face masks must be worn in the shuttle.
Walk from Hahei
Taking the long walk from Hanhei to the Cathedral Cove track entrance is another option, although this will take quite a while and you'll need to climb a steep hill along the way. Those who opt for this walk say that walking from the beach in Hahei is the best bet for the cove's direct path.
Park at a Nearby House
Homeowners that live close to the now-closed carpark have capitalized on the situation, offering parking in front of their homes for about $10. Depending on which house you choose, it's about a 5-minute walk to the track entrance. These spots also go quite fast, so make sure to get there early.
Facilities
Along the track, there aren't any facilities at all. While there are drop toilets once you arrive at the Cove, it's a good idea to bring your own toilet paper just in case.
In terms of food and water, you'll need to bring your own.
Cost to Visit
The best part of Cathedral Cove? It's free! There aren't any fees you need to pay; the only thing you need to budget for is parking or the shuttle, whichever you choose.
---
Track Difficulty
The track is easy to navigate, and many tourists who visit say they see both children and elderly folks walking it with ease. Below are more specifics on the track.
Track Conditions
The track itself is paved and completely flat, so it's straightforward to navigate even if you're not used to being very active. There are also several attractions along the way, so you'll have many opportunities to stop, rest, and take in the beautiful scenery.
Stairs
There is a small hill to climb at the halfway point as far as things that may be difficult. There's a well-kept staircase with a railing to help you up the hill, so don't let this stop you from going if you're hesitant. The hill itself is small, and you'll be able to take breaks on the way up if need be.
Each bay along the track requires you to walk down a flight of stairs, which means you'll need to climb a flight to get back to the track. However, you'll still be able to view each bay from the track if you'd rather skip the stairs.
Distance
The track to Cathedral Cove is 2.5 kilometers one way, with an estimated time of 1.5 hours one way. However, keep in mind that this doesn't include any stops along the way or any time at the cove itself. If you prefer to go at a slower pace and stop at every attraction along the way, experienced Kiwi's suggest budgeting about 4 or 5 hours for the entire trip. While the journey itself is an easy one, keeping this total time in mind is important.
---
Unique Features
There are several unique and beautiful stops on the way to the cove itself; each one boasting its own breathtaking views.
1. Viewing Platform
The first stop along the track is located right at the entrance. From this viewing deck, you can see the entire coastline. This is a great alternative if you'd prefer not to walk the trail itself.
2. Gemstone Bay
Gemstone Bay is next, about 15 minutes from the entrance. If you're interested in snorkeling, this is the spot to do it. However, keep in mind that disappears during high tide, so if you want to rest on the sand, you'll need to plan on visiting during low tide.
3. Stingray Bay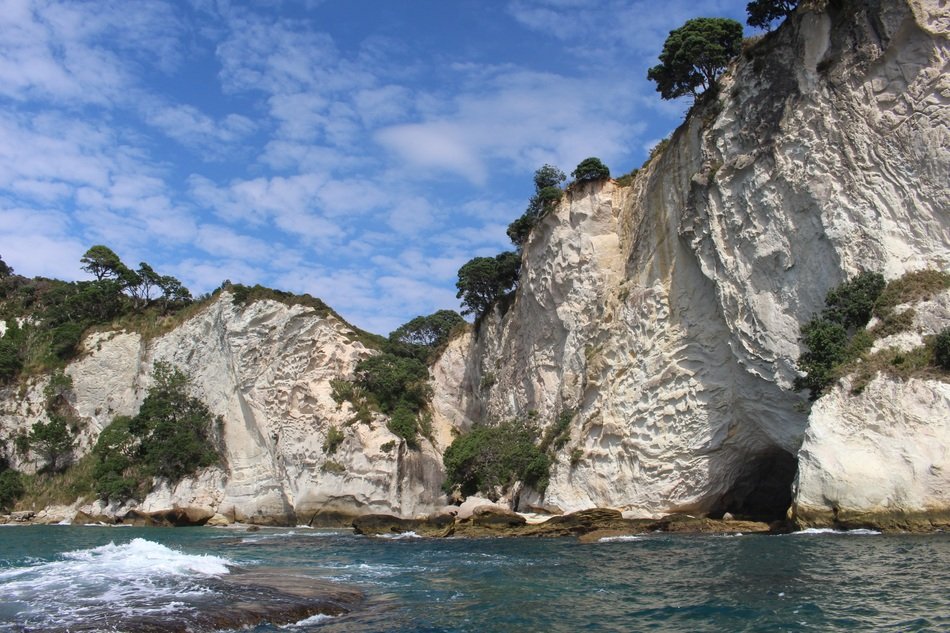 About 10 minutes from Gemstone Bay, Stingray Bay is an equally beautiful location. There are many large rocks by the ocean in this bay, which makes it the perfect place to set up a relaxing picnic.
4. Hill Lookout
At the top of the only hill on the track is a lookout, complete with a bench for you to sit and catch your breath. This is by far the best view along the track.
---
Helpful Tips for Visiting
No matter what, your trip to Cathedral Cove is bound to be one-of-a-kind. Before you go, keep in mind the following tips to get the most out of your trip:
Bring plenty of water! While easy, the trail is long, and you'll definitely need to rehydrate along the way.
Go in the morning. Cathedral Cove is busy, and for a good reason! Most of the crowds visit in the afternoons during the summer, so get there early if you want to avoid high traffic.
Pay attention to the tides. While the walk along the track and the cove are going to be beautiful no matter what, tides make all the difference. Both Stingray Bay and Gemstone Bay's beaches disappear during high tide, and the best time to take photos inside the cove is between low and high tides.
---
Before You Go
No matter when you go or how much of the track you decide to complete, it's impossible for Cathedral Cove to disappoint. Kiwis and international tourists alike consider this location a one-of-a-kind favorite.
You'll need accommodations nearby if you plan to enjoy all this historic site has to offer. View all Bachcare Holiday Homes to find a great location to stay near Cathedral Cove!