Eat Mcdonald's in a retired DC3 plane!
Taupo is known as an adventure city. Built around the sparkling Lake Taupo, you'll find snow-capped mountains, hiking trails, trout-filled rivers, exciting mountain bike trails, and relaxing hot pools. Even Taupo's McDonald's provides a fun adventure for the whole family!
---
DC-3 Aircraft Takes the McDonald's Experience to a New Level
The Mcdonalds Taupo New Zealand has been named one of the world's coolest McDonald's, and for a good reason. Instead of sticking with the grounded drive-through theme, this one-of-a-kind McDonald's aims sky-high.
Visitors will have to order in the standard four-wall McDonald's, but high-flyers can take their meals to the decommissioned Douglas DC-3 aircraft and dine in style. The vintage aircraft has remained largely original, but 10 dinette tables and 20 chairs have been added to convert the DC-3 into a unique dining room.
Guests can peak into the cockpit, which is shielded by a glass divider. In addition, diners will learn about the history of the aircraft on storyboards near the cockpit.
The DC-3 was originally commissioned in 1943. In the 1960s, it was used by South Pacific Airlines of New Zealand. In the 1970s, it was used as a top-dressing aircraft and spread fertilizers over farmland. The DC-3 was decommissioned in 1984.
In 1985, the mayor of Taupo, Rick Cooper, found the DC-3 in New Plymouth and admired it. He intended to use it as his office at the Aeroplane Car Company. McDonald's purchased the car dealership in 1990, and the aircraft is now a world-famous landmark.
Today, visitors are welcome to stop by to take pictures of this Instagram-worthy spot and eat their Big Macs in the historic aircraft's cabin.
---
Explore Taupo
While the McDonalds is fun, don't let your Taupo adventure stop there. Check out Ngatoroirangi Mine Bay Maori Rock Carvings to see one of New Zealand's most stunning Maori artworks. These intricate rock carvings tower over the lake and are reachable by boat.
Relax in geothermal hot pools, or enjoy a spa day.
Taupo has a thrilling range of mountain biking trails. Check out Great Lakes Trails, Craters Mountain Bike Park, or the Waikato River Trails.
Walkers and hikers will love the Huka Falls trails, the Tongariro River Trail, and thermal walkways at Orakei Korako or Craters of the Moon.
If it's raining, we've got you covered with a plethora of rainy day activities.
---
Best Bachcare Properties Near Taupo New Zealand
---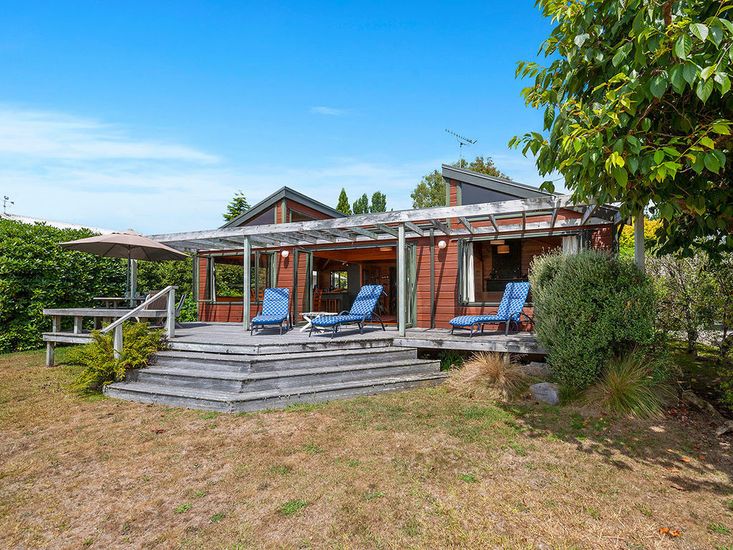 If you're looking to get away and relax, check out our Ani Miria Lakefront home. This four-bedroom, two-bathroom home is perfect for a family holiday. The home features warm wood accents to create a welcoming ambiance. Large windows fill the home with light and gorgeous lake views.
The master bedroom has sliding glass doors leading to the outdoor deck. The master bedroom and second bedroom both feature queen beds. The third bedroom has two single beds. The fourth bedroom is in the cosy loft and features two single beds and one double bed. There's plenty of room for the whole family!
The kitchen offers a window-side bar. The chef and mixologist can hand out yummy treats to be enjoyed outdoors on the side deck.
Relax outdoors on the comfortable sun loungers while enjoying endless lake views. Bring your boat and head out on the lake for trout fishing. After landing your prized catch, fire up the BBQ and cook and dine outdoors.
The included kayaks are another great way to get out and enjoy the lakeside life. Walk Waitetoko Beach, swim the refreshing waters, and immerse yourself in lakefront serenity.
The local area has a plethora of opportunities for outdoor recreation. The nearby trout river is an internationally known destination for fly fishing. Other great fishing rivers include the Tauranga Taupo, Tongariro, and the Hatepe.
In winter, check out the area's fantastic skiing and winter sports options. Mt Ruapehu, Tongariro Crossing, and Whakapapa Ski Field are all within an hour's drive. After a rewarding day's activity, head back to Ani Miria, light the cosy fire, and curl up with a good book.
Turangi is a 10-minute drive and is a great spot for restaurants and shopping. Taupo is 30 minutes away and offers world-class dining, shopping, and adventure.
---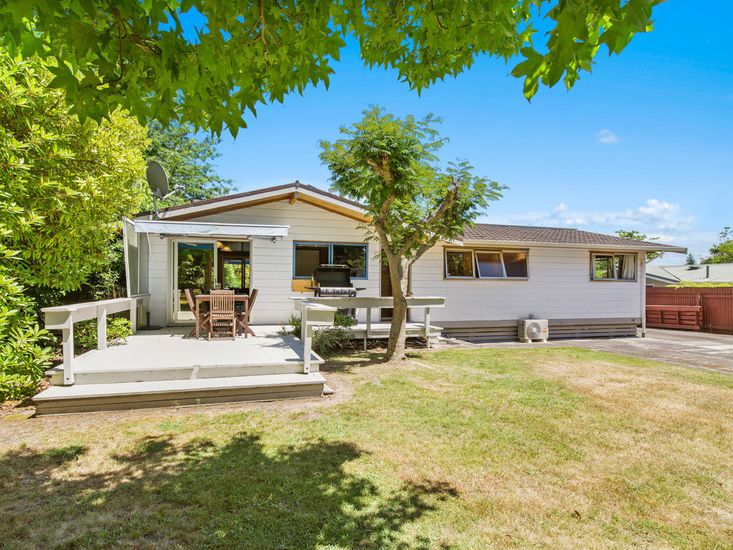 If you're looking for a home away from home to truly relax in, check out Two Mile Retreat. This warm and welcoming three-bedroom lakefront oasis is perfect for a group of friends or a family. Wood paneling throughout the home adds to the relaxing ambiance. Large windows let gorgeous natural light in and allow you to admire the gorgeous tree-filled yard.
The open living area is large and comfortable. Relax in front of the pot-bellied fireplace in winter. In summer, choose from indoor or outdoor dining. A BBQ provides a focal point for grilling a fresh catch. Reconnect with your family by playing lawn games in the expansive backyard.
The master bedroom has a queen bed and sliding glass doors that lead to an outdoor deck. The second bedroom and third bedrooms each have two single beds.
A five-minute walk will take you to Lake Taupo. Taupo's restaurants, including the famous McDonald's, are only a five-minute drive away. It's about 15 minutes to drive to Huka Falls and Taupo Bungy.
---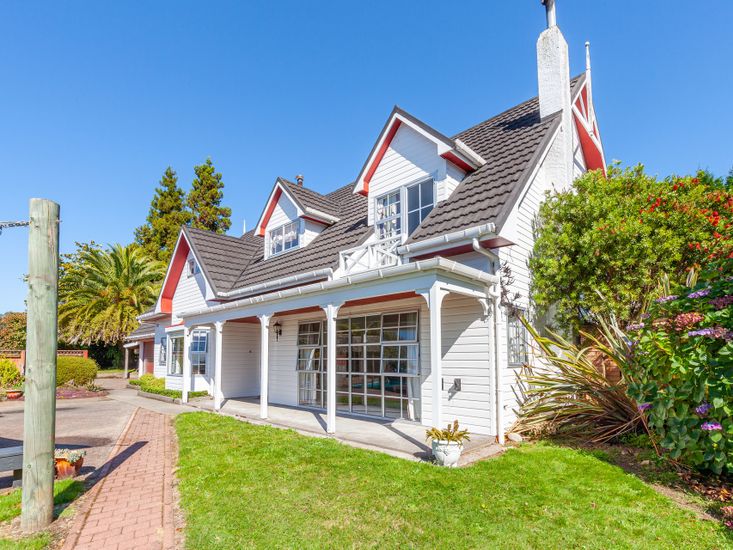 Pukawa Manor offers the perfect retreat for a family reunion or a getaway with friends. This two-level, six-bedroom, two-bathroom home can accommodate up to 15 guests.
There are queen-sized beds in five bedrooms; the sixth bedroom has two bunk beds and one single bed. The master bedroom has a private balcony accessed by french doors. The master bathroom has a luxury jacuzzi tub to add to your relaxing escape. Several of the lower-level bedrooms have access to the outdoors through french doors.
In the summer, hang out by the pool. There's nothing quite so luxurious as a private pool, and the kids and kids at heart will have a blast swimming and cooling off. A backyard slide adds to the fun and can be enjoyed year-round. Make the outdoor fun last all day with lunch on the outdoor dining set and dinner thrown on the BBQ.
In the winter, you'll love cosying up to the pot-bellied stove. Underfloor heating keeps the whole home perfectly toasty. Read a book, head out for skiing, use the Wi-Fi or watch your favorite shows.
Bring your boat and park the trailer on the property. The Pukawa boat ramp is five minutes away, and the area offers lots of options for fishing enthusiasts. Nature lovers will enjoy various walking trails.
Pukawa Manor is off the main roads with no nearby neighbors. You can really feel like you are getting away from it all to a private retreat. This quiet retreat is just a five-minute drive from the lakefront, the local store, and Snappy's Takeaways. You can order a meal out or treat the family to ice cream.
---
Fly High at the Mcdonalds Taupo New Zealand
Taupo, New Zealand, has everything you expect from this adventure town, with a few surprises thrown in! Enjoy your getaway, check out the world's coolest McDonald's, and relax in your bach.