Luxury Accommodation in Rotorua
Rotorua is a favorite New Zealand vacation destination. This gorgeous area is known for its pristine gin-clear lakes and hot springs. The largest and most well-known lake is Lake Rotorua, but Lake Tarawera is nearly as large and just as beautiful.
---
Enjoy a Getaway in the Rotorua Lakes District
If you're looking for the best luxury accommodation Rotorua offers, check out these three stunning Lake Tarawera homes. Lake Tarawera is the largest lake surrounding volcanic Mount Tarawera, which erupted in 1886. It's one of the most beautiful and remote lakes in the region. It's so remote and peaceful that cell service doesn't always work. Don't worry; our holiday homes all feature Wi-Fi so you can stay connected.
Lake Tarawera is known for its deep, clear, cool waters. This provides an ideal habitat for the highly sought rainbow trout. Many of the trout in Lake Tarawera exceed four and a half kilograms (ten pounds). Bring your boat, fish from the shore, or hire a charter boat to enjoy fishing on the lake.
Te Rata (Hot Water Beach) is a hot spot, both figuratively and literally. A thermal stream trickles into Lake Tarawera, and steam rises from the lake's edge. Soak in the natural hot springs while enjoying the lake views. Take the water taxi to experience this unique hot spot.
The Tarawera Trail is a popular walk that takes visitors to gorgeous lake views, over streams, and through native bush.
If you want to treat yourself to a restaurant dinner, check out The Landing Cafe, which overlooks Lake Tarawera. Enjoy lunch, dinner, or ice cream.
Our Lake Tarawera properties are 20 to 30 minutes from Rotorua. Rotorua has fabulous bike trails, walks, fine dining, and world-class entertainment. If its raining, don't despair, there's still plenty to do in Rotorua in the rain.
You'll also be close to Lake Okareka, Lake Rotoiti, Lake Okataina, and Lake Rotoma.
---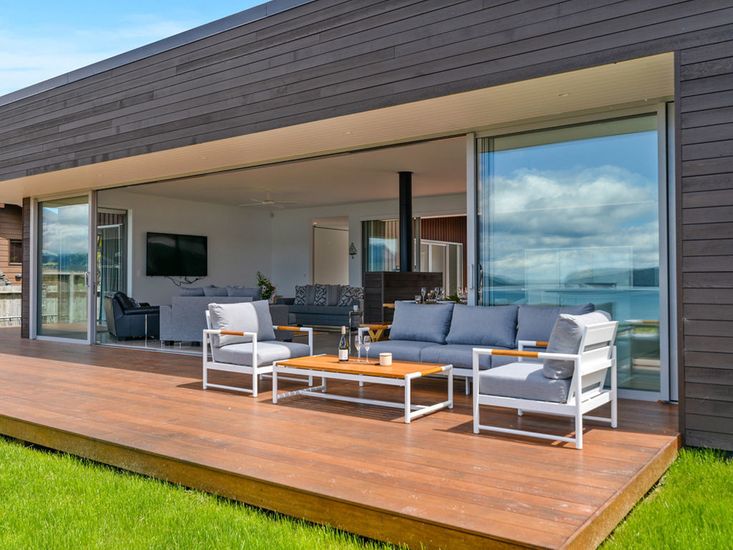 You will be delighted by the thoroughly modern Mana Sarovar holiday home. Soak in in the expansive, peaceful lakeside views. You will feel like you are on a movie set in this bright and contemporary home.
The open-plan living area has floor-to-ceiling glass windows and doors to allow you to immerse yourself in the stunning lake views.
Mana Sarovar features top-notch features such as Wi-Fi, a deluxe coffee maker, and smart TV. The gas fireplace will keep you warm and cozy. This attractive feature acts as a space divider, and everyone can enjoy the two-way fire with a glass screen from anywhere in the living space. If you want to stay home and relax, take advantage of the included toys, board games, and books.
The master bedroom has a king-sized bed and an en-suite bathroom with a luxury tub. A sliding glass door brings the views in and allows immediate access to the outdoor deck. The second bedroom has a king-sized bed and an en-suite bathroom. Sliding glass doors provide access to the outdoors. A comfortable lounge in the main house also has two sofa beds.
Across the courtyard, you'll find the third king-sized bedroom with an en-suite bathroom.
Enjoy firing up the BBQ and cooking and dining outdoors. After your meal, relax in the private spa pool while enjoying dusk over the lake. The property has steps with a safety handrail for lakeside beach access. Kayaks and bikes are available. You can even take a water taxi across the lake to Hot Water Beach or Tarawera Falls walk.
Lake Tarawera offers wonderful outdoor activities. Swim, bike, boat, or just sit back and enjoy the views. This property is 20 minutes from Rotorua, where world-class dining, entertainment, hiking, and biking await.
---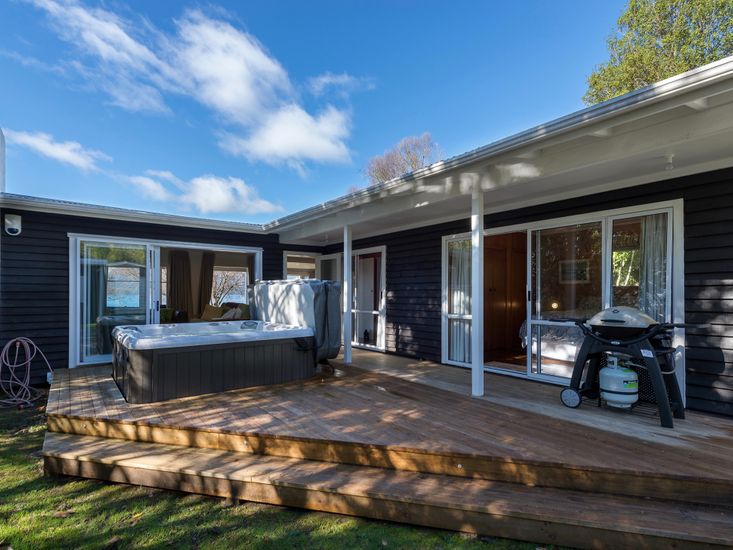 Floor-to-ceiling windows and sliding glass doors ensure you won't miss the views while you cook dinner or challenge your family to a board game. Cosy up to the indoor fireplace or soak in the private spa pool.
Head down to the private jetty and fish from the dock, or take a boat out on the lake. A handy filleting station ensures you can clean your catch before grilling it on the BBQ and eating your fresh catch, al fresco.
This memorable holiday home is nestled into the trees for extra privacy. Gorgeous wood flooring adds to the cozy yet modern feel. Bright green kitchen cabinets add a pop of contemporary color.
The master bedroom has a king-sized bed with sliding glass doors. Wood-paneled walls provide log-cabin warmth. The second bedroom has a queen bed and a bunk bed. The separate sleepout has a queen bed and bathroom with a shower. Tarawera Lakefront is 13 minutes to Lake Okareka, 35 minutes to Lake Rotoiti, and less than an hour to Lake Okataina and Lake Rotoma. Rotorua is half an hour away.
---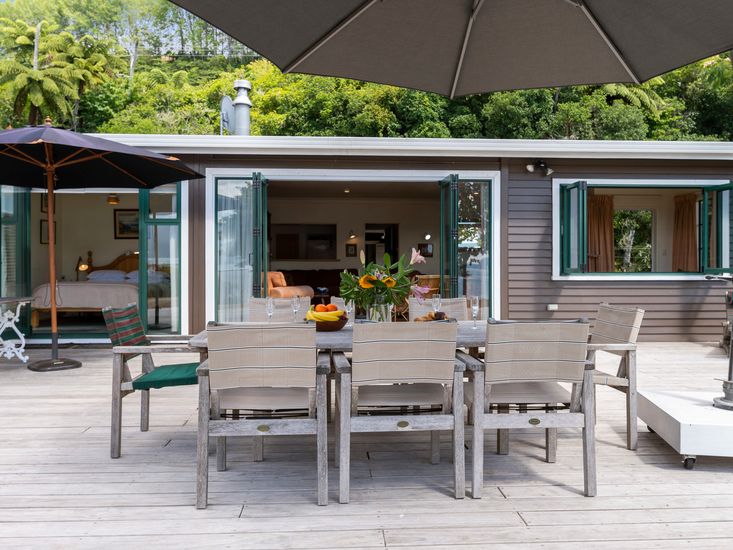 Surrounded by trees and extensive lake views, this holiday retreat welcomes you to relax and unwind. This large property has room for your extended family or several couples to enjoy a getaway together. As the home is pet friendly, fido is invited to enjoy the stay too!
The comfortable living area has fabulous lake views. The master bedroom has lake views; sliding glass doors open directly onto the deck. The second bedroom has a queen-sized bed.
The third, fourth, and fifth bedrooms are in the sleepout. This is an excellent layout for large families. The adults can use the main bedrooms, and the kids can enjoy their own space in the sleepout. The third and fourth bedrooms have queen-sized beds, and the fifth bedroom has two bunk beds (four single beds).
The outdoor deck beckons you to step outside and enjoy summertime living. Dine al fresco, curl up with a book, lounge on the jetty, or soak in the cedar spa pool. A BBQ is on hand to cook up your fresh catch.
The community has shared tennis courts, so challenge your family to a friendly match. Take a water taxi to Hot Water Beach or hike to Tarawera Falls. Swim in the cool lake and then warm up in the spa pool or by the fireplace.
The whole family will love relaxing at this peaceful lakeside cottage.
---
Luxury Accommodation Rotorua
If you are looking for the ultimate in luxury and relaxation, check out Bachcare's favorite luxury Rotorua holiday home. You'll find peace and solitude on the shores of Lake Tarawera, and you'll have the perfect base from which to explore Rotorua.