5 Rotorua Accommodations with Spas
If you're looking for a Rotorua accommodation with spa amenities, look no further. Bachare's amazing variety of accommodations feature everything you need in a holiday home.
With plenty of handpicked holiday homes, you'll find no shortage of options. You may find yourself wanting to book stays in each one!
Each holiday home has its own personality. But even better, each one comes with a relaxing spa pool. With luxury spa treatment and the best views, these holiday homes let you take advantage of the best that Rotorua has to offer.
We've searched through all of our holiday homes and selected five with splendid spas. They will make you want to crack open the champagne and indulge in a breath-taking waterside escape!
---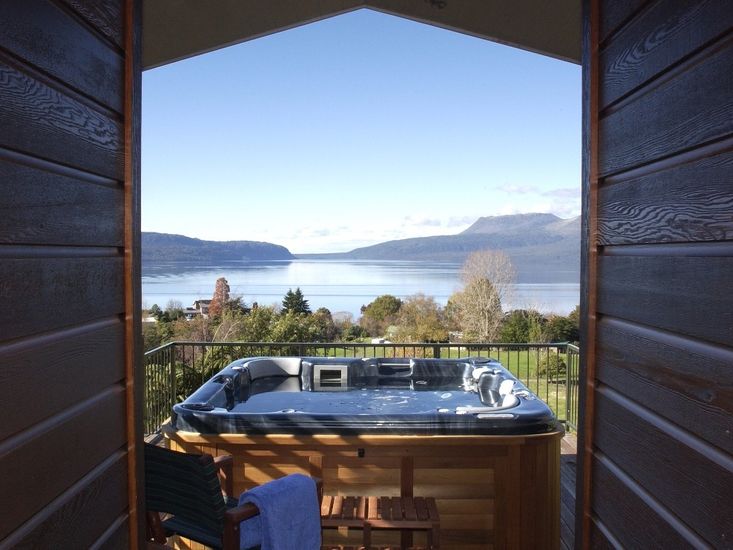 8 People | 4 Bedrooms | 5 Bathrooms | From $1097 per night
This rustic lodge sits amongst 35 acres of farmland, native New Zealand bush, and landscaped gardens. The 4-bedroom and 5-bathroom home is a private retreat that ensures your stay is relaxing, peaceful, and isolated from the hustle and bustle of modern life.
The lodge lets you enjoy panoramic views of Lake Tarawera and the mountains beyond, all from the comfort of a spacious Rotorua accommodation with spa pool.
The outdoor spa includes changing rooms, allowing you to enjoy a relaxing soak while looking out onto the tranquil water.
This lodge allows you to fully immerse yourself in the beauty of nature, all while indulging in the luxuries of the grand lodge and its spa facilities.
---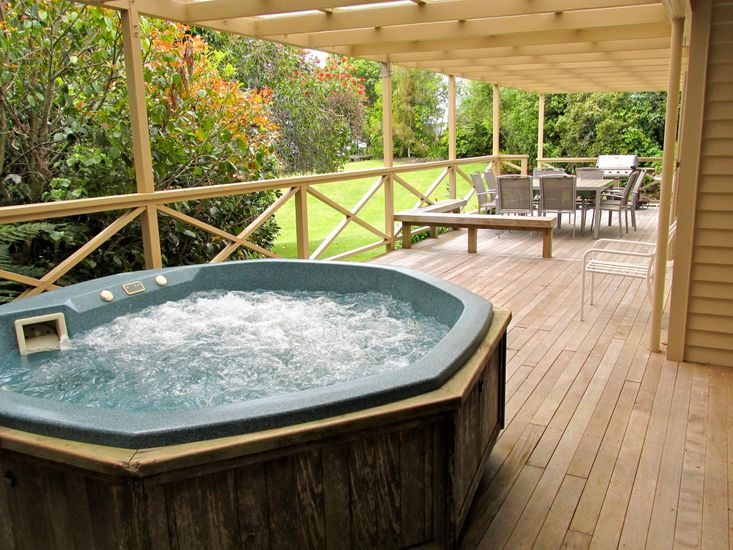 10 people | 2 Bedrooms | 1 Bathroom | From $490 per night
This two-bedroom lakefront holiday home is a modern retreat for a large group to enjoy. With great views of Lake Rotoehu, the home also features a jetty, and ought after spa pool. So, if you fancy a day out on the lake, your private jetty will make it much easier to enjoy fun for all on the water!
The home enjoys an open-plan living space perfect for get-togethers and communal events. It stretches out onto the deck where you can spark up the BBQ or soak in the spa, all while enjoying the thrilling views of the lake.
There's no need to worry about your privacy either. The holiday home has a fully fenced premise and the privacy afforded by the New Zealand native bush.
Both a cosy environment for snuggling up at night or soaking up the sun in the spa pool, this holiday home is perfect for more than one family or groups of friends. It's a serene location to enjoy a relaxing getaway!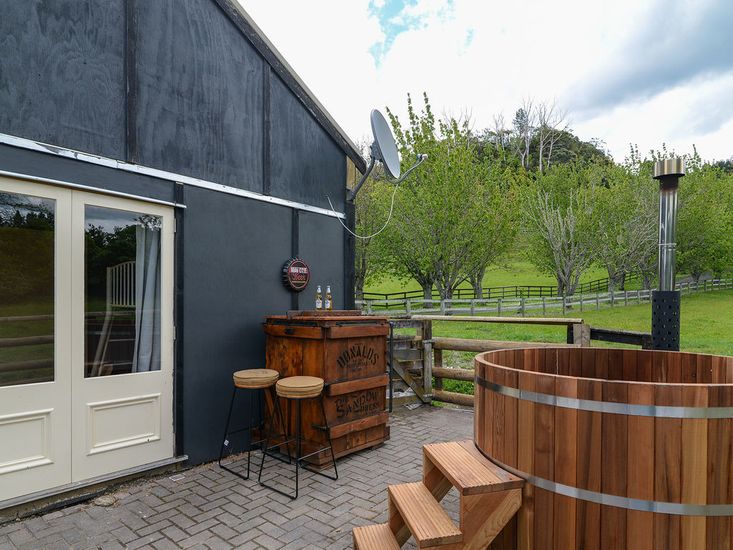 5 People | 2 Bedrooms | 1 Bathroom | From $310 per night
The Woolshed is perfect for a small gathering of folks who want to mix country glamour with rural bliss. Snuggled tightly on the banks of the idyllic Lake Tarawera, this old converted woolshed is a unique property that is perfect for a short break with a few friends.
Located on the private Spencer Lodge estate, this property is ideal for those who enjoy both classic and contemporary. But forget the inside—one of the property's major highlights is the beautiful outdoor living space. The deck and patio house a cedar hot tub and bar. What more could you want?
Well, the Woolshed can offer you a lot more!
Not only does the property boast a spectacular view of the lake and surrounding mountains, but it is also only a 3-minute walk to the public tennis courts and Rangiuru Bay beach. It's a fantastic lodging for outdoor lovers.
If you're bringing the kids, then Stoney Point is also a two-minute walk away. Here, you can find a play area, a beautiful nature walk, and a fishing spot. You just might catch your evening meal!
---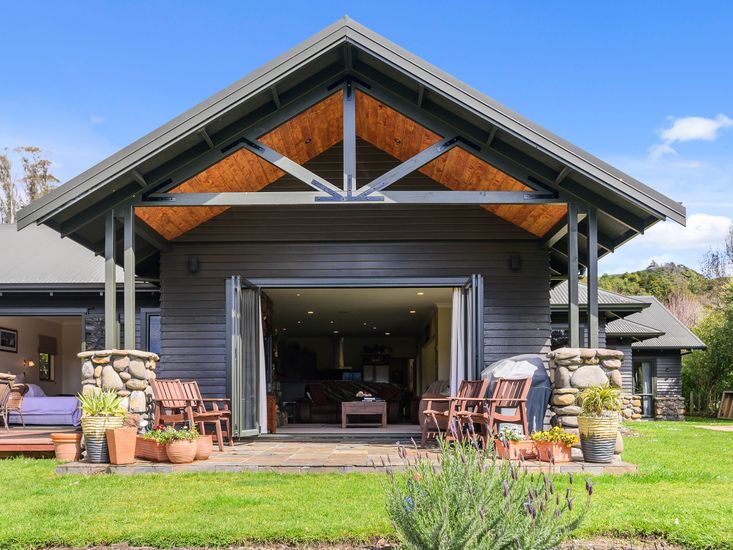 10 People | 5 Bedrooms | 3 Bathrooms | From $810 per night
The Wright House is an inviting place to take a break and retreat with family and friends.
Situated on the stunning Lake Tarawera, the house boasts a spacious open-plan kitchen, living and dining space. A magnificent river stone fireplace offers a wonderful spot to gather for conversation, stories, and drinks each evening.
There's also a second lounge if the kids or adults want some space. Each bedroom boasts magnificent views of the mountain and lake.
The house is also only a short walk to the lake at Waitangi. The bay's crystal clear water is perfect for swimming, kayaking, and fishing for rainbow trout.
When you're back at the lodge and looking to relax, you can fire up the BBQ on the outdoor deck. Or if you fancy a dip in the spa, you can catch the water taxi service to the beach or a private hot pool.
---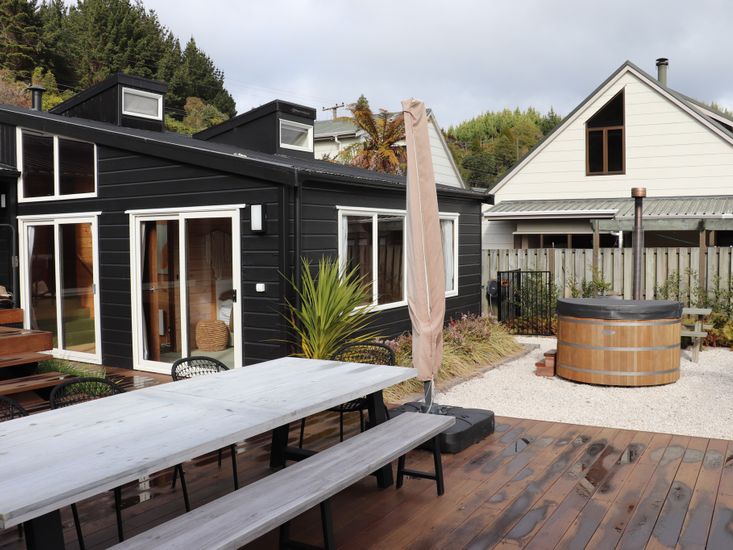 12 People | 4 Bedrooms | 3 Bathrooms | From $365 per night
Perfect for those large groups of family and friends, the Havana Lakeside holiday home is where you can make lovely holiday memories.
This bright property features an open-plan living space with a cosy and rustic interior, complete with a roaring fireplace. A large garden space lets you take a dip in the hot tub or dine alfresco in the warm summer months. Truly, the Havana Lakeside has it all.
There are various sleeping arrangements for all ages — from king and queen size beds for the adults and bunks for the kids. There are also spaces for your furry friends too, as the Havana Lakeside is pet friendly!
You'll have private access to the water. You can spend your time swimming, water-skiing, fishing, or admiring the view from the comfort of your private spa pool. If there's one thing's for sure, you'll never be short of things to do at the Havana Lakeside!
You're also close to the boat ramp. If you fancy venturing around the area, you can explore the Tutea Falls. Here, adventurers can enjoy white water rafting and other fun water activities. If you prefer the serenity of the area, you can indulge yourself in the Tikitere Hot Springs.
---
Are you ready to experience a truly relaxing retreat? Begin your holiday at a Rotorua accommodation with spa amenities built into the package.
Check out these holiday homes today! Or, for more options, view all the Bachare Rotorua holiday homes. Whatever accommodation you choose, we wish you the ultimate in luxury and relaxation. Enjoy!