Pet Friendly Holiday Homes in Christchurch
Planning a holiday to New Zealand's famed Christchurch doesn't have to be a daunting process — even when you're planning on bringing the family pooch along on your travels. The city is brimming with activities and packed with potential sightseeing adventures – it all just comes down to how you and your group likes to spend your time! If you're an art buff, the city is home to dozens of galleries and museums to explore. Perhaps you enjoy a little nature with your urban experience, and Christchurch is just the place for that. It's a coastal city, and the Avon River flows throughout it allowing for a lovely citywide bike and foot path available for meandering alongside the water. There are countless restaurants to sample and pubs to visit, and if shopping is your cup of tea, Christchurch offers tons of options for you to browse the day away.
Regardless of what you do on your vacation, it's always nice to have a comfortable, well-equipped home to spend your down time in, and it's critical that your rental allows your four-legged pals to come along, too! Here are our Top Four Recommendations for pet friendly accommodation Christchurch.
---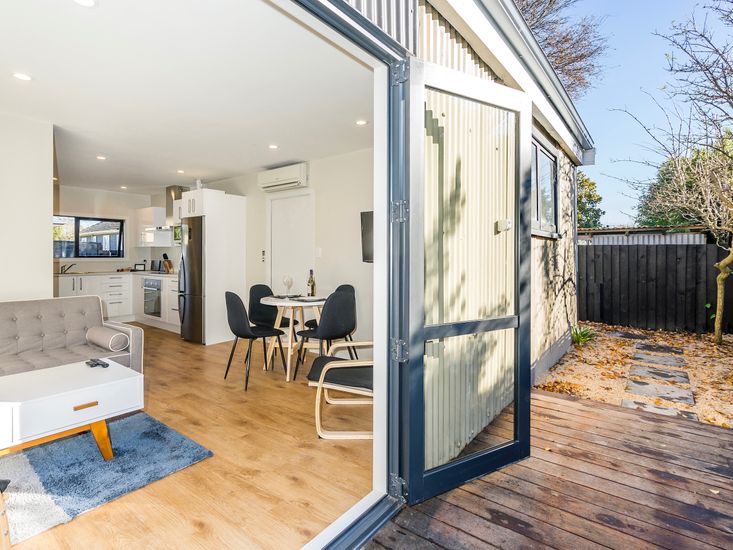 The City Pad is a fantastic option during your stay in Christchurch. The house is centrally located on Aylesford Street, but the neighborhood is quiet and quaint so you get the best of both worlds. While you're "home," you and your family will feel safe and be surrounded with all the necessary creature comforts, but right out the front door is an entire city to explore and enjoy!
The City Pad has two bedrooms, one bathroom and can comfortably sleep six people – plus your pooch. The first bedroom has a spacious queen bed and funky, welcoming decor, while the second bedroom has three beds of various sizes so it can accommodate various groups with ease. There's also a pull-out couch in the main room that can dub as one more sleeping zone. The decor is modern, inviting and colorful – it's easy to see why so many people have felt at home here during their holiday.
This luxurious house is pet-friendly and has a fenced in play area directly off the open living room zone. The City Pad has a ton of stellar reviews with most folks commenting on how convenient the yard was for their dogs and how nice it was to be able to holiday with the entire family.
A spotless, fully equipped kitchen with all the appliances you need to whip up meals is the icing on the cake for this rental property – plus kitchen seating. It's an open concept floor plan which lends to the overall social and flowing vibe to the place. Finally, there is a washer and dryer unit available in-house, and every traveler knows how convenient that can be.
The City Pad is waiting for you during your next Christchurch trip!
---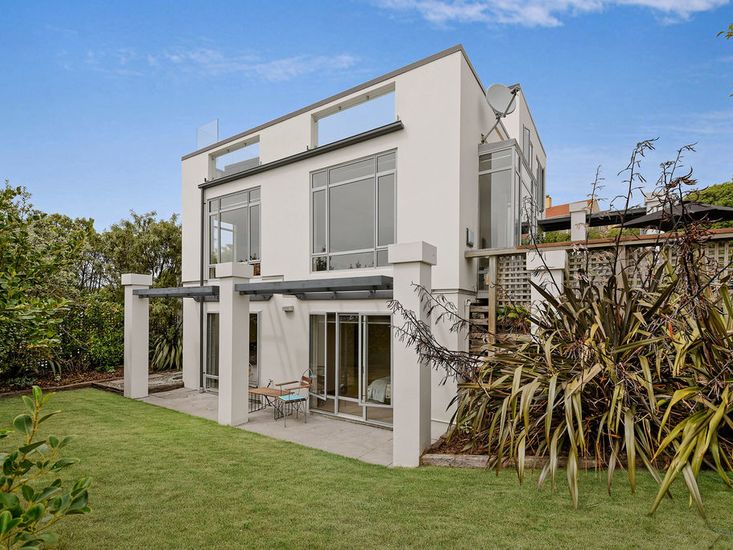 Perched on the top of a hill overlooking the sea, Pegasus Bay Vista is a spectacular modern and spacious spread that can easily accommodate eight people without breaking a sweat. It's a stately, impressive home that also has all the comforts and conveniences you're looking for when vacationing — you and your family won't want for anything during your stay. In fact, Pegasus Bay Vista is so special that you might have a hard time actually leaving it to explore Christchurch!
The house has an interesting layout with two bedrooms on both the first and third floors and the main kitchen/living room areas on the middle floor. This allows for all the guests to have adequate space to be social, plus the ability to retreat to their own corners when they'd like. But what makes this property truly incredible are the three terraces located throughout the house, each with fully equipped outdoor living room furniture and seating. You can catch up on some reading, gaze out onto the beautiful bay, or dine al fresco with your group while enjoying the fresh ocean air.
If you're hoping to include your family pooches on your Christchurch holiday, Pegasus Bay Vista is just the place. The entire yard is fenced in, so your furry friends can run around safely between city excursions, and there is also a kennel on the propriety for convenience.
Check out Pegasus Bay Vista, and see if it might be the perfect fit for your next holiday.
---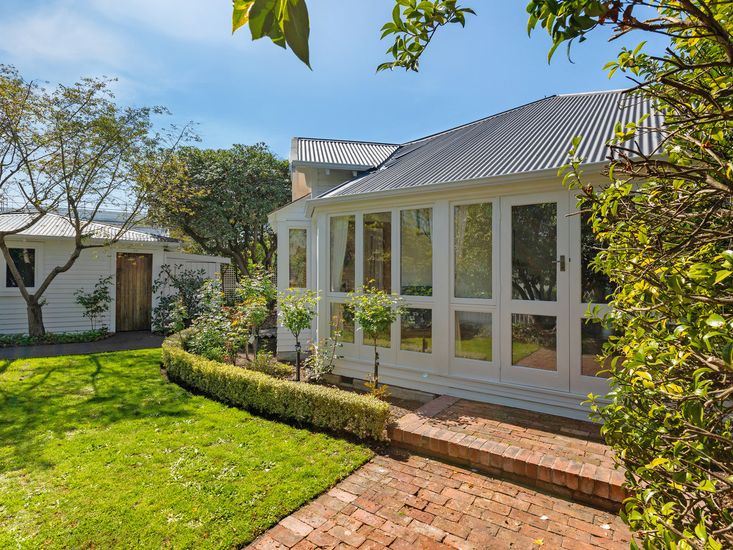 This property is truly charming and one-of-a-kind. When you arrive at the Fendalton Villa, it will feels as if you rolled up on a Victorian home from a storybook – complete with a private rose garden. While it is from the 1910s, there is a young and vibrant feel to the entire home as it has been expertly maintained and modernised as the decades passed.
Fendalton Villa has four bedrooms, so be sure to bring the whole family. Don't forget your doggies at home! This property is 100% pup-friendly and can accommodate you all. The first bedroom has a king bed, and the second has a queen bed – both are spacious and super comfy. There's a kid-themed room with bunk beds and and extra single, and finally there is one, more private bedroom upstairs with a single bed and plenty of additional space.
The inside decor is gorgeous and airy, with lots of lightness to the walls and flooring and featuring rich wooden beams and wooden accents throughout the home. There is a stunning arched entrance and high vaulted ceilings, and the furniture is modern, comfortable and welcoming. Fendalton Villa features a cozy family room offset from the main living area where everyone can curl up for a movie. The modern kitchen and spacious dining area are more open with a convenient pass-through zone for food and drinks between the two zones.
And let's not forget the outdoor areas which are so tempting and accommodating! The whole yard is fenced in and is a veritable forest of gardens in every direction. There's a BBQ and seating area available for evening meals and yard games with the whole family.
We hope Fendalton Villa is the right spot for you and your group – take a look!
---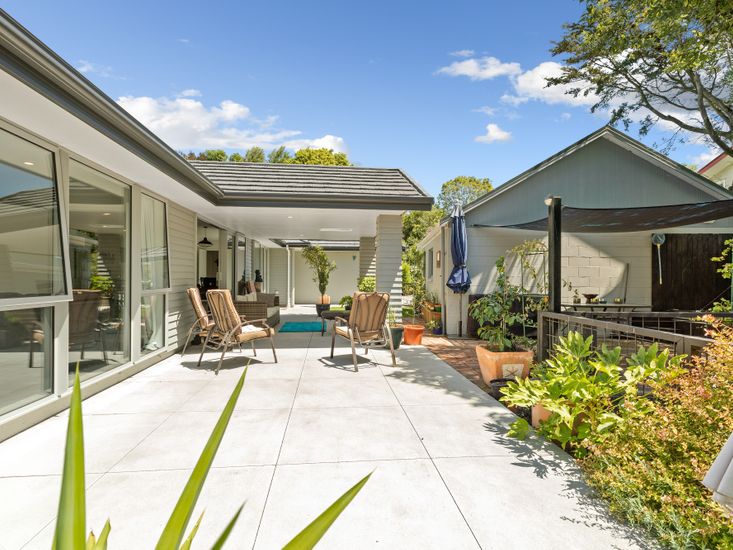 Halswell Guesthouse is a large and comfortable accommodation in the Halswell suburb of Christchurch. This way you can zip into the city quickly for adventures while also enjoying a quiet neighborhood while in the house.
This home has four bedrooms (super king, king, king and single), plus a pull-out sofa — so ten can easily sleep here comfortably. Come one, come all, and don't forget your four-legged companions because this Guesthouse accommodates pets easily.
The decor in the main living and kitchen areas is super fun and funky – think glossy whites and blacks with cool arty accents. This zone is all open concept, so you and your group will be able to hang out and be social whilst you're cooking up a storm, eating high on the hog, or watching stuff on the jumbo screen.
The house is surrounded with dense luscious foliage and landscaping, so you have a sense of privacy and seclusion whether you're hanging out on one of the terraces or chilling in the gated yard area. This is an ideal spot to let the pooches off-leash to explore – don't forget that this property is a totally pet friendly accommodation Christchurch!
Peek around and see if Halswell Guesthouse is the perfect place for your next group getaway.
---
View our other "pet friendly" blog posts