Our Favorite Taupo Holiday Homes With Private Spa Spools
If you're looking for the perfect Taupo holiday retreat, look no further! We have rounded up some of our favorite holiday homes, and best of all, they all feature spa pools.
There's something about a spa pool that simply invites relaxation and complete tranquility. These homes each have their own personalities, from secluded treetop retreat to river lodge. These spa homes are sure to provide the perfect holiday destination.
Discover Taupo
Taupo is a wonderful destination for nature lovers and outdoor adventure seekers. The landscape around Lake Taupo is dynamic. You'll find forests, alpine deserts, and winter ski fields. Water lovers can enjoy fishing on the lake or rivers. Go on a scenic cruise or hike to Huka Falls. The volcanic landscapes provide stunning backgrounds for your hike or tramp.
Taupo has a vibrant cafe and restaurant culture. Don't miss trying local doughnuts or wild venison. Taupo also has local craft breweries and wineries offering tempting specialties.
---
4 Best Taupo Accommodation With Private Spa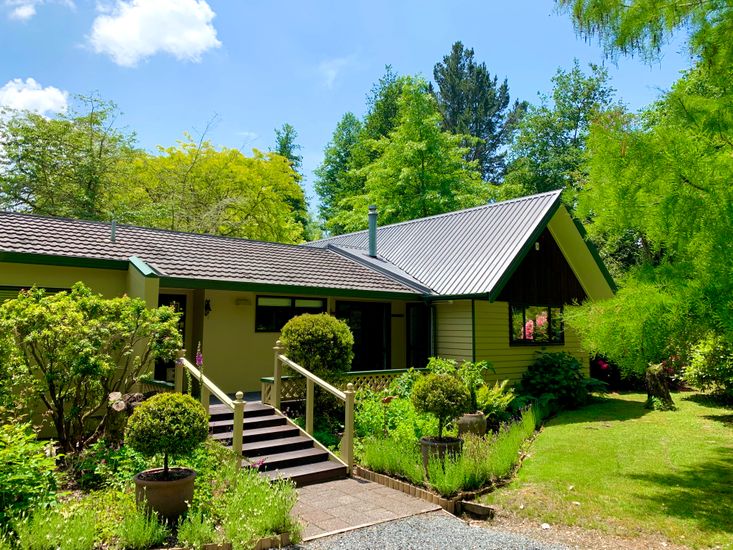 River Lookout Lodge invites you to relax in this stunning forested holiday home. As soon as you turn into the driveway, you will be surrounded by a cozy, park-like setting. The gardens are superbly manicured and provide an inviting place to relax and read a good book. Then, wind your way through the gardens to enjoy a spectacular view of the river.
The hot tub is a great place to unwind and enjoy the evening. Stay out late and watch the stars overhead. While the outdoor space is absolutely absorbing, the interior offers outstanding comfort and space.
The living room is bright and welcoming. Large sliding doors bring views of the gorgeous garden inside. Guests can disconnect with a book or board game or stay connected with the included Wi-Fi. Stay warm all winter long with a wooden stove.
The modern kitchen features magnificent vaulted ceilings and is fully equipped with everything you need to enjoy your stay, including a Nespresso machine. Family members will find themselves gathering around, hanging out at the breakfast bar, and cooking delightful meals together. Or, prep in the kitchen, grill out at the BBQ and enjoy an al-fresco meal on the outdoor dining set.
River Lookout Lodge has four bedrooms in the main house, so you can bring the whole family. The master bedroom is luxurious and features a king-sized bed. The second bedroom has sliding glass doors to access the patio.
A charming cottage accompanies the main house. This cottage is self-contained and perfect for a second couple, in-laws, or older kids. The cottage has a full bedroom, bathroom, kitchen, and lounge area.
---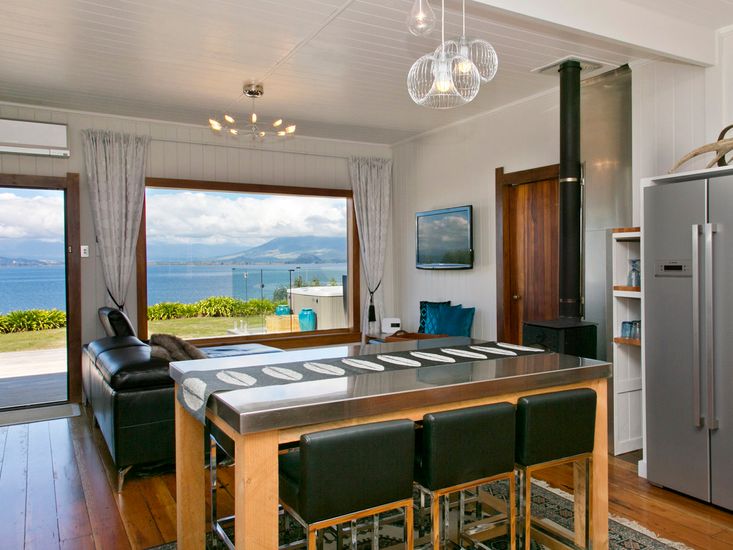 Enjoy stunning views of Lake Taupo while relaxing in Waipapa Cottage's saltwater spa pool. Everything about this modern retreat is luxurious and lavishly appointed.
The open-plan living area invites family members to stay connected. Whip up a dream meal in the chef-designed kitchen. Sit by the fireplace and stay connected with the included Wi-Fi.
The master bedroom features a king-sized bed with sliding doors that open to the deck. The second bedroom has a queen-sized bed and also opens to the deck. The third bedroom has two single beds that can be made into a single king bed. The bathroom has a luxurious tub and a separate tiled shower.
The outdoor living area is divine. Soak in the state-of-the-art saltwater spa pool and rinse off in the outdoor shower, all while enjoying fabulous views of Lake Taupo.
The world-renowned Tongariro River is a 15-minute drive away. There are several nearby boat ramps where you can launch your boat and experience fishing on the lake or river.
Winter travelers can ski at Whakapapa, just 45-minutes away. Winter is a perfect time to visit Waipapa Cottage and enjoy the cosy fireplace.
---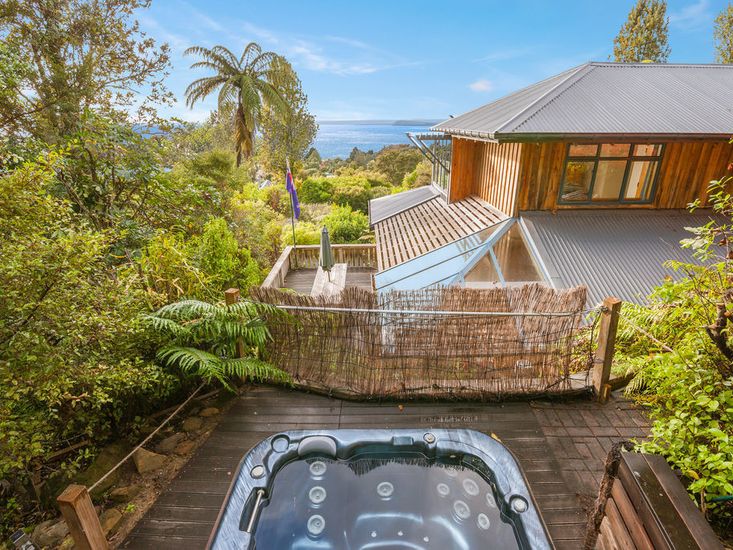 Moetu Lodge is nestled in the treetops and provides a secluded retreat for discerning travelers.
Walk up to the charming outdoor stairway to reach the private spa, hidden amongst the trees. This secluded spa is a great spot to relax and enjoy the treetop views. Punga trees and native bush surround Moetu Lodge. Birds love this environment and are seen and heard visiting the property.
The outdoor living area provides a location to relax and enjoy being amongst the treetops and soaking up views of Lake Taupo down below. Enjoy dining al fresco or relaxing with a good book in a sun lounger on the expansive deck.
Moetu Lodge has four comfortable bedrooms and three large bathrooms. The fourth bedroom is on the third level and has comfortable window seats facing fabulous views of Lake Taupo. The living area is filled with light through the large floor to ceiling windows. The modern kitchen is fully equipped and has a large breakfast bar.
Moetu Lodge is a great place to base a fishing vacation from. Fish in Lake Taupo or the nearby rivers. The lodge has a fish-preparation station and BBQ, perfect for grilling freshly-caught fish.
The whole family will love this relaxing retreat.
---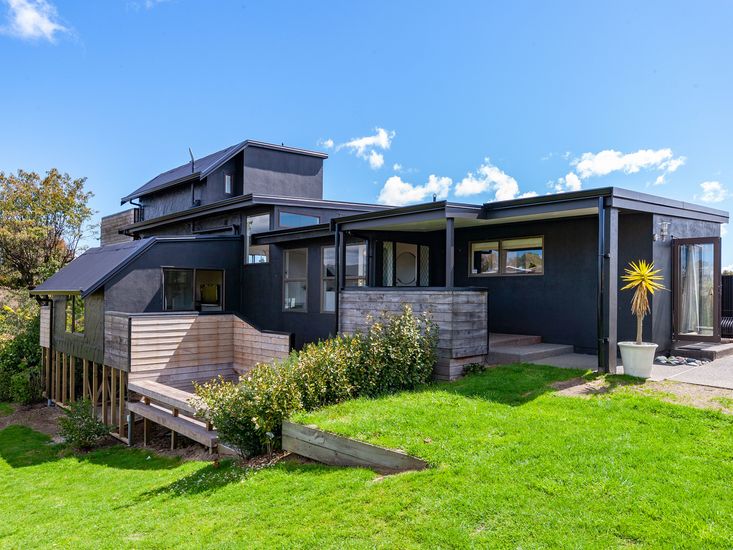 This three-storey, four-bedroom home has two living rooms and is the perfect retreat for two families to enjoy a holiday together.
The ground floor has a big bedroom with four sets of bunk beds, so all the kids can have their own space. This ample space also has a Smart TV and bean bags, perfect for movie night.
The main floor features a large open living area. Sit back on the comfortable couches or prepare a fabulous meal in the fully equipped kitchen. Sliding glass doors bring light into the living area and provide easy access to the wrap-around balcony.
On the balcony, guests will be treated to fabulous views of the lake and mountains. You can fire up the BBQ and dine al-fresco in the shade or soak up the sun on the other side of the home. On this level, there are two bedrooms, one bath, and an additional TV room.
The master bedroom is on the top floor and features a king-sized bed, en-suite with a soaking tub, and a private balcony.
The spa pool is fully fenced. It's only a 10-minute walk to the lakefront and a quick walk to a few restaurants. The main town is just a five-minute drive.
---
Book Your Taupo Holiday Now
Enjoy a Taupo adventure and come home to your relaxing spa retreat. Whether you are traveling as a couple or enjoying a multi-family holiday, you can experience the ultimate getaway with Bachcare. So check our listings now and book a holiday home in Taupo with Bachcare!