The Best Kapiti Coast Walks
The Kapiti Coast region has a wide range of walks for those seeking to get outside and enjoy nature. From a leisurely stroll through duneland, to the rolling hills of Battle Field Park, to the farmland at Whareroa Farm, there's a diverse level of scenery and difficulty on all of the best Kapiti Coast walks. You can also stroll by a river or walk along the beach. If you seek a thrilling challenge, the Te Araroa Trail from Paekākāriki to Pukerua Bay won't disappoint.
---
Te Araroa Walkway – Paekākāriki Escarpment
On the Te Araroa Trail, you can walk from Paekākāriki to Pukerua Bay or vice versa. This is a spectacular 9.1-kilometer one-way trail. It's rated as difficult. This is undoubtedly an adventurous trail, and it's not for the faint of heart. If you have a fear of heights, you might want to skip this one. There are two swing bridges and a few narrow, steep sections. The trail takes about three or four hours, depending on how many stops you make to take pictures and rest. The elevation reaches 220 meters and provides breathtaking views.
If you start in Pukerua Bay, you will be climbing up steep steps. The view is better, but if you'd prefer to go down the steps, start in Paekākāriki. You can park your car in one location and take the train back. Or, park your car at the end of the trail, and take the train to the beginning of the trail. Paekakariki offers refreshments, so you can either start the trail with a cup of coffee or finish it at the pub with a well-deserved pint.
This trail is good for those seeking an adventure. The swing bridges and steep sections provide excitement, but there are mellow portions too. Cows, sheep, and rabbits are often seen in the rolling hills. Bring good walking shoes and a sure step.
---
Te Ara o Whareroa – Queen Elizabeth Park Cycleway
If you are looking to explore the dunelands of the Kāpiti Coast, head to Queen Elizabeth Park. The Te Ara o Whareroa trail is six kilometers long. It's an easy trail that should take about an hour and can be enjoyed with any level of fitness. While at Queen Elizabeth Park, check out the other mixed-use trails.
---
Waikanae River Loop
This 9.5-kilometer trail should take about two and a half hours. This easy trail is suitable for all. The Waikanae River estuary provides a beautiful habitat for birdlife and is a bird lover's paradise. Mature willows and younger saplings flank the river banks. There are plenty of spots to stop and have a picnic or swim in the river–this is a perfect family outing.
The paved trail is accessible and suitable for buggies. There are options to either shorten or lengthen the loop. If you make it to the sea, you can stop for lunch on Tutere Street.
There are several access points for this trail. You can park at The Otaihanga Domain on Makora Road in Otaihanga. There are toilets and picnic areas here. You can either start the trail by heading upstream or cross the bridge and start on the north bank.
---
Barry Hadfield Nikau Reserve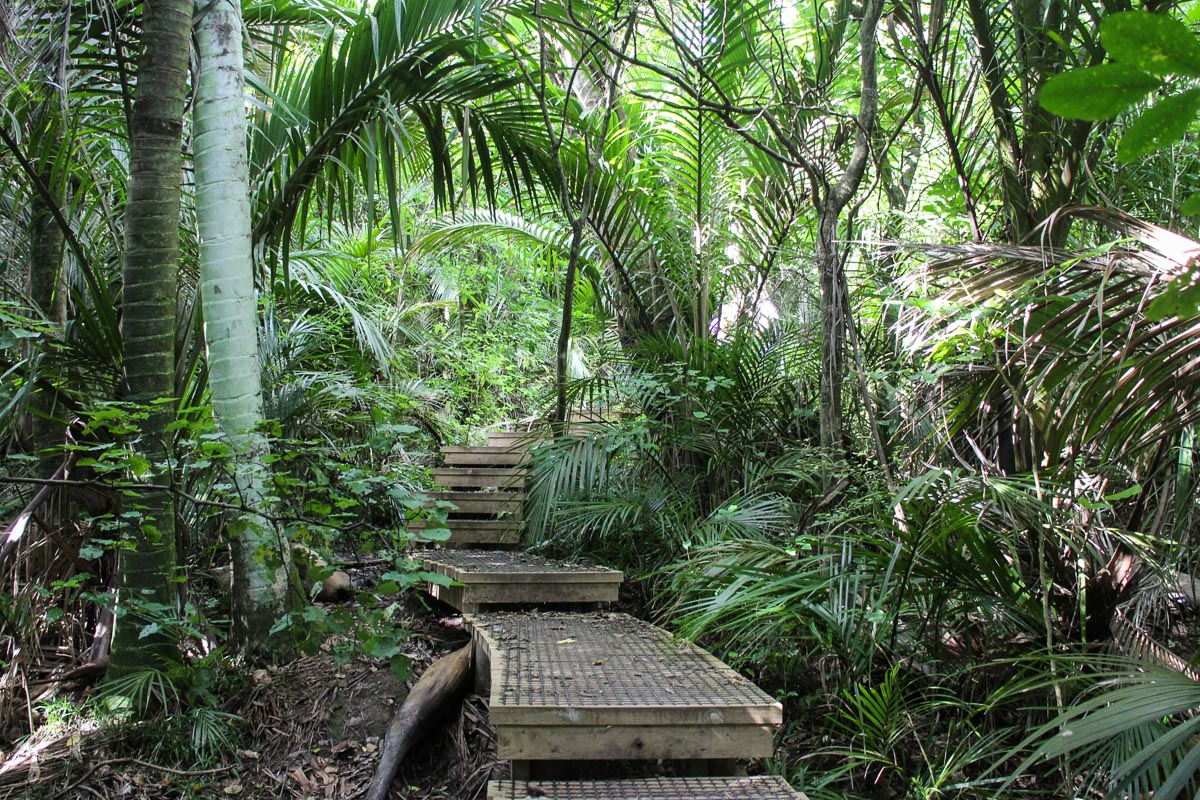 The Barry Hadfield Nikau Reserve is known for its impressive nīkau palms. From the car park, you can take a short 10-minute loop walk through these stately palms. This loop is easy, accessible, and suitable for buggies.
A stepped track leads to panoramic views of the Kāpiti Coast and Kāpiti Island. Because of the steps, it's not suitable for strollers. But, it is a short walk, so most kids will be able to take part. As you walk, you'll be immersed in a variety of flora. Keep an eye out for the various birds that inhabit this space. There's a picnic table at the top, an excellent place to take a break and enjoy the view.
---
Waikanae Beach to Peka Peka Loop
This 14-kilometer loop starts at Waikane Beach. Follow the Kāpiti Coastal Cycle Route, join the Kāpiti Cycle Route Expressway south, then follow Te Moana Rd and Rauparaha St back to the Beach. This loop crosses the Waikanae River Loop, so you can extend your route if desired. You can walk or bike this route; if walking, plan on taking about three hours.
---
Whareroa Farm
This recreation reserve is located near Paekākāriki in a diverse area encompassing working farmland, wetlands, native bush, and retired farmland. Several different walks are available, from an accessible 10-minute walk to a longer 13-kilometer loop. These walks go through shrublands, remnants of a kohekohe forest, and offer the coastline's views below.
---
Ōtaki Forks
There are four walks in this area. If you are looking for a long hike, take the day trip to Table Top. It should take about five to six hours. You'll walk over a footbridge and climb through amahi and beech forest. After all that work, you'll be rewarded with a sweeping view of peaks of the Main Range and the gorges of the Ōtaki River.
If you are looking for a shorter hike or have young kids, there are three trails at Ōtaki Forks that are short, easy, and family-friendly.
The Arcus loop crosses a footbridge which adds to the fun. On this loop, you can see the river terraces where the Arcus family farmed in the 1930s. This walk provides excellent views of the river below.
The Fenceline Loop goes through regenerating forests and provides exceptional views of the valley below.
The Waiotauru Walk takes you to the relics of Seed and O'Brien's Sawmill.
Battle Hill Puketiro Loop is a 7.5-kilometer hike that takes about four hours. There are toilet facilities at the car park, but none on the route, so plan accordingly. The weather at the peak can be dramatic, so you might want to pack a jumper.
The park was the site of a battle between Maori and colonial forces. It took the colonial forces three days to walk just six kilometers in the dense forest here!
Start at the Dell car park and take the loop clockwise. Along the trail, you'll cross paddocks, a stream, pine forests, and rolling hills. Boardwalks take you over the swampy gully wetland. The peak reaches 433 meters and provides gorgeous views of the Pāuatahanui inlet. You can even see the South Island.
Ball Hill Farm Forest Park also offers several shorter walks for those looking for just a taste of this area.
---
Wharemauku Stream Paraparaumu
There's nothing more delightful than a simple stroll along a peaceful stream. This is an easy two-kilometer pathway, suitable for all levels. It should take about 45 minutes.
The trail runs between Paraparaumu Town Centre and Raumati Beach. Buses run this route, so you can walk one way and take the bus back. If you start at the town center, pick up a picnic and refreshments and enjoy them along the way.
This trail runs near the airport, so it's fun for plane spotters. You can extend the walk by connecting to Paraparaumu Beach via the fork near the airport runway. Or you can extend the walk by strolling Raumati Beach.
---
Conclusion
This is just a sampling of the best Kapiti Coast walks. Book a stay with Bachcare and set up your hub for exploring all of the great walks the area has to offer.