Our favorite lakeside holiday homes in Wanaka
If you are looking to plan a holiday, visiting lakeside Wanaka is a perfect picturesque option.
From luxury lakeside apartments to grass campsites, the variety of holiday homes in Wanaka is robust. Travelers with different holiday goals or budgets can enjoy the majestic beauty of Lake Wanaka and the surrounding mountains from many holiday homes in the area. 
With plenty of activities, from exploring Puzzling World, which contains a maze, optical illusions, and a leaning clock tower, to finding a quiet and serene location to view the Southern Lights, vacationing to Wanaka is a perfect getaway.
---
Our Favorite Lakeside Holiday Homes in Wanaka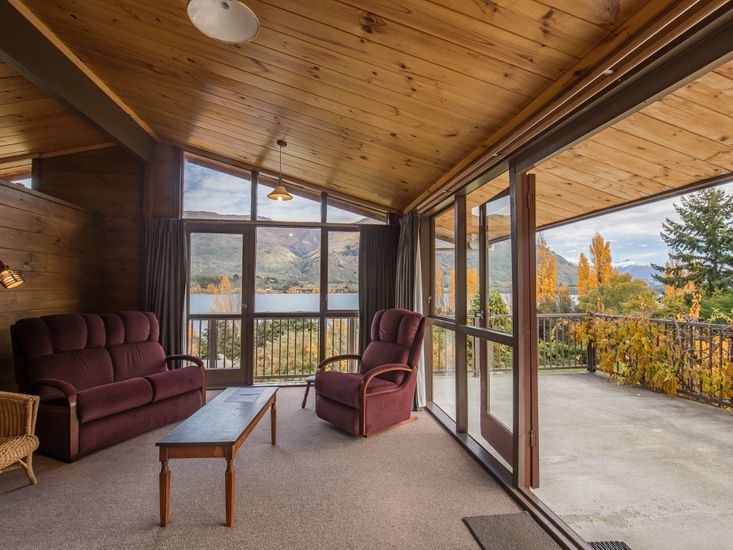 If you're looking for a rental that's big enough to fit you and the kids, this Lakeside Escape property that's just meters from the lake could be just what you need. It's a three-bedroom, single bathroom bach with a perfect view.
Head out on the sundeck, and you'll get an up-close look at Lake Wanaka – with the lakefront not more than thirty meters from the property. And, if you're interested in having a cookout for friends and family, the sundeck comes equipped with its own BBQ, which is perfect for grilling up a few burgers during the summer. The fenced-in yard adds another level of privacy, and if you're worried about parking, there's both off-street parking and a private driveway.
While some properties on the lakefront might not offer linen storage at all, Lakeside Escape is an exception. For just an extra $25 per person, you add linen service to the property's already long list of amenities – like the private driveway, fully fenced yard, phone reception, TV, and WiFi for the whole family.
When you're not watching TV with the family or heading down to the lakefront for a swim, you can even have a friendly game of pool on the property's billiards table.
---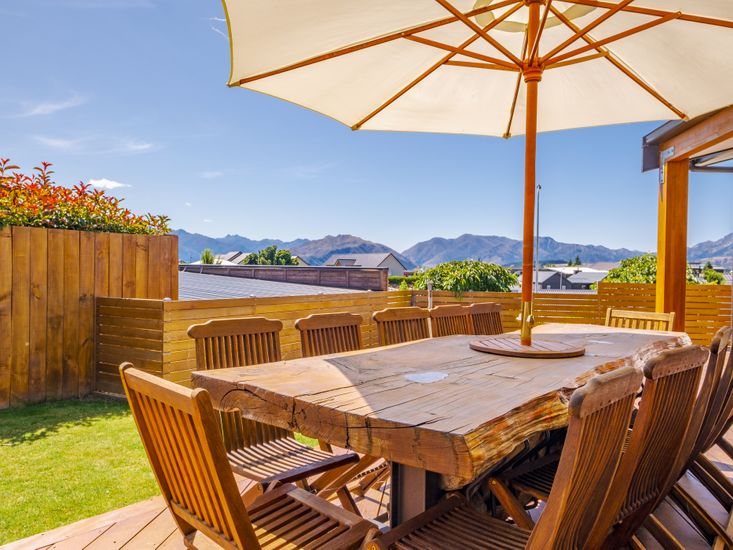 While there are plenty of holiday homes equipped for couples or even small families, it's not always easy to find enough space for large groups of friends or even bigger families – which is why the Lakeside Luxury holiday home is even more of a steal.
With five bedrooms and three bathrooms, this rental has enough sleeping space for up to 10 people – and there's an added game room and lounge area to hang out in as well.
If you're using this property during the summertime, there's plenty of time to enjoy the spacious sundeck that comes with the house – or even host a BBQ with friends and family when the weather permits.
Or, if you're headed to Wanaka during the winter, the Treble Cone skiing area is only a twenty-minute drive from the house. In fact, this rental is an ideal location if you're interested in sightseeing or heading up to the trails while you stay here – the centre of Wanaka is only five minutes away, which gives you easy access to plenty of restaurants, shops, and other local attractions you might want to check out.
---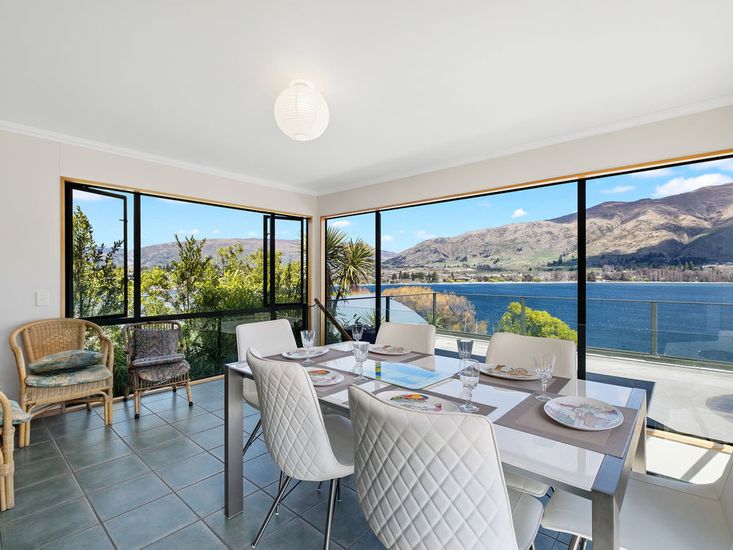 Another holiday home that's within sight of Lake Wanaka, Lakeside Serenity has three bedrooms and two bathrooms, which means you've got enough sleeping space for up to six people. During the summertime, this property's sunny conservatory area has the perfect view of the boat club and lake, and there's even a BBQ for making easy meals for the entire family.
Even if you're not staying at the property during the summer, Lakeside Serenity is well-equipped for winter visitors, too – there's a fireplace, electric heaters in all the bedrooms, and a heat pump to make sure you're warm and toasty throughout your stay.
Speaking of the bedrooms, two of three bedrooms in the house include Queen beds, while the third bedroom has two single beds. Upon request, you can ask for the single beds to be joined together into one, large King-sized bed.
If you're looking for a property that gives you all the basics for a stress-free holiday, Lakeside Serenity's "serene" living plan and long list of amenities certainly do that. You'll even get access to appliances like a coffee maker, toaster, and hairdryer during your stay.
---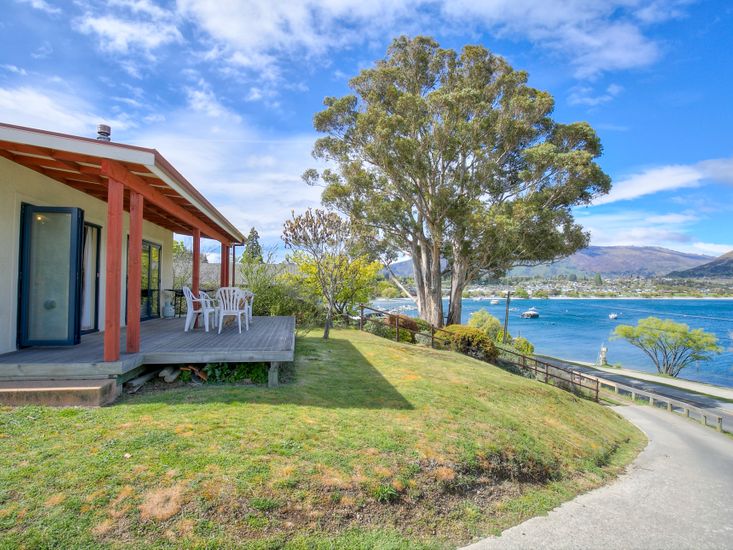 Just as the name suggests, the Lakefront Gem is truly a diamond in the rough – with three bedrooms and a single bathroom, this cozy cottage offers sleeping space for up to five people. Sit out on the balcony during the summer, and you'll get a first-hand look at Lake Wanaka's sparkling water. Or, if you're interested in staying on the property before you hit the slopes in the winter, you can also enjoy a great view of Wanaka's snowy mountains.
Since it's been refurbished in 2021, the Lakefront Gem has upgraded the fully-equipped kitchen with more modern appliances, and an easy-to-use BBQ grill on the balcony.
Regardless of which time of year you plan your stay, this cottage has an ideal location. Both the lakefront and the centre of Wanaka are only a four-minute drive (or twelve-minute walk) away from the property – so a refreshing swim or a fancy meal at a local restaurant is always close by.
And, if you'd rather stay in, guests can also enjoy a complimentary WiFi connection and good mobile cell phone reception.
---
Visit Wanaka on Your Next Vacation
Wanaka is a unique getaway, with its surrounding mountains and beautiful lake. With access to swimming, hiking, recreation, adventure, and leisure, lakeside Wanaka offers an escape for everyone.
Particularly, spending your holiday time in one of these waterfront accommodations will provide a sense of ease and a taste of heaven at your home away from home.
Book your holiday house or lakeside apartment in Wanaka today.