Our Favorite Taupo Waterfront Accommodation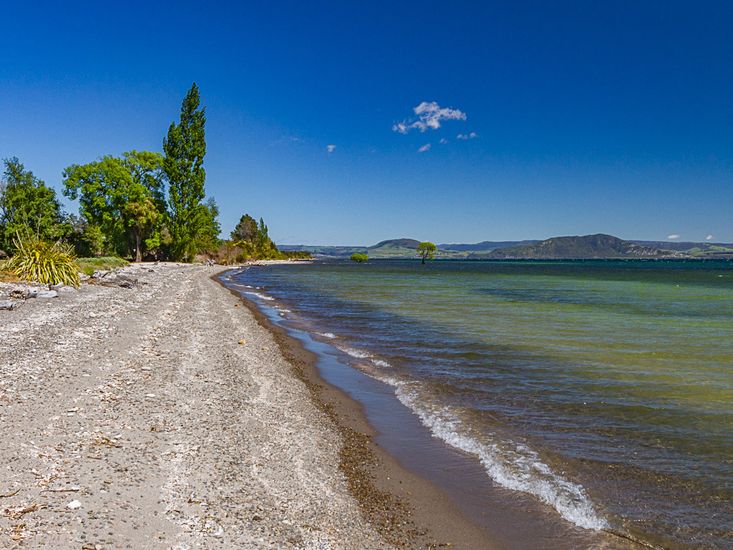 As any Kiwi would know, Taupo and surrounding areas make for a beautiful holiday. Lake Taupo is a nature-made beauty formed from a volcanic eruption nearly two thousand years ago, and is about the size of Singapore. You'll be able to witness some of this magnificent heat power should you choose to book one of the thermal walks offered.
With plenty of activities, from boating to hiking Mount Tauhara to witnessing the glory of Huka Falls, it's no wonder this is a top holiday spot. If you're looking for a lakeside stay, read about these gorgeous Lake Taupo waterfront accommodations below.
---
Lakeside Vistas Magic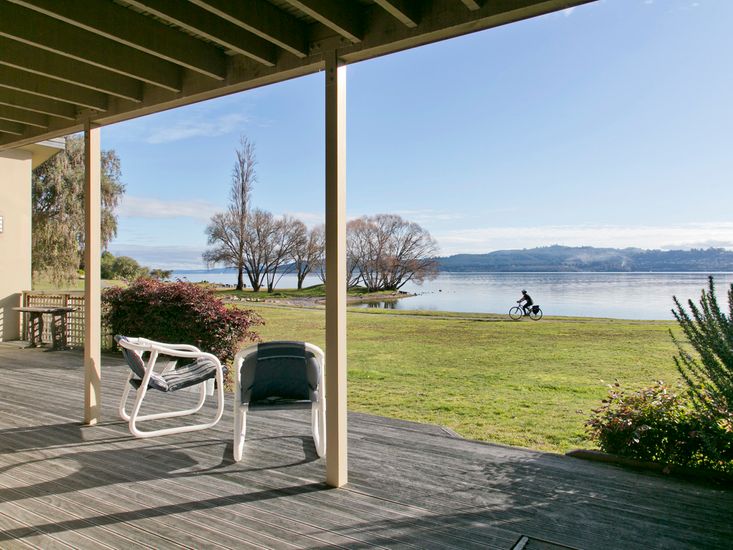 Lakeside Vistas Magic is celebrated for its gorgeous lakeside view, accompanied by a sprawling yard with plenty of room for activities. Another bonus of this holiday home is its proximity to a popular biking trail, the Lions Walk.
The lower level opens up to the great outdoors, giving you the option to experience a lakeside breeze inside the comfort of the home. There's an upstairs deck as well, for those who like to take in the scenery from a higher vantage point. The open living plan of the home allows the gathering areas of downstairs to flow into one another, so you'll never miss out on family fun.
If you're not planning to spend your full time inside this idyllic space, the location of Rainbow Point, Lake Taupo grants you easy access to swimming, boating, and fishing activities in the area. Anyone who enjoys the exploration of New Zealand's beautiful nature will be pleased to know Lakeside Vistas Magic sits close to Mount Tauhara. A hike to the summit gives unbeatable views of Lake Taupo — it's well worth the mild trek.
With 5 bedrooms, this waterfront dwelling is perfect for families or a group of mates looking for an escape.
---
Absolute Waterfront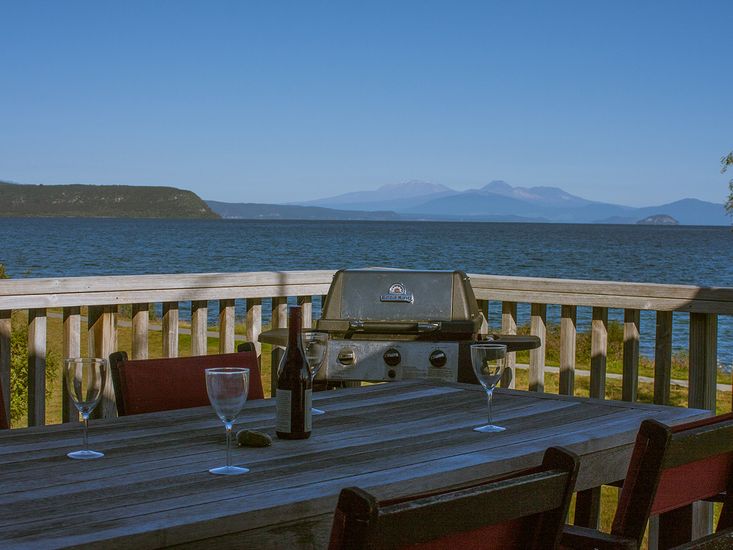 This gorgeous abode rests along Five Mile Bay, close to the Taupo airport and only a 10 minute drive into the heart of town. Absolute Waterfront, also called Casa Del Lago, is a two-story accommodation that gifts you with an unmatched panorama of Lake Taupo.
The massive deck is ideal for barbecuing and outside dining, though there is ample room (and a fireplace) indoors as well. The third bedroom has several sleeping spaces, making it perfect for the younger family members to spend some quality time in. The open plan makes the home feel as spacious as it is, and is ideal for extended family gatherings.
Absolute Waterfront offers guests complimentary kayaks, and with its closeness to town, you and your family with never be without something to do. If you're looking for a thrilling excursion, you'll be pleased to know the nearby city centre of Taupo offers exciting helicopter rides over the area's active volcanoes.
An exceptional choice for a family holiday, this three bedroom home can sleep up to 10 people.
---
Breachmor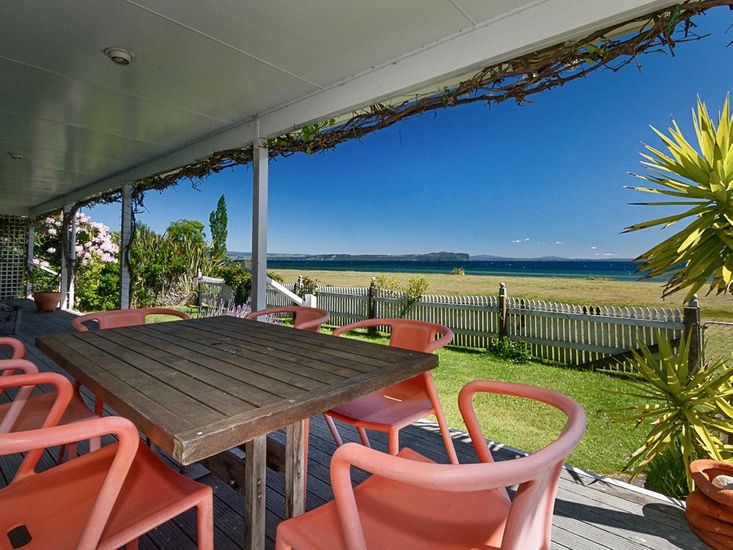 The stunning Tauranga Taupo lakefront location of Breachmor gives you both a stunning vista, and thanks to the fenced-in yard, privacy. This accommodation is full of charm, with a colorful interior and varied works of art decorating the home.
Should you choose to immerse yourself in the comfort of Breachmor, there's a wonderful garden ideal for soaking up the sun and reading your favorite book. The deck has several spaces to dine and unwind, making it excellent for family dinners or afternoon naps.
If you want to venture away, you won't have to go too far. Waitetoko Beach is only a short stroll from the property, and it's ideal for a swim on those hot, sunny days. For you adventurous folk, Breachmor also gives you access to two kayaks and life jackets. If you're bringing your own boat, there's space for this as well.
This holiday getaway is a relaxing pick for the entire extended family, hosting up to eight people. There's also the option to bring your furry friend, so everyone has the chance for some holiday fun.
---
Kauawhi Lodge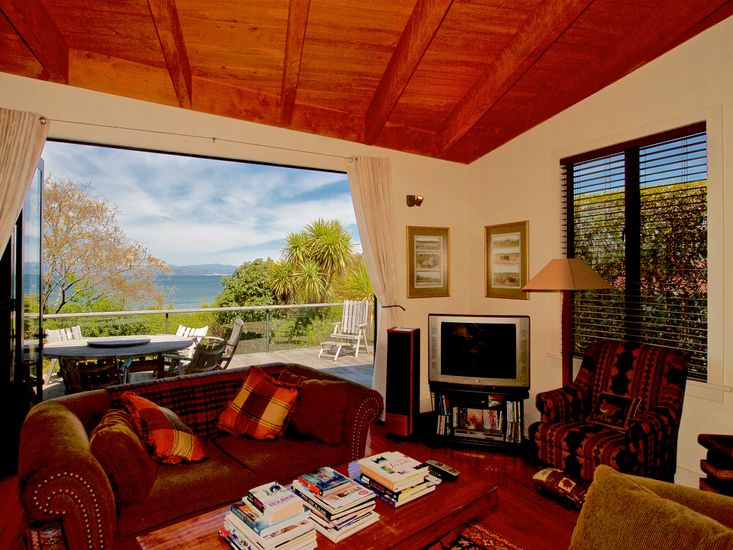 Kauawhi Lodge is one unforgettable waterfront accommodation. Nestled in nature, surrounded by the lush Acacia Bay flora, you'll really feel as if you're in your own private paradise.
The common area is accompanied by a sliding glass door, opening up to the sunny lower deck offering pristine views of the lake. On the north side of the home, another sliding door gives way to an elegant stone courtyard with an outdoor fireplace and grill. If you're looking for a higher view, this split-level holiday hot spot has a master bedroom with its own balcony overlooking the lake.
Adding to the hidden gem vibes of this home, you'll find yourself with access to a concealed beach on the magnificent Lake Taupo. Just follow the path at the front of the home. If you're looking to stretch your sea legs, Acacia Bay offers fly fishing and hunting locations nearby. You're not too far off from the Maori rock carvings either.
Whether you're a couple or a family with children, everyone will find themselves refreshed and relaxed after a stay at Kauawhi Lodge.
---
Parting Words
It's no secret Lake Taupo is a unique tropical getaway, with its surrounding mountains and lush forests. It's a holiday retreat spot that has a little something for everyone — swimming, hiking, sport, adventure, and relaxation. And you can't go wrong with any of these four waterfront accommodations, giving you a little taste of paradise away from home. Your family will be talking about your holiday for years to come, and they'll be begging to return.
So, what are you waiting for? Dive on in and book your Taupo waterfront accommodation with Bachcare today.