Awanui Holiday Homes & Accommodation
Looking for a luxurious family getaway in Awanui? Check out the Awanui Lodge – Whakamoenga Point Holiday Home. Nestled on a private lot in a gated community, Awanui Lodge is the perfect holiday retreat for groups or families.
---
Awanui Lodge – Whakamoenga Point Holiday Home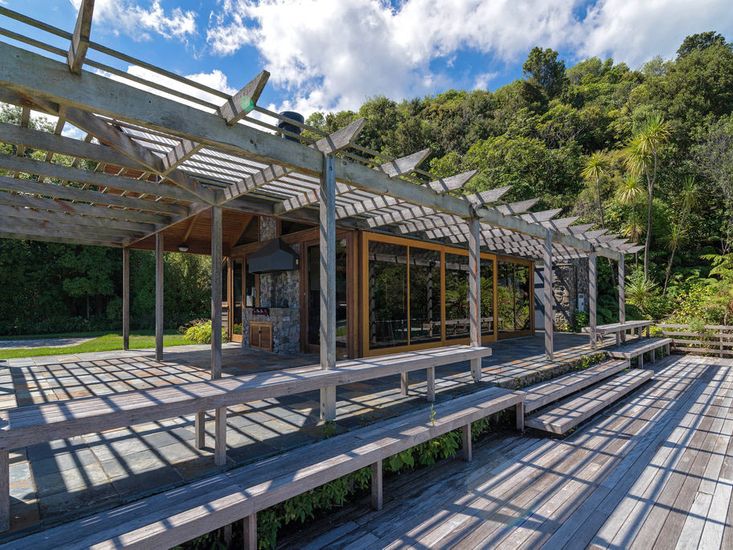 Awanui Lodge is a spacious retreat that can house groups of up to ten. This beautiful Awanui accommodation has high ceilings and large windows, letting guests enjoy the weather and natural lighting to its full effect. Resting on the hillside, this property provides guests with plenty of breathtaking views of Lake Taupō and the lush landscapes.
Awanui Lodge has five bedrooms and two baths, divided into two wings – great for several families holidaying together. The holiday home has a separate TV room and a downstairs rumpus room, great places for younger guests to relax after a day spent exploring. This Awanui accommodation also has a large fireplace to warm up beside on cold days or during a winter holiday. The property also has air conditioning for guests visiting in the summer.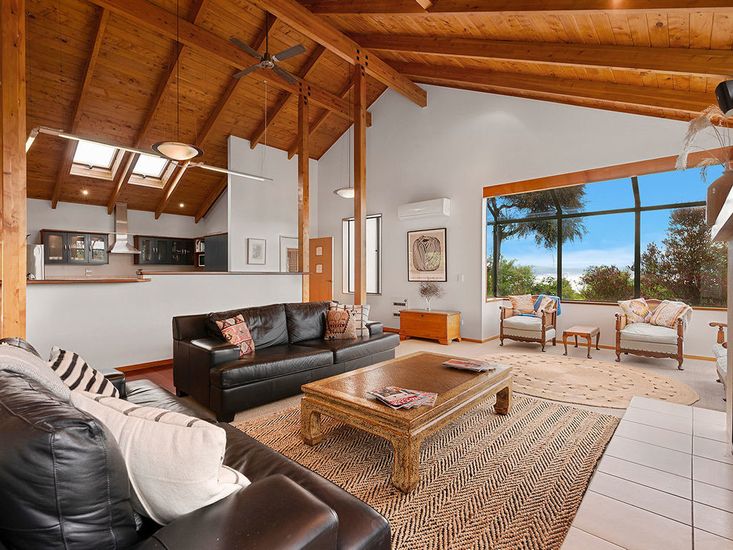 Well-appointed with modern amenities, Awanui Lodge offers guests high-quality comfort and convenience. This property has a full kitchen and a dedicated laundry room, complete with a washing machine and dryer.
The property also has plenty of spaces that flow into the outdoors, great for enjoying the Northland weather and scenery. Awanui Lodge has a sheltered deck that comes with a BBQ, letting guests enjoy the weather and views as they dine on a freshly grilled meal. The property has a large outdoor space, perfect for parking boats or cars.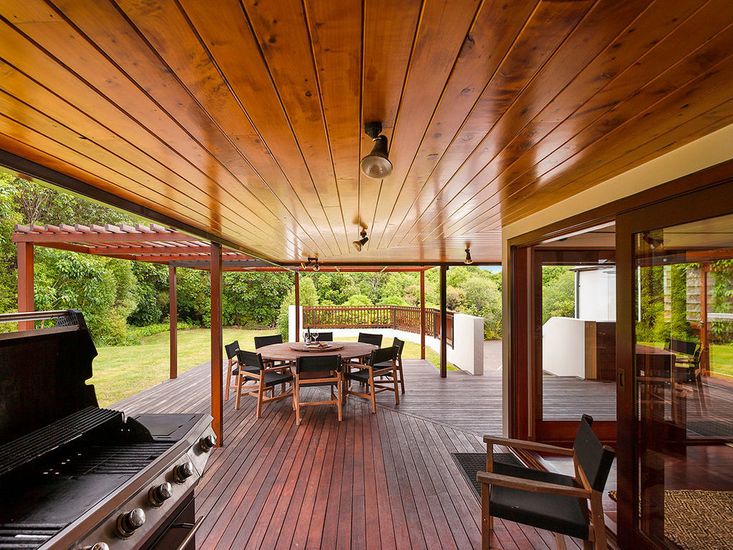 Guests of Awanui Lodge do not have to go far to enjoy the area and have access to the shared community tennis court and activity spaces. The property is only minutes away from Mine Bay and has plenty of services catering to visitors who want an outdoor experience, such as kayaking and bushwalking.
---
Things to Check Out in Awanui
The Awanui area is named after the Awanui River, which flows into Rangaunu Bay. The Northland Awanui area has a long history and there are many historic sites for travelers to visit. Travelers wanting to experience Awanui's gorgeous scenery have their choice of places to explore.
---
Gumdiggers Park
Awanui is well-known for its ancient kauri forests and gum fields. Gumdiggers Park is an authentic historical site where kauri gum, fossilized kauri tree sap, was extracted by early settlers in the region. Kauri gum was once one of the main sources of income in the area. 
This site is insightful to those wanting to understand the history of Awanui and the lifestyles of early settlers. Gumdigger Park teaches visitors with informative plaques along the many trails through the park. The educational aspects of this site make this destination perfect for groups with kids or an interest in local history.
The park is part of a nature reserve, giving guests a taste of what Awanui's wildlife has to offer. Gumdigger Park is perfect for visitors wanting to experience the natural beauty of Awanui to the fullest.
---
90 mile beach
90-Mile Beach, as its name would imply, is among the largest beaches in New Zealand. This large stretch of beach offers visitors opportunities to take part in a wide variety of outdoor activities. Visitors who want to travel the whole length of the beach can charter tour buses or challenge themselves to hike along the coast.
Traveling along the beach can be treacherous, so visitors should plan accordingly. The beach offers access to the ocean and is perfect for surfing or fishing. On land, visitors can bodyboard down the many dunes as an alternative to surfing. Children and adults alike can have fun spending the day digging for the native shellfish to eat later.
---
Shipwreck Bay
Shipwreck Bay is a famous surfing spot near the town of Ahipara and is only a short distance from Awanui. The bay is known as one of the best places for left-hand surfing in the area. Visitors also have access to great spots for fishing- from the shore or a boat. Another feature of Shipwreck Bay is the shipwrecks visible in the water at low tide.
Visitors should take their time enjoying the bay's beautiful scenery. This spot is also near the Ahipara Gumfields Historic Reserve, so there are plenty of pristine lands to roam.
---
Ka-Uri Unearthed
Ka-Uri Unearthed is one of Awanui's best shopping experiences. The store is a good stop for families traveling in Awanui and is a perfect addition to any trip. There are impressive kauri wood sculptures on display and for sale around the store. Visitors will be impressed by the creative and welcoming atmosphere.
Ka-Uri Unearthed offers a diverse selection of hand-crafted kauri wood items- from bowls and kitchenware to works of art and tables. With superb craftsmanship, Ka-Uri Unearthed displays the natural beauty of kauri wood as a material.
The shop has a dining area and restaurant where guests can enjoy a high-quality meal after picking up a few souvenirs. Surrounded by the kauri wood goods and art displayed in the store, visitors will have a shopping experience like no other.