Apartments in Mount Maunganui
If you're looking for a laid-back beach holiday, Mount Maunganui won't disappoint.
Mount Maunganui has been named the best beach in New Zealand and is one of the world's top beaches. You can relax, sunbathe, or stroll on the beach. Enjoy more active water activities such as snorkeling, diving, surfing, and paddleboarding, or be delighted by everyone's favorite ocean mammals on a dolphin-watching tour.
You'll also want to climb the town's namesake, Mount Maunganui. This extinct volcano rises 232 meters from the ocean. You can enjoy 360-degree views of the Bay of Plenty from the top. Take pictures of Pilot's Bay, the ocean beach, and the town. You might even get a bird's eye view of your bach.
It will take about an hour to hike to the top and get back down; it's not a long hike, but it is steep. We recommend stopping at a cafe afterward to reward yourself with a refreshing brew.
There's also an outstanding two and a half kilometer base track around Mount Maunganui. You might get lucky and spot sea lions sunning themselves.
Mount Maunganui has many cafes, restaurants, and bars. Stroll Marine Parade and pick out your favourite. Taste test your way through 32 craft beers on tap at The Rising Tide.
Kick your feet up, and people-watch at The Deckchair Cafe, which is open for breakfast and lunch. The scones are divine, and breakfast is served all day. This is a great place to plan the day's itinerary while sipping hot coffee. Enjoy local produce and seafood at "The Fire."
Now that you are working on your itinerary check out a few of the Mount Maunganui Apartments waiting for you to call them home.
---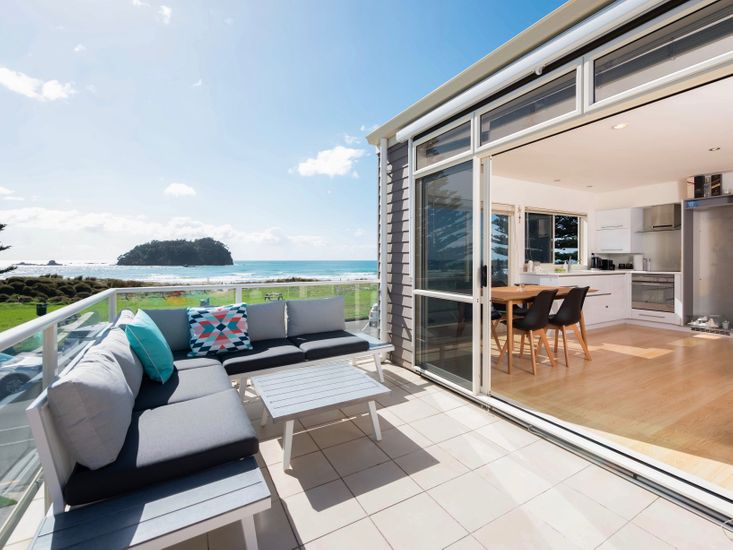 If your ideal vacation includes sipping your morning coffee while looking out at sweeping views of the ocean, you'll want to check out Marine Magic. The upstairs deck has a comfortable outdoor living room with cozy seating and bean bags to make you feel right at home. It's the beachside hang-out your whole family has been looking for.
Marine Magic is a two-bedroom, two-bathroom apartment directly across from the ocean beach. The two main bedrooms are upstairs, and each has a private balcony with views of the ocean. The third bedroom is downstairs and has a private patio.
The living space is ideal–the bright, open kitchen, dining room, and living room all have views of the ocean. You can easily stay connected with free Wi-Fi or catch up on your favourite TV programmes. To drink in the fresh, salty air, just step onto the fabulous deck. This is a great spot to relax, enjoy the scenery, or fire up the BBQ.
Pilot Bay is just a 10-minute walk away. Shops, restaurants, and entertainment in Mount Maunganui are just a 10 – 15 minute walk away. You'll love calling this modern apartment home for your beach holiday.
---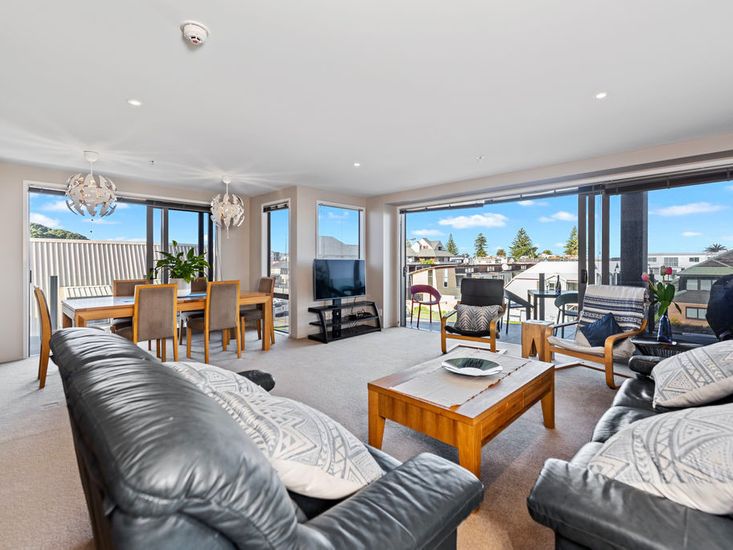 This four-bedroom, two-bathroom home is perfect for a family getaway. Kids can invite their friends, and you'll still have space to spread out. Active family members will have just a two-minute walk to the base of Mount Maunganui. Those seeking a more relaxed outing will have a leisurely stroll to the beach.
The spacious living room and modern kitchen will keep everyone comfortable, relaxed, and fed. Fire up the BBQ, dine al fresco on the inviting patio, or eat inside with climate control.
This apartment has A/C in the summer and heat in the winter to make sure you're always comfortable. With Wi-Fi, a dishwasher, and a washer and dryer, this apartment has all the comforts of home.
The master bedroom and second bedroom have direct access to the wonderful patio, where you can enjoy your morning coffee or happy hour.
When you're ready to get out and see what Mount Maunganui has to offer, you'll find it's just a short walk to all the restaurants, shops, and cafes on Marine Parade.
Relax in comfort in this spacious, bright, and modern apartment.
---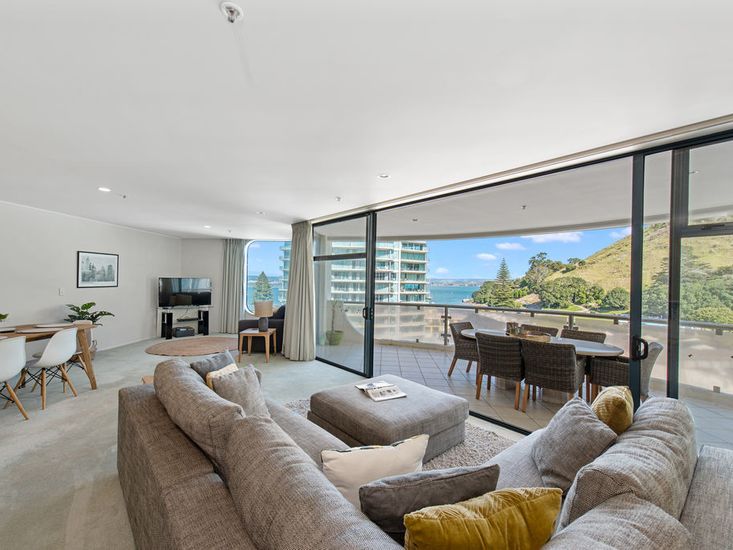 Something is exciting and invigorating about staying in a high rise. At Oceanside Tower Apartment, you'll find unbeatable views. Relax on the spectacular covered balcony and enjoy the vistas; majestic Mount Maunganui, sparkling Pilot Bay, and the attractive, world-famous beachfront.
This two-bedroom, two-bathroom retreat is perfect for a small family or for two couples to share.
The open floor plan means that the living room, dining room, and kitchen all share expansive views. The living area has comfortable seating for conversation and playing board games. There's a TV nook for those that like to relax with their favourite shows.
The kitchen is expansive; you'll love whipping up your favorite Chelsea Winter recipes, or trying a new one. Might we suggest the spaghetti and meatballs followed by oaty ginger slices?
The first bedroom has a huge window which lets natural light in. The second bedroom has glass doors that open directly onto the fabulous deck. This second bedroom has two twin beds that can be joined to make a king-sized bed.
Enjoy the apartment building's swimming pool and luxurious on-site spa. It's an easy walk to the area's many cafes and restaurants. Hang out at the beach; go paddle boarding, or learn to surf. Climb Mount Maunganui or just enjoy admiring it from your balcony.
This bright, comfortable, and modern apartment has sweeping views and is sure to delight.
---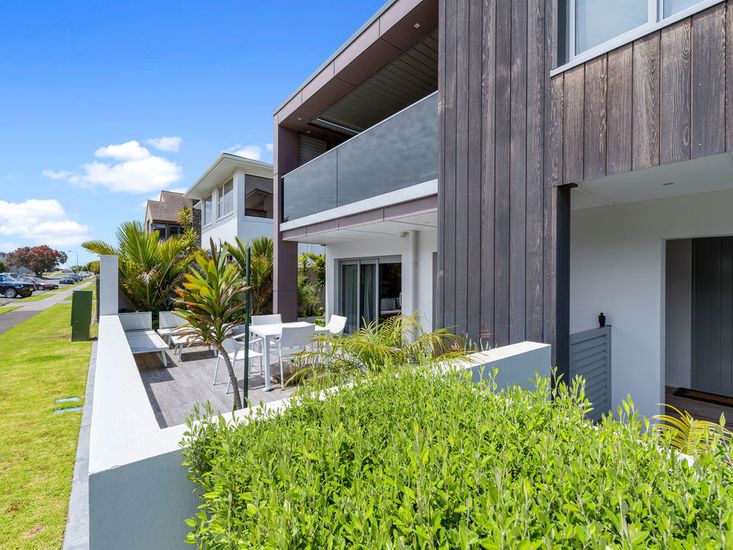 This lovely downstairs apartment has all you need to enjoy the Mt Maunganui area.
The modern open kitchen, dining, and living area are filled with light. The living room has comfortable furniture, and there's plenty of room to spread out. Sliding glass doors connect the living area and dining area to the wonderful outdoor deck.
The apartment features two main bedrooms and one bath. The third bedroom is the perfect space for a porta cot.
The outside deck is fully fenced and gated. With an outdoor dining set and patio umbrella, the deck is comfortable and cosmopolitan. Relax in the sun or dine al fresco.
It's an easy walk to Pilots Bay, the ocean beach, or the many cafes and restaurants in town.
Enjoy your fabulous beach break at Harbourside.
---
Conclusion
Mount Maunganui and the Bay of Plenty is such a lovely destination, and these apartment bachs welcome you to the area with a comfortable place to call home. Book your bach today for a seaside holiday that your entire family will love.