Our top 5 skiing/snowboarding holiday homes
If you're thinking of taking a trip to another part of New Zealand to ski or snowboard, you're in the right place.
Aside from being the adventure capital of the world, New Zeeland offers some of the most amazing mountain views, and ski trails that range from novice to master for experience levels.
Whether you're traveling as a family with small kids, as a couple or just looking to make some memories with a group of friends, you'll need somewhere to rest your tired legs after a long day carving up the slopes! Read on to discover our top four New Zealand ski accommodations.
---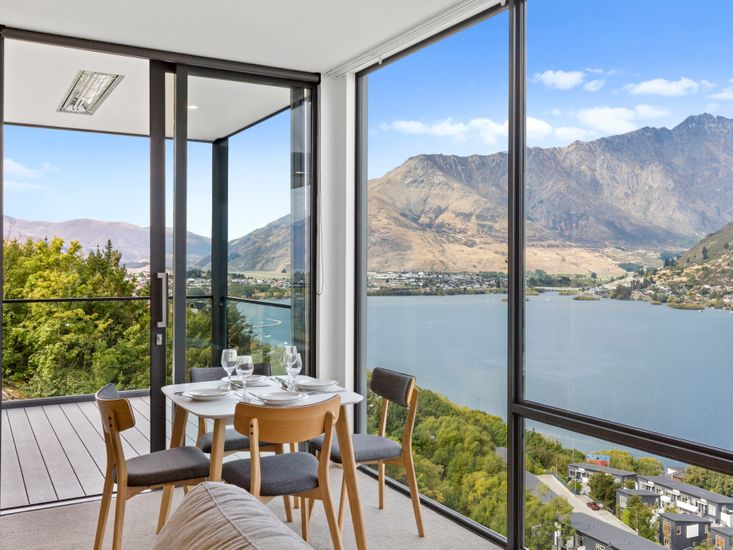 Beautifully decorated with elegant and modern furniture, the Sierra Views – Queenstown Holiday Home is a truly luxurious getaway destination. Set against the majestic beauty of Queenstown, this home offers stunning views of both the mountains and bright blue Lake Wakatipu, giving you the sense you're at an alpine lodge. This home is close to both Cardrona Ski Resort and Treble Cone Resort, both which offer natural, free-ride terrains and family-friendly fun in the snow.
Before you start exploring, take a moment to admire Queenstown's stunning scenery from the floor-to-ceiling windows. You'll instantly feel calm and at home in this southern New Zealand escape, that seems to seamlessly blend in with the surrounding nature.
The home is spread across two levels, ensuring optimal room for everyone to spread out comfortably. The ground floor features two bedrooms with ensuites, as well as a large covered patio with lake views. The upstairs is bright and open, with a modern kitchen and Nespresso machine for all your caffeine needs. There is also a luxury dining space, a master bedroom with a separate bathroom and a covered private deck for outdoor relaxing.
Sierra Views is located between downtown Queenstown and the international airport. Hit the ski fields before unwinding in the private and relaxed Sierra Views.
---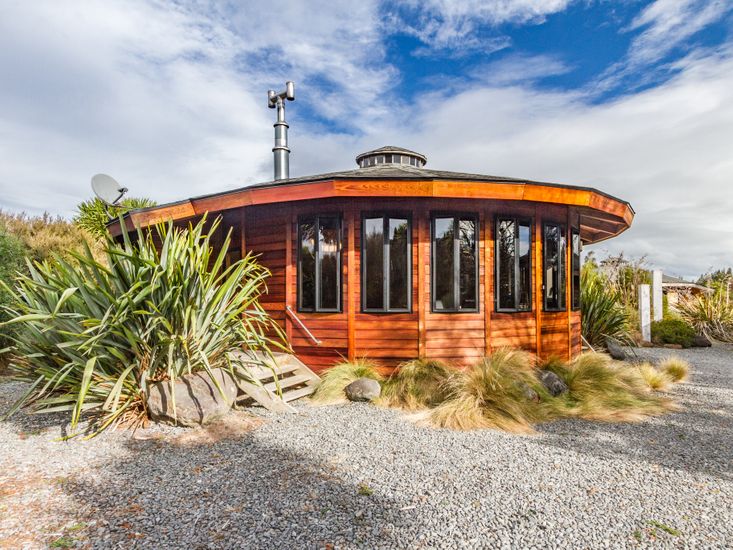 This Ohakune Holiday Home is the rugged and rustic New Zealand ski accommodation of your alpine dreams. Located directly within the magical ski town of Ohakune, you'll never be far from the snowy action. Turoa Yurt is a 2-minute drive to the base of Ohakune-Mountain Road, which leads up to the exciting and well-known Turoa ski field. This ski field is perfect for both novices just getting their feet wet and experts looking for the ultimate shred.
The Yurt itself is optimized for cozy and relaxed mountain living. Comfortably sleeping 8 people, Turoa Yurt has three well-sized bedrooms, 1 bathroom and Wi-Fi throughout the home. Turoa Yurt is spacious and bright, giving everyone room to spread out in a circular-style, open-living plan. The kitchen is a true modern feature here, located under a spiral thatched roof. You'll also find double-glazed windows, a fireplace and a heat pump for colder weather, as well as a BBQ for summer nights.
When you get hungry, check out the nearby Powderkeg Restaurant, OCR Wine Bar or Take 5 Restaurants, all under 10 minutes away.
---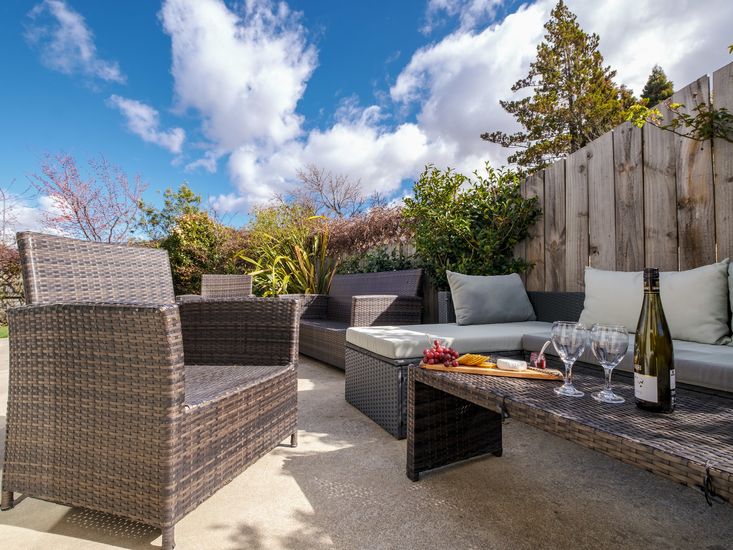 Modernized, luxurious and equipped with stunning views, Hunter's Retreat in Wanaka is your ideal vacation getaway. Located just a 10-minute walk from breezy Bremner Bay Beach, Hunter's Retreat is both cozy and spirited. This home is optimized for groups ready to hit the slope. After a long day of skiing and snowboarding at Cardrona Ski Field on Coronet Peak (less than an hour's drive away) gather round the gas fireplace and share stories of your adventures.
Hunter's Retreat is equipped with a coffee machine and Wi-Fi, as well as air conditioning for the hotter days. The kitchen is fully equipped for even the pickiest of chefs and directly outside is an open patio for grilling on the BBQ. This home comes with an open-plan living and dining space, but also includes outside chairs and loungers to dine alfresco.
With five spacious bedrooms, Hunter's Retreat comfortably sleeps up to ten guests and also includes two bathrooms. The home also has an open garage for storing ski gear and even your own boat if needed.
Although Wanaka usually bustles in peak ski season, Hunter's Retreat is a private oasis in the tourist noise. Make sure to explore the nearby lakefront with amazing shops and eateries and see the famous Wanaka Tree up close. You'll feel right at home in this amazing New Zealand ski accommodation.
---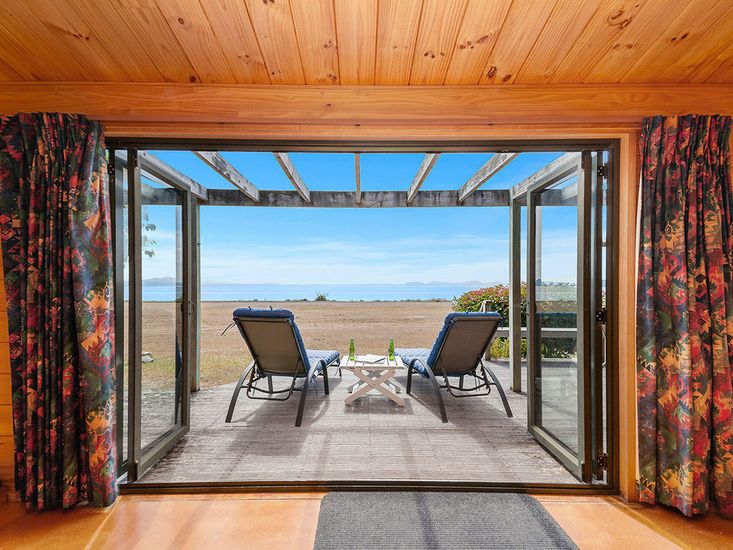 Lake living never looked better than at the peaceful, private and relaxing Lakeside Lodge in beautiful Tauranga Taupo. Located directly on the waterfront, Lakeside Lodge is filled with natural light, streaming in from all-around windows, skylights, and both sliding and bi-fold glass doors. You'll never have a bad view of the stunning and bright blue Lake Taupo. The lodge is built for cozy, open-plan living so you still feel as if you're getting the classic, rustic cabin feel in a modern home.
Optimal for large groups and families, there's plenty of room to kick back and relax inside. When you're ready to get out and enjoy the sunshine, head into the sunroom and out into a shaded patio. You can also explore the covered deck leading to the lake, from right outside the main living room. The deck features rustic picnic tables for alfresco dining and stunning sunset views as another amazing day in Taupo goes by. The kitchen is fully equipped with all necessities, as well as a DVD player, gaming console, Wi-Fi and BBQ for a subtle touch of luxury in your home away from home.
Lakeside Lodge features three spacious bedrooms that will comfortably sleep nine guests, as well as two bathrooms. Once you're ready to get adventuring, you can either hit Waitetoko Beach for swimming, kayaking or splashing, or hit Tongariro National Park for walks and snow sports, Whakapapa Ski Field, Coronet Ski Field or Mount Ruapehu (all within a one hour drive). Lakeside Lodge also includes room to park your boat. Come enjoy this incredible lodge and experience the homespun and rejuvenating ski vacation of your dreams.
---
That's it! Our 5 favorite New Zealand ski accommodations. Ready to book your skiing holiday? Check out all our holiday homes by clicking the button below: