Things to do in Matakana
Just a 40 minute drive from Auckland will bring you to Matakana, the heart of boutique shopping, markets and a great community vibe. Here's our insider's guide to help you indulge in a little eating, drinking and shopping (Matakana style).
---
The famed, and revelled by many Matakana Village Farmers Market. This wonderful market is held every Saturday from 8am – 1pm and has a little something indulgent for everyone – prepare your palettes! Think whitebait fritters, fresh coffee, bacon butties, crepes, wholesome local produce, plentiful pastries, floral bouquets and much more!
There's also live entertainment to guarantee good vibes. Ditch your usual Saturday morning routine and make the pilgrimage out of the city to treat yourself to some moreish treats, whilst perched alongside the river that runs through the village.
Soak in the humming energy of this Saturday tradition, or grab some goodies to go and park up at one of the beautiful nearby beaches for an epic picnic!
Insider Tip: The Matakana Market is the perfect place to get ingredients for a gormet picnic before spending the day at the beach!
---
Looking to get your hands dirty? Have a go at throwing some clay at Morris and James Pottery. The pottery experience starts in the morning for a coffee (seeing a trend yet?) and ends with an included lunch. In between, you'll go from pottery amateur to pottery-competent. It's a great way to discover a new hobby! If you don't have time for the lessons but you're still keen to take a tour of the factory, make sure you're around for the free 11:30 am tour. For those interested in buying locally made pottery, they also have an on-site shop.
Insider Tip: Matakana local Daniel says that Mmk (Matakana Market Kitchen) is the best place to grab a bite to eat.
---
Many would say this is somewhat of a Matakana institution – and they're not wrong! Serving up incredible fare for brunch, lunch and dinner you won't be disappointed. Do yourself a favour and try their crazy garlic fries, whilst sitting next to the roaring fireplace or outside by the river.
---
This cruisey spot is ideal for chilling with a craft beer and nibbles out in the courtyard. Gather your friends and park up here for the afternoon, or just drop in for a burger or plate of oysters whilst listening to live music. The historic pub also welcomes dogs (very important), so bring the pooch with you for a change of scenery!
---
Drool-worthy pizzas are the star of the show at this tasty wee spot. A favourite for connoisseurs of casual dining, The Rusty Pelican provides delicious food and very generous servings – perfect to top off a day spent at the beach. Best served with a vino or two, whilst people watching from the outdoor seating area.
---
For a true summer treat head to Charlies for gelato, sorbet or real fruit ice creams (a kiwi favourite!). They hand make small batches, made fresh daily with the best locally sourced ingredients. Take a break in their garden and devour a fruity, fun and decadent treat!
---
Usually a cinema wouldn't be considered a great tourist attraction, but the Matakana Cinema is something a bit more special. The building is beautiful and the cinema rooms are out of this world. One cinema has 32,000 tiny artificial roses covering the whole ceiling, and another has a giant chandelier. It edges more towards a traditional play-theatre, making it more of an experience than just seeing the movie itself. They show all current new-release movies and hold special events as well. Definitely something to add to your itinerary, especially on a rainy day!
---
The Leigh Sawmill Cafe has hit the nail on the head when it comes to live New Zealand music in a beautiful place. It's a popular gig venue that gathers crowds easily and has a loyal support base from both music acts and locals. The venue itself has plenty of indoor and outdoor space for your eating, drinking and dancing needs – well worth checking out when you're in the area. See their upcoming events here.
View holiday homes in Leigh here.
---
Matakana Art
It's no surprise that Matakana is home to many art studios and galleries. If you're an art lover looking to buy or just to appreciate, here are a few places you should consider visiting.
Hope Gibbons Art Studio: Successful contemporary artist Hope Gibbons opens her studio to the public, with a relaxing environment to view her award-winning works.
Art Matakana: This gallery brings together a collection of works by well-known New Zealand artists, including the likes of John Mulholland, Paul Cato, Janine Whitelaw and more.
The Vivian: The Vivian showcases a range of New Zealand artists, and has a great collection of sculptures. Check out their upcoming exhibitions for your time of visit.
Sculpture Trail & Exquisite Cuisine
Brick Bay Sculpture Trail showcases an ever-changing exhibition of approximately 50 large-scale contemporary sculptures, by a variety of leading New Zealand artists. Meander your way through the 2km's of the trail that weaves through a sublime landscape; taking you past vineyards, farmland, lakes, and a few unexpected views.
Onsite you'll also find a wonderful restaurant housed in a glasshouse, and aptly named – Glass House. This novel structure is home to Brick Bay Wines and gateway to the trail. Cantilevered over a shimmering lake, The Glass House Kitchen offers relaxed all-day dining showcasing the freshest seasonal produce. Expect to find taste-bud tantalising dishes ranging from epic shared platters to moreish mains. While you're there enjoy a personalised wine tasting at the bar!
---
Must-visit Wineries
Beautifully situated amongst the vines of Matakana, with its distinctive European style and gorgeous gardens is Ascension Wine Estate. Enjoy soul-warming bowls of pasta and risottos whilst sampling excellent wine to suit. Check out their handcrafted wines and improve your knowledge with their trained cellar door staff. This winery is ideal for soaking in some Auckland sun, whilst feeling as if you may have been transported to Tuscany or the likes!
---
Matakana Estate is rich in history, having been established by descendants of Croatian migrants who settled in and around Auckland more than 100 years ago. Winning a number of awards in international wine competitions, the estate knows how to make a quality drop! The feel of the estate is intimate and authentic, with beautiful views looking out across rolling hills to the rear and across the vines to the front. Stop in to try some beautiful beverages.
---
Swimming & Beaches
Goat Island Marine Discovery Centre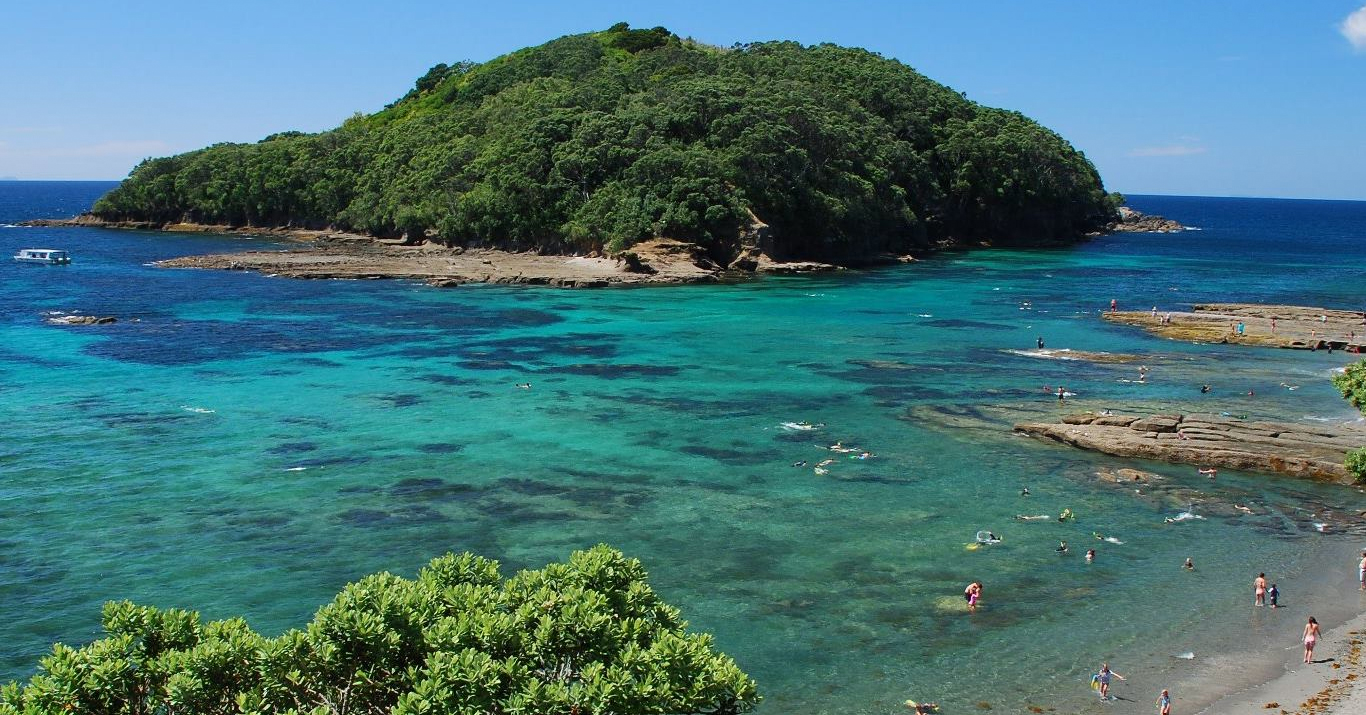 A great family day out in Leigh has to include the Goat Island Marine Discovery Centre. Here, you'll learn a lot about the latest research on New Zealand's marine life. There's a touch-pool and other great interaction opportunities for kids, but it's more than just an aquarium. It's one of New Zealand's leading research centres, and has graduates from around the country working to figure out the weird and wonderful of our ocean's inhabitants.
Pakiri Beach
Pakiri Beach is located about 20 minutes away, which again boasts a long shoreline and often a big swell. Here you can also embark on a horse trek along the beach and through farmland to really experience the freedom of the area.
Lastly, Goat Island is a must if you're partial to some snorkelling! The marine reserve boasts an extensive variety of aquatic life so it would be rude not to dive underwater and say hello. You can hire snorkel gear, or kayaks or even head out on the Glass Bottom Boat Tour.
This is a legendary experience in the area, offering a 45 minute commentated tour, allowing you to peer through the glass bottom of the boat and marvel at the underwater eco-system teeming with fish, reefs and other marine life!
---
Omaha
Omaha is a classic kiwi beachside town. The long white-sand beach, safe surf and proximity to Auckland makes it a popular summer getaway. Bring a picnic, relax in the sun and head out on the water for a bit of bodysurfing or kayaking. Close by are local boutique shops and the Omaha Beach Golf Club for days spent out on the green.
Insider Tip: "Omaha is just a short drive from one of my favourite surf spots – Tawharanui Beach. It's a little less crowded here, and especially pleasant if you can claim the spot under the big tree on the far beach."
Check out Holiday Homes in Omaha here.
Over to you…
Do you have any favorite spots or things to do in Matakana? Let us know by dropping a comment, we'd love to hear it!
---
Featured Properties in Matakana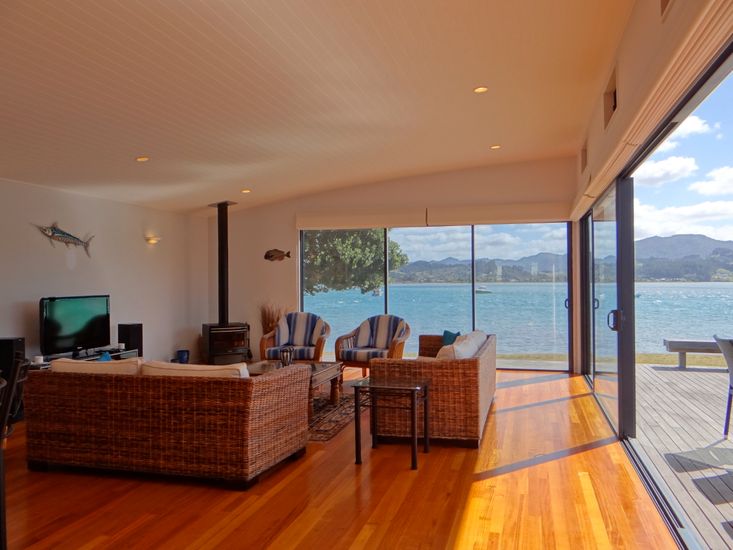 Omaha Views is a 5 bedroom, 2 bathroom estuary front Omaha holiday home with WiFi! Enjoy fantastic indoor/outdoor living and gorgeous sea views from this spacious and relaxed Omaha oasis!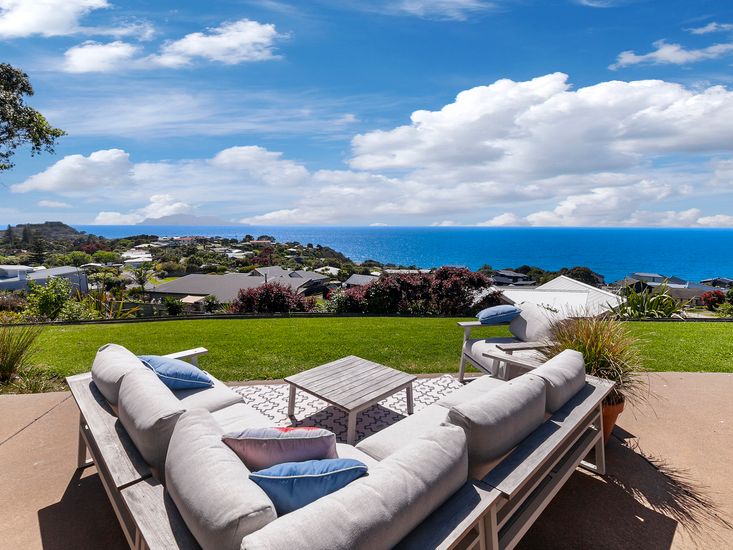 Glistening, near 180 degree views of blue ocean all the way to the edge of the horizon provide the perfect backdrop to your holiday at this stunning home. With 3 bedrooms and 2 bathrooms, this is the perfect holiday home for your next Matakana escape.