Top Accommodation With Spa Bath's in Queenstown NZ
There are over 2,000 handpicked holiday homes available in our collection. However, Queenstown accommodation contains the best of the bunch. Not only are they located in beautiful locations, but they come with full-spa treatment.
Check out our picks of the best Queenstown accommodations with spa ready to book with Bachcare. 
1) Vanda Heights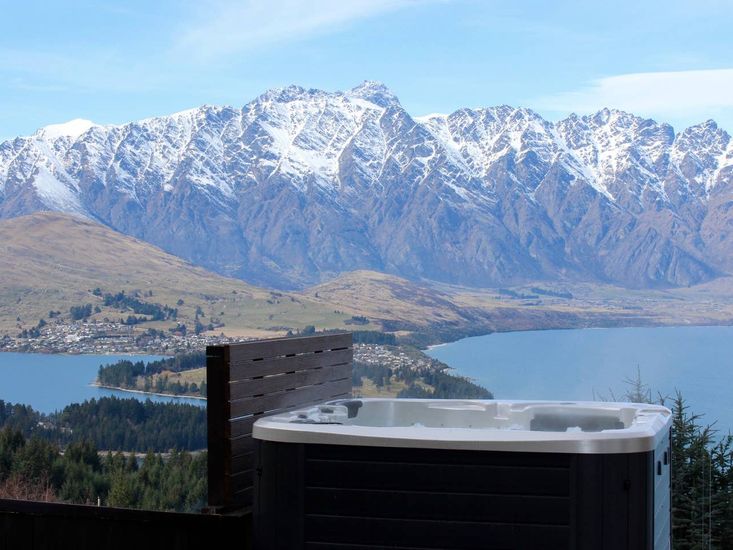 At Vanda Heights, there are three bedrooms and three bathrooms with luxury accommodations for your next holiday. At the top of a mountain peak, visitors can enjoy beautiful views of a stunning lake and nearby mountain ranges while relaxing in the inclusive spa.
There is a spacious floor plan perfect for your holiday with family and friends on the middle floor of this three-level villa. The fireplace and heat pump ensure your guests stay comfortable inside year-round. There is also an outdoor living space available for warm summer nights.
With this luxury home, you won't have to worry about sleeping arrangements. Each bedroom either has a queen bed or a double bed, which is enough room for families and couples alike. Fresh linens every day and nightly cleanings are more amenities included in the rate.
Only five minutes away from downtown, this luxury Queenstown accommodation with spa has the perfect location. Here you can do anything, from going on an adventure in the city or relaxing in the spacious lounge and living areas.
To book your Queenstown holiday with Bachcare this year, check out the full listing here.
2) Vista Retreat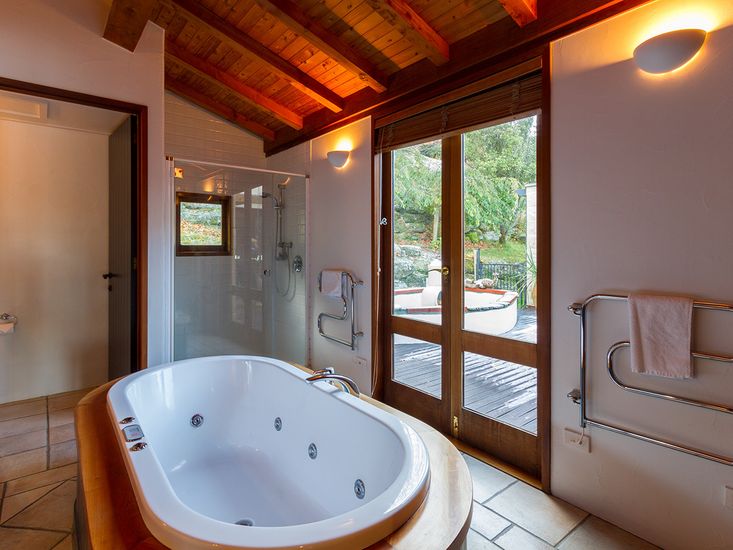 Vista Retreat has everything you and your family could need, like a stunning lake, mountain views, and even a sauna! With free Wi-Fi included, you can enjoy this spacious, modern set-up while staying connected with the digital world.
There is a spacious open floor plan for everyone to enjoy on the first level of this three-floor holiday home. There are also bi-fold windows ready for hot summer days and a fireplace for the cold holiday vacations. Enjoy the additional living space on the second floor with access to the deck for gorgeous views.
This home features an ideal configuration for families and couples alike. One bedroom on the second floor has a queen bed, while the other two have bunk beds or a king bed. With this setup, you will bring the whole family on your next holiday.
If you need a refreshing escape, visit this stunning home for your next holiday. Whether you want to unwind in the spa or set out on an amazing adventure, there are so many activities to enjoy. Nearby, Queenstown has even more shopping and dining options for families to explore.
To book your Queenstown holiday with Bachcare, look at the full listing here.
3) Shotover Spa Escape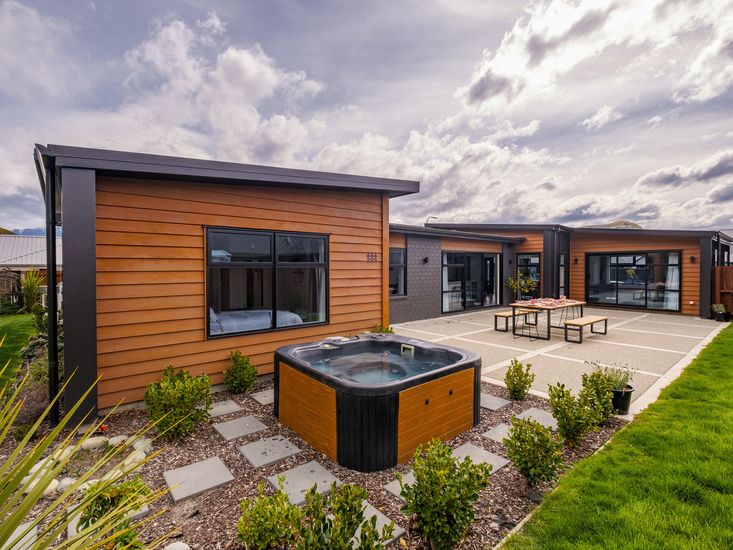 This spacious spa retreat is only moments away from Shotover River and Queenstown trail for those who love the outdoors. Amenities include free Wi-Fi and a relaxing hot tub to enjoy on your next holiday vacation.
The open floor plan on the main level is perfect for the whole family. With two separate living areas, there is more than enough space available for everyone to unwind. There are even more amenities available to enjoy in the house, such as a hot tub and free Wi-Fi.
With four bedrooms, there is more than enough space for the whole family. Two bedrooms have queen beds, one has a double bed, and the other has two single beds. Whether you are bringing children or adults, there is sleeping space for everyone.
Because of the flow between indoor and outdoor living, this escape is great for holidays where you want to fire up the barbecue. However, it is versatile enough so you can enjoy the spa after a hard day on the slopes. Whether you want to stay inside or explore the Queenstown area with your loved one, this home has everything you need to stay occupied.
For more information on the Shotover Spa Escape and book your Queenstown holiday with Bachcare, check out the listing here.
4) Spencer Spa Lodge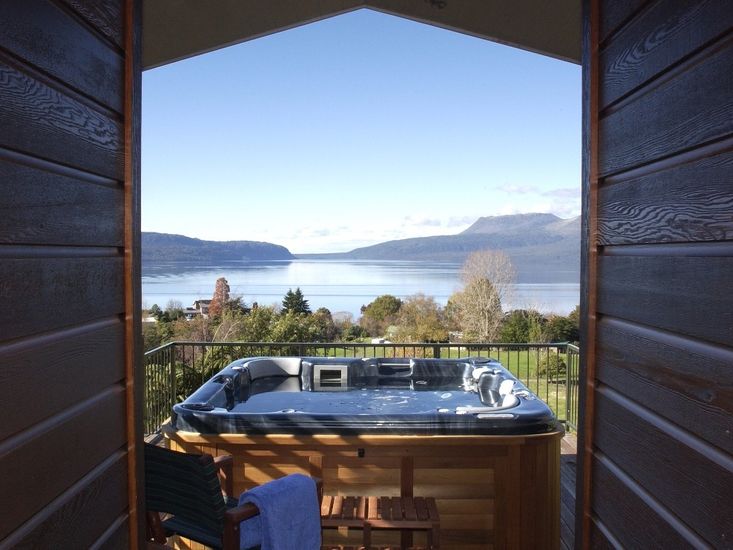 Spencer Spa Lodge is a stunning holiday home with four bedrooms and five bathrooms. This property is perfect for families who love adventure, thanks to its 35 acres of farmland, manicured gardens, and native New Zealand wildlife. Spencer Spa is at just the right elevation so that you can enjoy clear lake and mountain views.
This holiday home in Lake Tarawera has both lounge and mezzanine areas for every member of the group. There are indoor and outdoor fireplaces available, so you can still enjoy the great outdoors on cold winter nights.
One of the best amenities at Spencer Spa Lodge is the spa. There is a sauna, spa pool, and hot tub on-site, so you can relax in any way you want to. Enjoy the views of Lake Tarawera while taking a relaxing soak in the outdoor spa setup.
Another exciting feature of this home is that it is pet-friendly. For a low fee, you can bring up to two pets on your holiday and experience adventure with your furry friends.
In every bedroom of this luxury Queenstown accommodation with spa, there is a smart TV, king-sized bed, music system, and under-floor heating. If you want to listen to music in the whole house, there is chrome cast audio throughout. With five bathrooms in the house, this property has every convenience you could need.
To learn more and to book your Queenstown holiday with Bachcare, view the full listing here.
Book your Queenstown Spa Holiday with Bachcare Today!
If you are looking for the perfect luxury Queenstown accommodation with spa for your next holiday, look no further than Bachcare. Our collection includes properties with beautiful ocean, mountain, and lake views.
With multiple bedrooms, bathrooms, and spacious open floor plans, our retreats have what you need for the whole family. Even appliances like microwaves, ovens, and dishwashers are available at your convenience.
Whether you want to stay in or explore the outdoors during your next holiday, consider one of our homes. Contact Bachcare to book your vacation dream house today!