Treehouse Accommodation in New Zealand
When you want a memorable holiday home for your perfect family vacation, why not spend it in a treehouse? Treehouses are becoming steadily more popular as a fun and trendy way to spend your holidays. They have the perfect combination of cabin-esque remoteness and quaint quirkiness, allowing you to enjoy some peace while also invoking childlike wonder.
These four treehouses provide fantastic options for unique and adventurous holiday homes.
---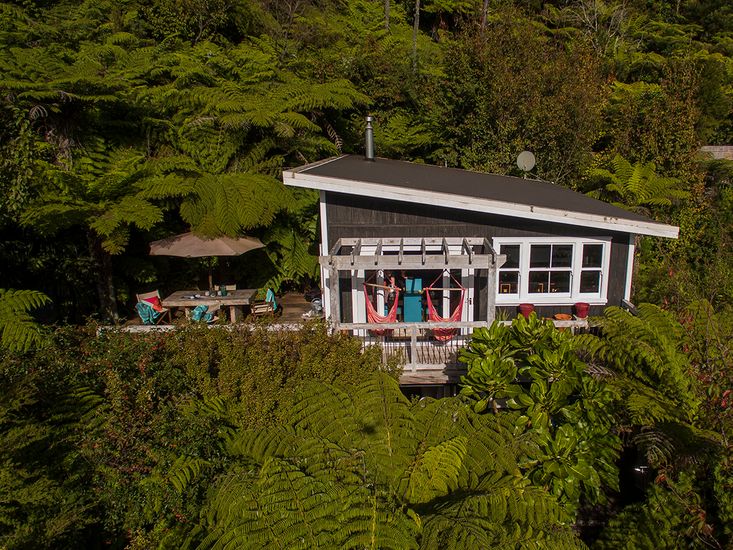 Settled in the thick bush, the Tairua Treehouse is the best escape from the usual holiday hustle and bustle. Though not meant for large family gatherings, this treehouse is spacious enough to forget your worries and help you relax.
Up to four people can enjoy this treehouse, with two bedrooms and two bathrooms. The bedrooms host one super king-sized bed and one queen-sized bed, giving you options for a great night's sleep. One bathroom contains a shower, while the other has a full bathtub, providing just the right ambiance for a romantic or relaxing soak.
A heated outdoor shower and wash station will get you cleaned off after a day at the beach. The treehouse also boasts an extensive sun deck with multiple hammocks, so you can get some Vitamin D whilst overlooking the nearby lake.
When not recuperating in this peaceful holiday home, you can check out the Tairua area. Shops and restaurants are only a few minutes away by foot. You can also drive a short distance to the beach and lake.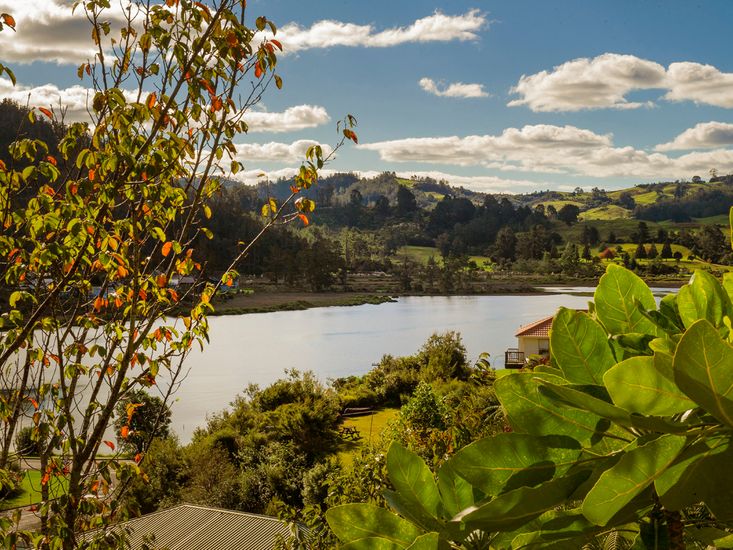 The surrounding Coromandel area offers plenty of adventure with multiple beaches and waterways to discover. Whether you choose to spend your day sun tanning in a hammock or out on the water, this reclusive treehouse is an oasis of holiday joy.
---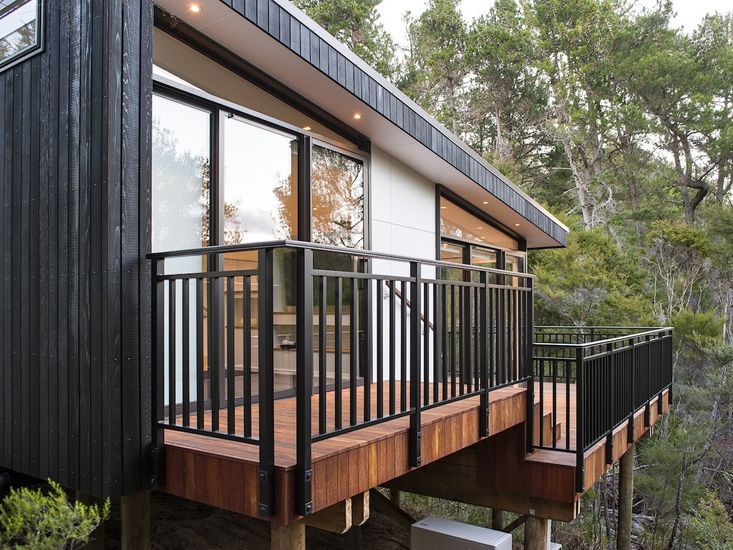 For a more modern approach to the treehouse holiday theme, this Kaiteriteri home gives you class and elegance.
The treehouse can host up to six people within three bedrooms and two bathrooms. Two bedrooms contain a queen-sized bed, while the last holds a bunk bed and a two-person sofa bed.
The modern structure of this treehouse might look intimidating from the outside, but indoors you'll feel closer to nature than ever. Enormous floor-to-ceiling windows provide lovely views of the surrounding bush.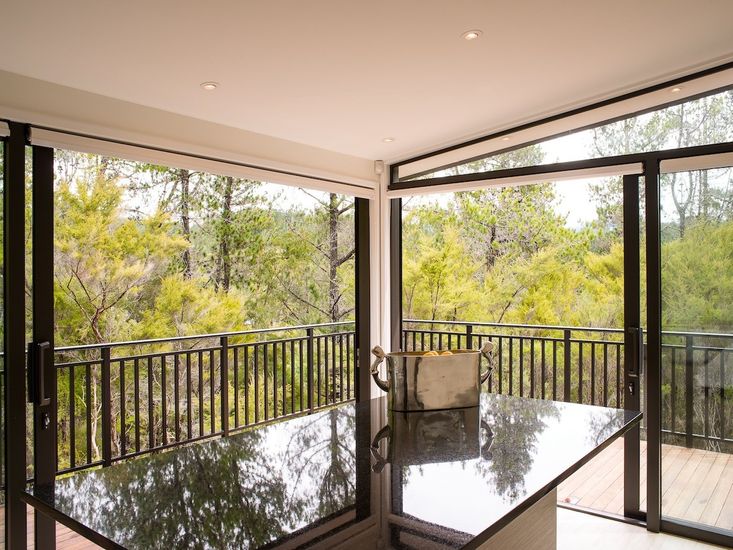 The treehouse has several modern features, including complete air-conditioning and underfloor heating. You can also access WiFi in every room.
For days you don't want to spend cooped up, venture out into the surrounding area for restaurants and beaches. Kaiteriteri is famous for its coastal beauty, so by exploring, you'll get the best the area has to offer and bring yourself the fun and joy that should highlight any good holiday trip.
The Kaiteriteri Holiday Home treehouse is also nearby to the Abel Tasman National Park, where you can enjoy the great outdoors with hiking and water sports.
---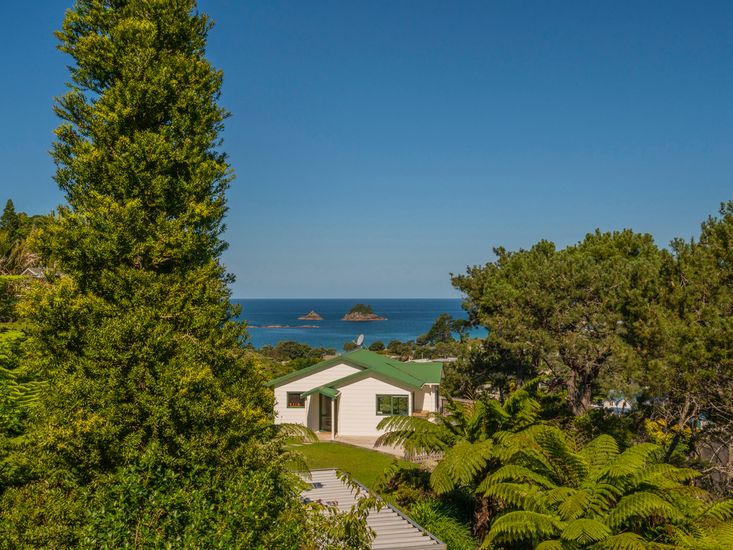 Perched on a hill above the bay, this Hahei Holiday Home treehouse gives you stunning views while keeping an aura of remoteness. With available Wi-fi, you can stay connected to the outside world even as you retreat to this peaceful abode.
With a wide, open floor plan, you can spread out and feel at home. Three bedrooms offer availability to six people. Two of the bedrooms contain queen-sized beds and look out onto the deck for easy visibility of sunrises or sunsets. The third bedroom hosts a single bed and a rollaway.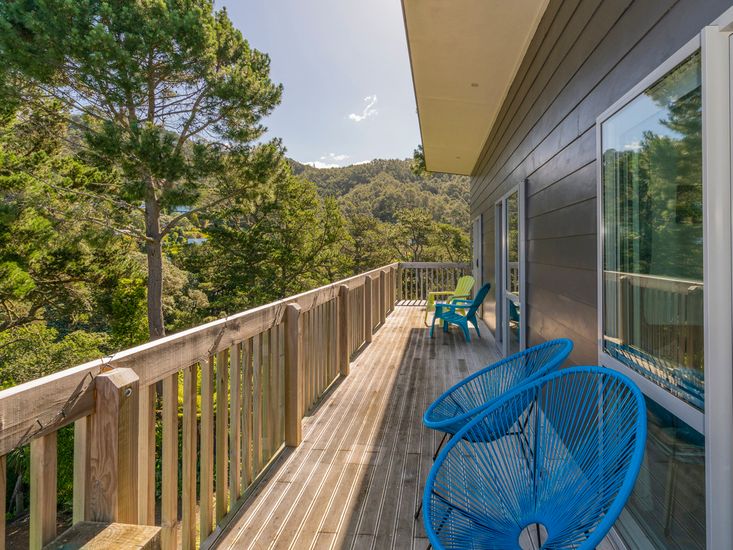 The deck wraps around the back of the house, making it easy to enjoy a meal or a good book from any outdoor vantage point. Sun chairs, a dining table, and two barbecues offer the best seating and cookout area in Hahei. Even with the beautiful interior, you may only want to venture inside in bad weather.
The treehouse also features an outdoor shower so you can rinse off after a trip to the beach. A short walk down from the home will bring you straight to the water, where you can enjoy the sun and surf in this brilliant and beautiful Hahei location.
---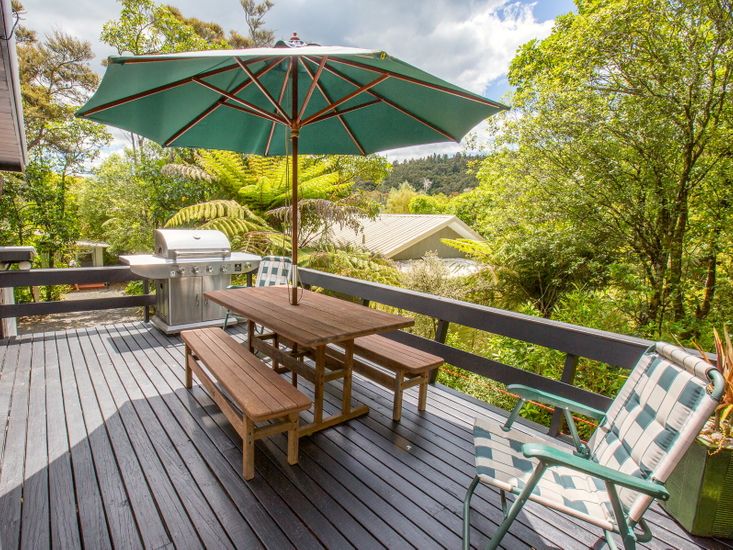 Based in Lake Taupo, this treehouse cottage overlooks scenic waters and will give you the perfect cozy vibes for your beach holiday. Surrounded by protective greenery, you'll get the illusion that you're the only people around. As a pet-friendly cottage, you can bring your favourite furry friends with no issues.
Four bedrooms, including the Sleepout, accommodate nine people.
The other three sleeping areas include the master bedroom with a queen bed, a secondary bedroom with a double bed, and a third room containing another queen and two singles for maximum space-sharing.
The interior of the cottage looks exactly like a comfortable cabin, so you won't forget to take your time and relax. With a large patio equipped with a picnic table and barbecue, you can enjoy your meals out in the warm weather with a view of Lake Taupo.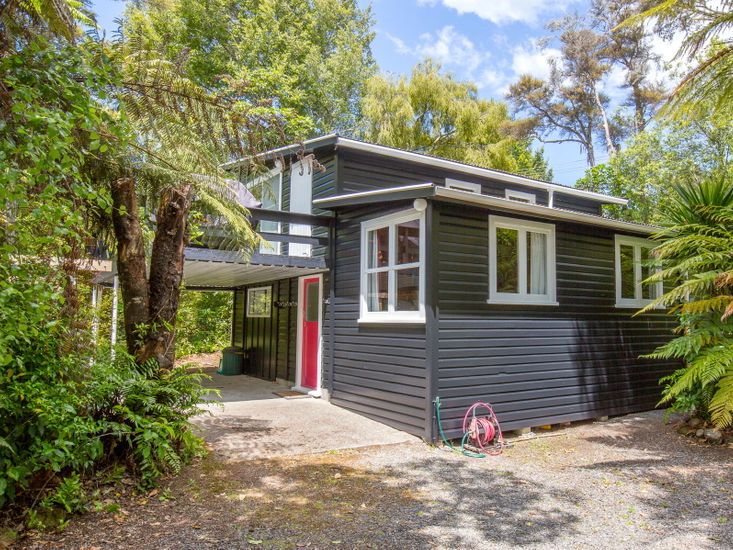 When you want to get out and about, the Taupo region is at your disposal. Filled with hiking trails and scenic routes, you can explore the countryside, including a nearby playground and tennis court. The cottage is only a few minutes walk from the beach, where you can enjoy the lake and the nearby river with paddling, swimming, or fishing.
---
Conclusion
Holiday home treehouses are fabulous places to unwind during your time off. These four accommodations will give you remote yet peaceful stays near lovely beaches and authentic New Zealand bush.