4 Favorite Tauranga Tourist Attractions
The Bay of Plenty, or Te Moana-a-Toi (the Sea of Toi) in Māori, is a sun-drenched stretch of New Zealand's North Island coastline. British explorer James Cook bestowed the name "Bay of Plenty" on the region in 1769 when he saw the abundance of food enjoyed by the Māori villages that dotted the shore.
Today, the region is home to the coastal city of Tauranga, the fifth most populated city in New Zealand, and the location of the iconic Mauao volcano and dazzling Mount Maunganui beach.
Tauranga means 'place of rest' in Māori and its sparkling harbor and sandy beaches make it a wonderful place to kick back and relax. For the more adventure inclined, Tauranga also offers plenty to keep busy. It's the largest city in the Bay of Plenty and virtually surrounded by water. Locals and visitors alike enjoy fishing, diving, swimming, and stunning views from almost every angle.
If you are planning to vacation soon, Tauranga has so much to offer it's an easy choice for the ideal holiday destination. Travelers can explore the local culture, art, and heritage of the city, walk along the endless waterfront soaking up the sun and views, or get out on the water of the bay for a wet and wild adventure!
---
Top 4 Must-Visit Tauranga attractions:
1. Waimarino Adventure Park
If your idea of adventure is constantly pushing you towards the water, Waimarino Adventure Park is the place for you! Known as Tauranga's "premier kayaking & recreational destination" the park encourages participation by folks of all ages and abilities. They want their guests to try new things and develop new skills while spending quality time with family and friends.
The park offer loads of fun activities including:
The Blob: Jump onto this giant inflatable pillow at New Zealand's largest Human Catapult!
The Rockwall: Face your fear of heights and see if you can climb all the way to the top!
The UFO: This floating trampoline offers hours of fun! Climb, jump, slide, and swim!
The Hydro Slide: Grab a foam mat and launch, or even slide down in a kayak!
The Tarzan Swing: Feel like the king of the jungle as you hold on tight and swing out as far as you can!
Slip And Slide: Get you sleek on as you slide the full length and make a splash in the pool at the end!
For guests looking for even more adventure, Waimarino's got you covered with kayaks, paddleboards, low ropes, beach volleyball, and more!
2. Mount Maunganui Hiking
Travelers working on a budget want all the adventure they can get — without high costs, and many Tauranga things to do offer this in spades! One of the area's best free offerings is to hike to the summit of Mount Maunganui, or simply "The Mount". There are a number of walking trails that wind around The Mount, but physically fit visitors will want to make the 30-minute climb to the top. There, they'll be rewarded with incredible panoramic views of the Bay of Plenty's beautiful beaches, Tauranga city, and the deep blue Pacific!
3. Dine Picnic Style On Mount Maunganui Beach
Looking for one of Tauranga's best dining experiences? Look no further than a picnic on Mount Maunganui Beach! It's the ideal spot for travelers to enjoy food, sun, and surf all at once. Not sure what to pack for the perfect picnic on the beach? No worries! Local picnic masters — Bay Picnics — will outfit you with everything you need! They'll provide items such as pillows, lights, and blankets along with some of the most delicious food anywhere. Looking for a romantic evening? Ask them about adding flowers to your picnic!
4. Relax and Take a Stroll Through Tauranga's Outdoor Markets
For visitors looking for more easy-going Tauranga attractions or just a bit of downtime from all the water sports, hiking, and other thrill-seeking activities, Tauranga and Mt Maunganui outdoor markets are the answer. Stroll through Mt Maunganui's famous Little Big Markets in Coronation Park every first Saturday of the summer months, or meander through the stalls and shoppers at the Tauranga Farmers Market. Either of these is the perfect place for foodies looking to immerse themselves in the region's local flavors and culture!
Tauranga = Destination Perfect!
If you're convinced that Tauranga is the perfect destination for your next getaway, you're probably wondering about one of the biggest vacation necessities — proper accommodations. Well, wonder no more! The perfect accommodations are easy to find when you use Bachcare.co.nz! Regardless of your budget or your holiday home needs, Bachcare has got the right "home-away-from-home" for you!
5. Lounge the day away in the hot pools
Located in Mount Maunganui and just a stone's throw away from the beach is the Mount Hot Pools. Perfect for families who want to enjoy the stunning day but want a safer environment for the kids to enjoy the water, the Mount Hot Pools are a must-do while in Tauranga. The pools are set up brilliantly so that adults and kids alike will be able to enjoy and whether it's rain or shine, the water temperature is absolutely perfect.
6. Enjoy an afternoon out on the greens
Tauranga offers one of the coolest mini golf courses in the Bay of Plenty and it's one we know your whole family will love. Mini Golf Tauranga is located right along the Tauranga Harbour and offers 18 holes of family-filled fun! Open seven days a week, there's no excuse to not fit it into your family's holiday itinerary.
7. Take in the views from the sky
What better way to bond as a family than jump out of a plane and go skydiving together?! Skydive Tauranga offers the most beautiful skydive in the North Island and an incredible way to take in the stunning sights of the coastline. You'll see Mt Taranaki, White Island, Mt Ruapehu and The Coromandel while soaring through the sky. If that's not reason enough, they are also doing a sustainability initiative where every tandem jump results in a donation to Trees that Count (so a tree will be planted in your honour after free-falling from the sky). Does a family bonding activity really get any better than this?
---
Three Charming Tauranga Homes Perfect for Your Next Vacation: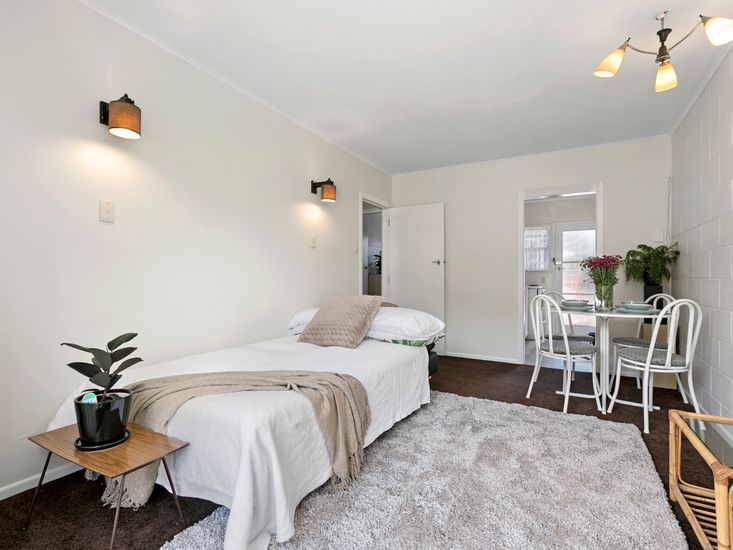 1 Bedroom • 1 Bath • Sleeps 3
When it comes to holiday homes on a tight budget, it's tough to beat Suite by the Sea! Centrally located, this Mount Maunganui holiday apartment offers everything young couples need for their next retreat! Bright and clean, this suite is furnished with comfort in mind and features a cozy living-dining space that opens an airy patio, complemented with stylish outdoor furniture and a BBQ.
When it's time to venture out, guests will find plenty of shops, eateries, and attractions nearby, and Mount Maunganui Beach is just a short two-minute walk from your door!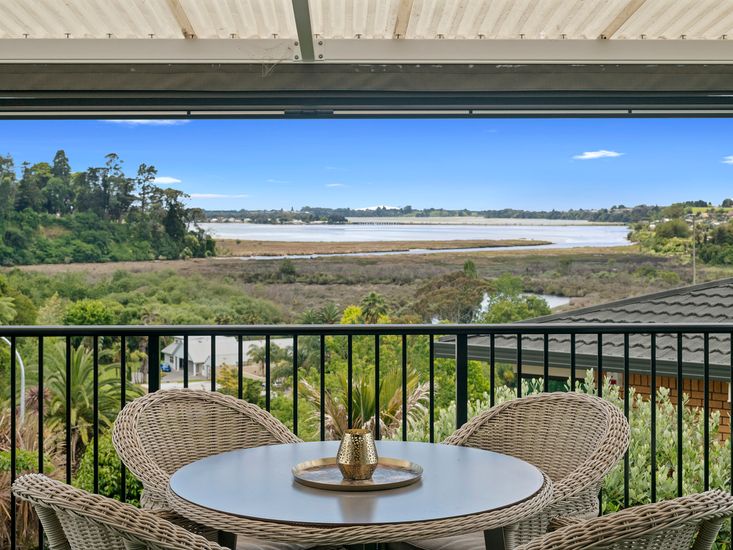 2 Bedrooms • 2 Baths • Sleeps 4
With a name befitting royalty, guests will feel special when they choose The Castle as their vacation accommodations! Located alongside the Waimapu Estuary, this delightful home is sure to leave an impression with its country cottage charm and fabulous estuary views!
Everything you want is close at hand at The Castle with central Tauranga just a quick drive away! Head into town to enjoy a selection of shopping and dining options or venture over to The Mount, and enjoy days in the sand and surf!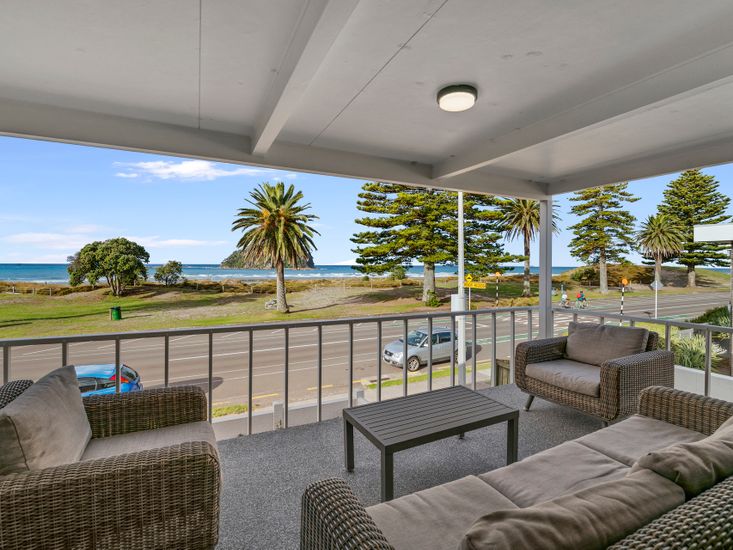 2 Bedrooms • 1 Bath • Sleeps 5
If you're craving to be on the water for your Tauranga holiday, you'd be hard-pressed not to find The Waves absolutely perfect! Looking out at the beautiful Mt Maunganui seascape, The Waves waits for guests who want to experience the beach and the laid-back Mt Maunganui lifestyle!
Chill on the deck and enjoy a BBQ and the stunning view, or make the most of this home's ideal location and visit the fantastic selection of cafes, bars, and restaurants all located within an easy 500m walk!
---
Vacations Don't Book Themselves!
Wow! It's pretty easy to see why Tauranga and the Bay of Plenty are a favorite destination for travelers from around the globe. But remember, vacations don't book themselves. Get your next getaway started today! Dream of exciting adventures, plan your itinerary, and book the ideal holiday home right now on Bachcare.co.nz!