5 Pet Friendly Accommodations in Northland
When you visit Northland, there are so many natural attractions to enjoy. Scenic views, great fishing spots, and white sandy beaches are all over this unique town in New Zealand. You can even swim with the dolphins at some of the most beautiful beaches in the world.
Northland is the ideal place to enjoy a holiday with your family — including your pets.
However, if you want to take a vacation with your pet, it can be hard to find the right place to stay. Many hotels and other property owners do not allow pets on their property. Fortunately, if you want pet-friendly accommodation, Northland has many to offer. Keep reading for five of the best dog-friendly holiday homes in the area.
---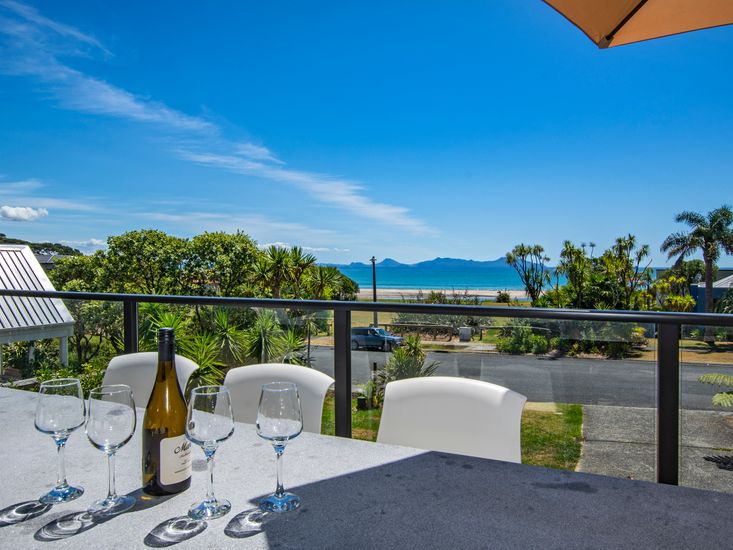 10 People | 4 Bedrooms | 2 Bathrooms | From $346 per night
If you want to stay right across the street from the beach, Harnifin is the perfect holiday home for you. This property features four bedrooms and two bathrooms, so there is plenty of space for the whole family. There are even three levels so you can enjoy open living, beach views, and a barbecue all in one house.
The first bedroom at this dog-friendly home has calming peace views with a queen bed, and a bathroom right down the hall. It is on the second floor. The rest of the bedrooms are on the ground level, and they include either single beds or a queen bed. An additional bathroom is available on the ground floor as well, so sharing bathrooms will be minimal.
When you want to spend the day adventuring with your pets, Harnifin is the holiday house to visit. There is an array of beaches, parks, and other natural venues to explore at this exclusive home in Northland.
---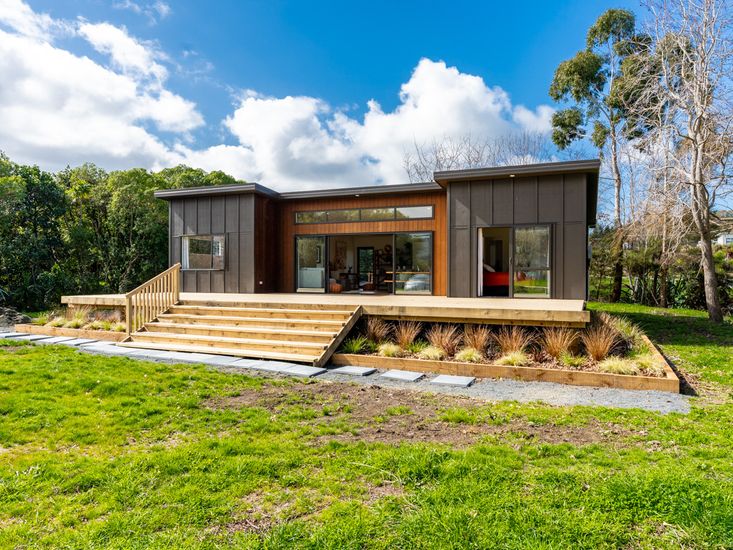 6 People | 3 Bedrooms | 2 Bathrooms | From $201 per night
If you want to stay in a brand-new modern home in Northland, look no further than Haumako. This house includes lots of greenery, pops of colour, and unique touches. A fully updated kitchen is also part of the package so that you can show off your cooking skills.
Whether it is summer or winter, Haumako has both you and your pets covered with a heat pump and air conditioning unit. When it is hot outside, the deck and outdoor living area is the perfect place to cook your dinner once you get home from the beach.
There are three bedrooms in this pet-friendly accommodation, so the whole family has a place to stay. One bedroom offers a king bed, one offers a queen bed, and the other one includes two single beds. There are also two bathrooms available so you can keep sharing to a minimum. Internet is also available on the property so you can stay connected with the digital world on your holiday.
When you are ready to enjoy your privacy at a beautiful beach home, pick Haumako. The refreshing ocean views are ready for you, your family, and your pets!
---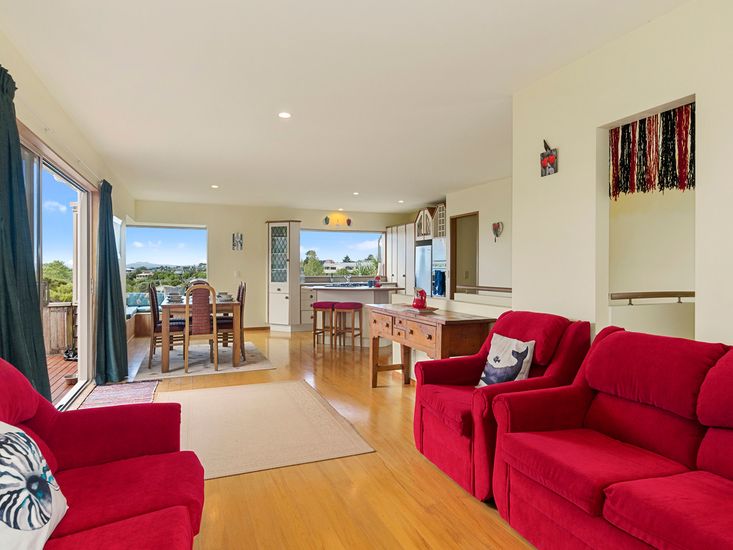 8 People | 3 Bedrooms | 1 Bathroom | From $171 per night
If you are looking for a modern, well-kept house, Mangawhai Wonderland is a great holiday home for you. Thanks to its elevated position, the property has terrific views and a state-of-the-art garden included for guests. The outdoor spaces are expansive so that you can enjoy your privacy in the beautiful New Zealand weather.
The home's inside is spacious thanks to its two separate lounge areas, three bedrooms, and one bathroom. There are two sun couches available so you and your animals can enjoy the fantastic views while relaxing. When you are ready to hit the water, the home is also already equipped with kayaks.
At Mangawhai Wonderland, you have access to a barbecue, washer and dryer, and a fully equipped kitchen. That means when you bring your family to this beach escape, you do not have to worry about extra accommodations. Everything you could need for the perfect ocean vacation is at this holiday home!
---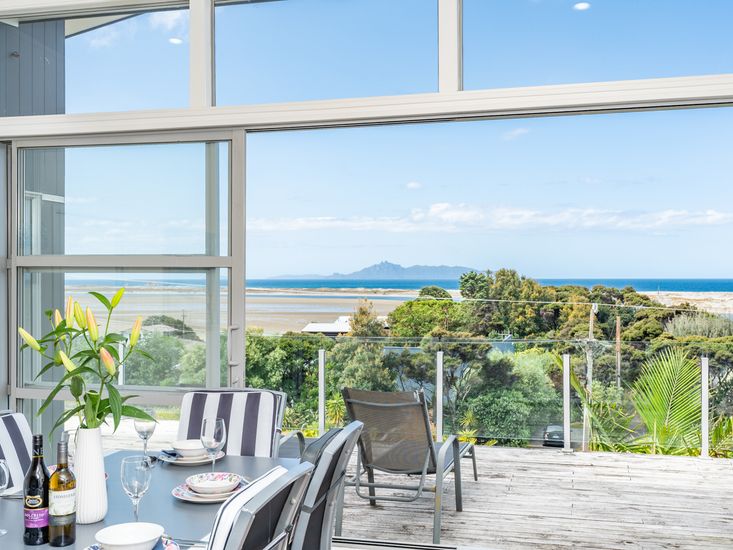 9 People | 4 Bedrooms | 2 Bathrooms | From $286 per night
If you are looking for the perfect place for your family or group of friends to spend the warmer months, choose Cheviot's Hideaway. This spacious villa can accommodate up to nine people so you can find yourself at complete ease. There are even great outdoor and indoor living areas available to relax wherever you want in the house.
When you wake up every morning in Cheviot's Hideaway, you can step onto the balcony with a cup of coffee and enjoy the fantastic ocean and estuary views. Then, you can relax in a chair on the deck and take in the summer sun.
Most pet owners want their furry friends to experience their vacations with them. That's why Cheviot's Hideaway allows pets inside the home as well! Plus, when you are ready to take a dip with your pets, the beach is only a three-minute walk away.
If you feel hungry and do not want to cook, the local eateries are within a three-minute drive. No matter what activities you are interested in, this Mangawhai Heads home has it all. Surfing, golfing, you name it, and this hideaway has it.
For the best sunshine living in New Zealand, visit Cheviot's Hideaway today!
---
6 People | 3 Bedrooms | 1 Bathroom | From $255 per night
If you are looking for the best dog-friendly accommodation in Northland with plenty of space to run around, look no further than Parua Bay Views. You can enjoy sparkling ocean views from the harbour and relax on outdoor seating at any time of the day. There is even unlimited Wi-Fi included so you can stay connected while you are on vacation.
This spacious holiday home can accommodate up to six people thanks to its three bedrooms and one bathroom. Two bedrooms include queen beds, while the other bedroom has a single bed and a pull-out bed. Every room features gorgeous ocean views of Parua Bay.
Whether you want to go out on the boat, explore local beaches, or go out on the town, Parua Bay Views has it all. There are two boat ramps within minutes of the house so you can enjoy the water whenever you want. Additionally, you can experience all of this with your furry friends for only a small fee.
Book this pet-friendly accommodation in Northland at the stunning Parua Bay Views today!
---
Conclusion
When you are ready for your next holiday, it's perfectly understandable that you want to take the pets with you. Your pets are family, too! With these holiday homes, you can easily find pet-friendly accommodation in Northland that lets you enjoy you get away with the whole family!
Book your pet-friendly Northland holiday home today. Or, to see more options, view all Northland holiday homes!
---
View our other "pet friendly" blog posts